By Whitney Williams
 Last winter, I relocated from Dallas to New York City to embark on my exciting new career with Goodworks Public Relations. In the midst of the pre–Fashion Week hustle, Wesley Cadle, a Georgia-based interior designer and wedding planner, hired our PR firm to handle the publicity surrounding the Mercedes-Benz Star Lounge that he was to design for Mercedes-Benz Fashion Week. The Southern designer is known for his innate ability to see beyond a space and create an environment, which has prompted fashion designers like Tommy Hilfiger, multinational corporations like Mercedes-Benz, and discerning brides-to-be to call on Cadle for his impeccable design sense.
With only a few weeks until the big event, there was no time to waste in getting the PR buzz going. Aside from having to create press kits, dozens of hours were spent sending e-mails and placing phone calls to pitch meetings between Cadle and the top-tier New York–based bridal and interior design magazines. By the time a cab whisked us over to the Fashion's Night In event at Lincoln Center on February 9, Cadle had enough appointments set up to keep him busy for the next seven days.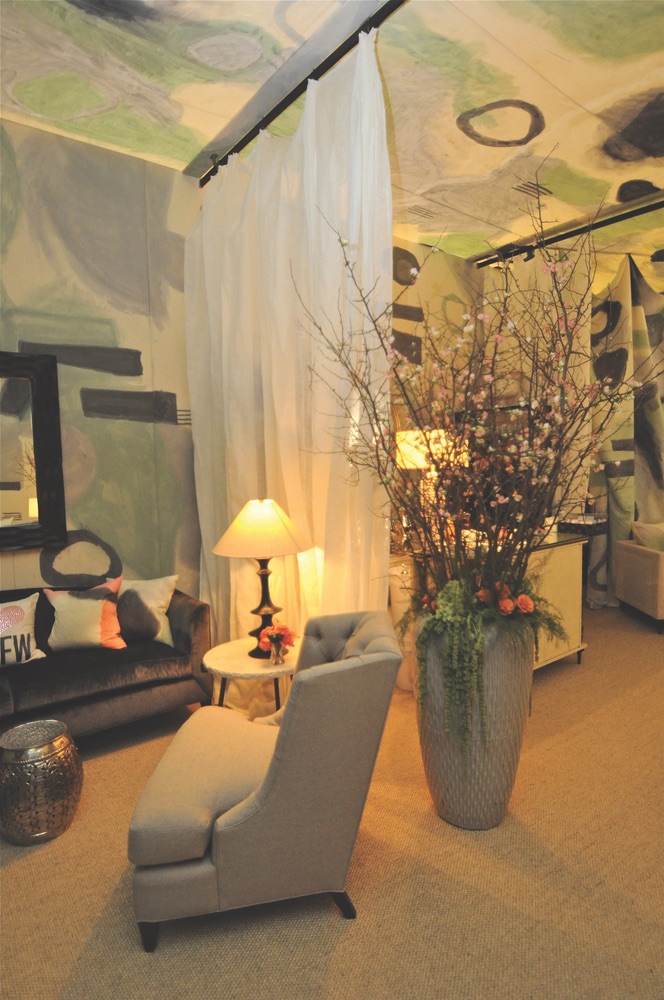 At Lincoln Center, there was a large table where P.S. - I Made This blogger Erica Domesek was demonstrating how to make necklaces and cuffs. Under Erica's direction, event attendees were gathered around the craft table braiding, wrapping, and hammering strips of Mercedes-Benz leather, rolls of gold chain, neon cords, and gold studs.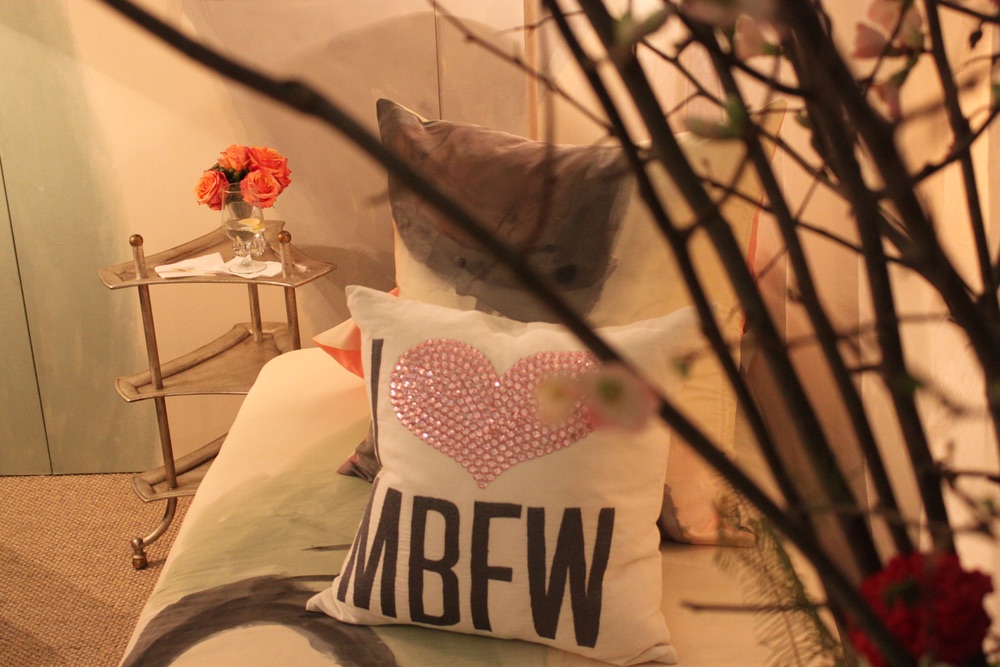 As I joined in to craft a bracelet of my own using scraps of black leather, a pink neon cord, and a gold chain, the girl standing next to me was already braiding orange and grey ribbon into a necklace and attaching gold chain for a chandelier effect. I couldn't help but notice how her nails, painted in a really unique abstract pattern, matched her necklace. We started chatting about the difficulty of braiding chain and leather together (if you've never tried this, it's not easy), and I learned that she was invited to the event because she has a popular blog called Miss Ladyfinger. Miss Ladyfinger, also known as Taryn Multack, pulled the Tumblr site up on her iPhone and showed me how she matches her nail patterns to couture runway pieces like a Peter Som jacket or a Balmain dress. For someone who has difficulty in painting her own nails in a simple shade of pink like Essie's Ballet Slippers, I was completely in awe. (Apparently, so was Teen Vogue: they have been collaborating with Miss Ladyfinger on a monthly do-it-yourself nail art column.) I finished my not-so-cute pink and black leather bracelet, which looked more punk rock than I had intended, but before leaving the table, Taryn and I exchanged numbers. We planned to meet up later in the week at the tents, where Taryn had a backstage invite to the show for Gwen Stefani's fashion house, L.A.M.B.
 Walking through the event lobby to the Star Lounge, I recalled from my pre–Star Lounge pitch experience that Cadle had drawn inspiration for his lounge design from Pucci's geometric patterns and Chanel's silk scarves. When I finally got the chance to enter the lounge, I felt like I had been wrapped inside a silk cocoon. Working with the talented design duo behind Porter Teleo, he designed fabrics in watercolor-like landscapes of geometric shapes. The fabrics were then used for decorative ceiling panels and drapes to divide the room into cozy seating areas perfect for a post-fashion show respite. Stephanie Hirsch had stitched the famous slogan "Keep Calm and Carry On" in gold on a black canvas that was hanging above a faux fireplace at one end of the room. Hirsch's "I Heart MBFW" pillows (intended to be photographed with the celebs at the lounge) accessorized the couches and chairs that Cadle had handpicked from Baker Furniture. Looking from the sisal rugs to the Porter Teleo drapes, I was excited to see the space had been transformed into the oasis of serenity that Cadle had envisioned.
My next seven days at Fashion Week were packed as I acted as liaison at over a dozen PR meetings between Cadle and various media representatives. Whether he was meeting with a magazine editor or a television producer, he graciously afforded each his undivided attention. During every personal tour he gave of the Star Lounge, Cadle's love of design and event creation beamed as he described his inspiration for the space, explaining how he had envisioned it to be the "inside of a silk scarf."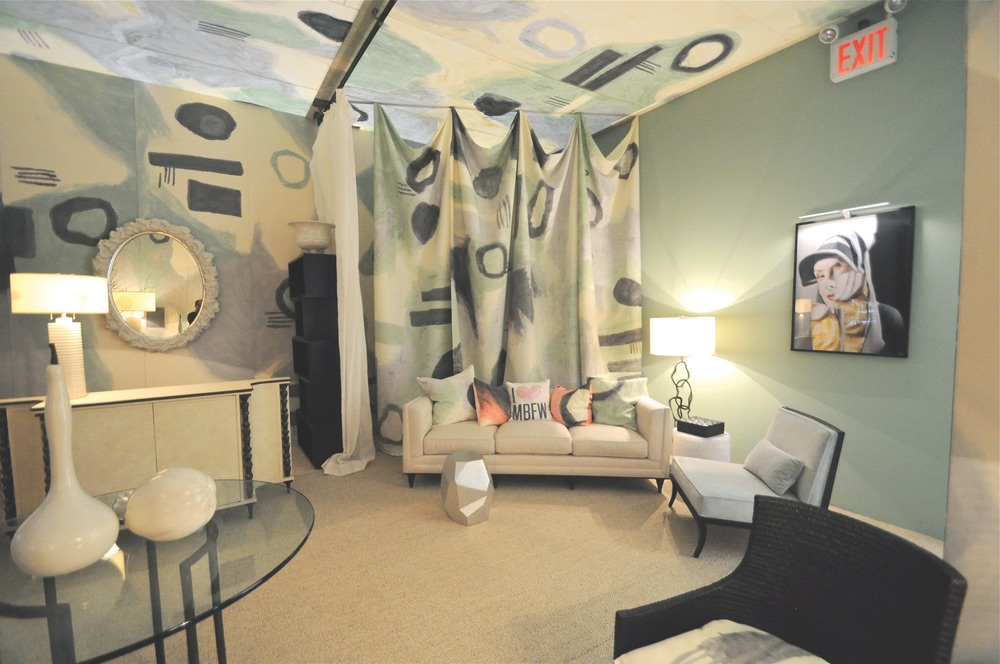 While in the Star Lounge, I could not help but notice how celebs, Mercedes-Benz executives, and members of the media enjoyed the refreshingly calm environment while trays of canapés circulated. Even Ramses Barden, the celebrated wide receiver for the New York Giants, ducked inside the lounge following the Lacoste show. "I don't think I've been able to move more than fifteen feet out there for the past hour!" said Barden regarding the pack of adoring fans waiting outside the lounge. Needless to say, he was in no hurry to leave the comfort and safety of his newfound haven.
As exciting as it was inside the pavilions of Mercedes-Benz Fashion Week, I would sometimes step outside for a change of scene. I couldn't get over the fashion show pageantry taking place within the Lincoln Center fountain plaza just outside the door. It's as if Fashion Week has become a call for a multitude of Fashion Week groupies to dress in fashion faux pas, ironically setting trends among their own "supersubset" of the fashion world. The goings-on—Tim Gunn giving an interview, Olivia Palermo stepping out after a show, and celebrity status fashion bloggers (like Leandra Medine of The Man Repeller) walking in—were being captured by hundreds of photographers and written about by dozens of bloggers throughout the world.
After witnessing both sides of the action, I could really appreciate the concept behind the Star Lounge as a place of refuge. Wesley Cadle's beautiful design took that idea even further—the serenity inside his silken dream was practically tangible. For anyone entering, the lounge was a welcome shelter to escape the frenzy of prying eyes and cameras!
— V —
ARTICLE CATEGORIES