The Stunning Mosaic Art of Jane du Rand
By Nicholas Grundy | Photography courtesy of Jane du Rand
Certain art forms surge in popularity before waning into obsolescence. Some of them make brief comebacks, coming into vogue and disappearing again. One of the most resilient art forms, however, is mosaic. All around the world, even the most unobservant people cannot miss the stunningly intricate figures and scenes leaping out from ancient sites—some dating back thousands of years. One artist in particular has embraced mosaic art like no one else has in present times, adding her own modern twist to it and thereby propelling the medium into the twenty-first century and beyond.
J
ane du Rand is a seasoned artist, having worked with the tens of thousands of tiny tesserae that make up her often-gargantuan projects. Hailing from South Africa, where she operated her Durban-based studio for more than fifteen years, she now travels the world, producing true masterpieces, and she is commended for her efforts. Despite commencing in an orthodox manner, Jane's route to artistic success was somewhat circuitous. After starting her studies in Cape Town's most prestigious art school, she soon changed the course of her career altogether and became an architect. "For me personally, art school was simply far too individualistic and cutthroat," comments Jane. "Later in life, as my projects grew in scale, I quickly realized mosaic art, in particular, requires a tremendous amount of teamwork. Yes, I focus on the piece as an individual, but the final result is thanks to many, not just one."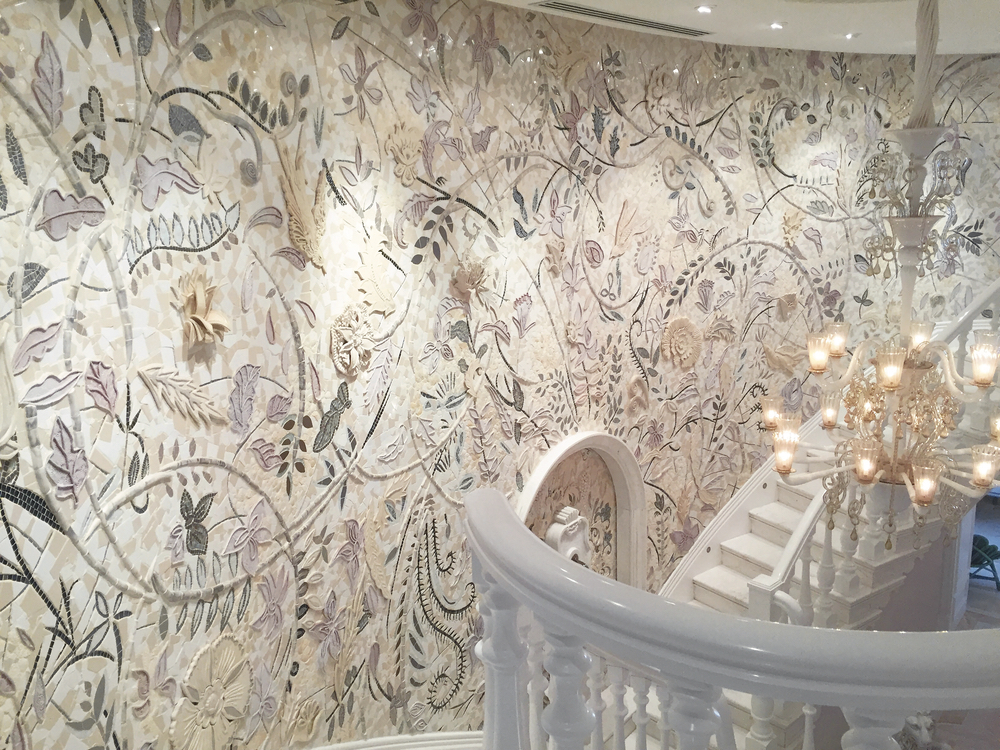 One aspect of her studies in art school did, however, carry on through her years as an architect. "After transferring, I continued with my pursuit of ceramics each week," says Jane. When her creations continually broke in the kiln, they provided ample material to start experimenting with mosaics. She quickly developed a keen interest in the art form, and when a friend and colleague approached her to create a piece for a pool, she simply responded with, "Yes, I can do that!" From there, she launched a magnificent career, sharing her passion and prowess with the world. Her architectural background provides a strong sense of spatial awareness, allowing Jane to bring life to a man-made environment. This is clearly evident when viewing her works that inhabit a number of buildings in Europe, Chile, Australia, and South Africa and stateside in New York City. One of her mosaics can even be found inside a boat!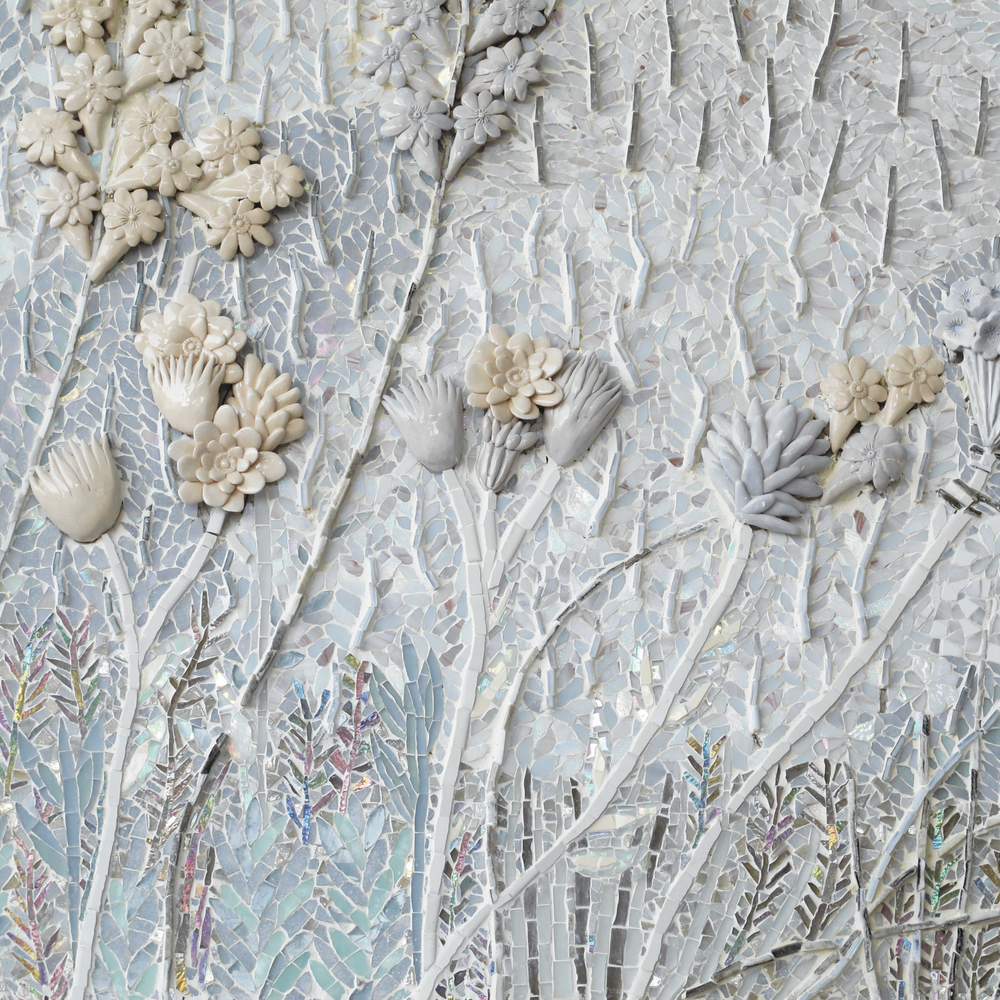 When her creations continually broke in the kiln, they provided ample material to start experimenting with mosaics.
In fact, Jane's work on the Catherine and Maria Theresa river cruisers for her regular client, Red Carnation Hotels, led to one of her most interesting mosaics yet. After providing the ships with a tad more ballast—rather aesthetically pleasing ballast, to be exact—Jane was hired by Red Carnation to complete a large wall at Ashford Castle, the company's premier five-star hotel near the west coast of Ireland. The stunning fortified venue was expanding to include a new spa area, and Red Carnation asked Jane to sum up the history of both Ireland and the castle through a single work of art. Arguably, this was her most challenging piece thus far, and Jane set out at short notice to deliver stunning results. After visiting the castle in January of last year, she completed the necessary pieces by May, expressed the 3,500 pounds of material via air freight to Ireland, and was on the ground at Ashford Castle a week later toiling away. Standing proudly behind the swimming pool, the completed mosaic wall highlights Ashford Castle's medieval history, harking back to the thirteenth century. The mosaic's centerpiece is the Celtic tree of life, an emblem from Irish folklore symbolizing the link between Heaven and Earth.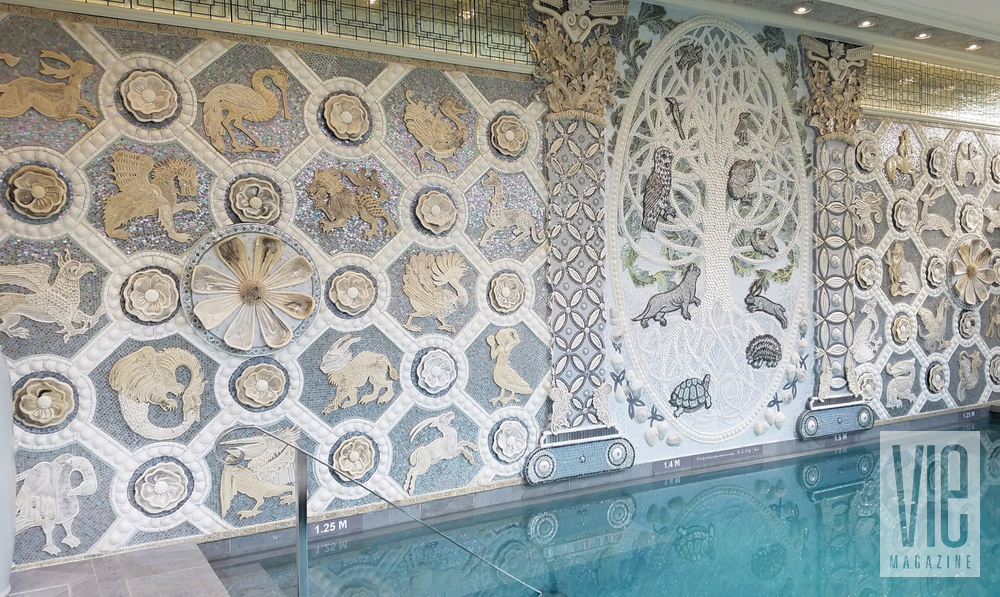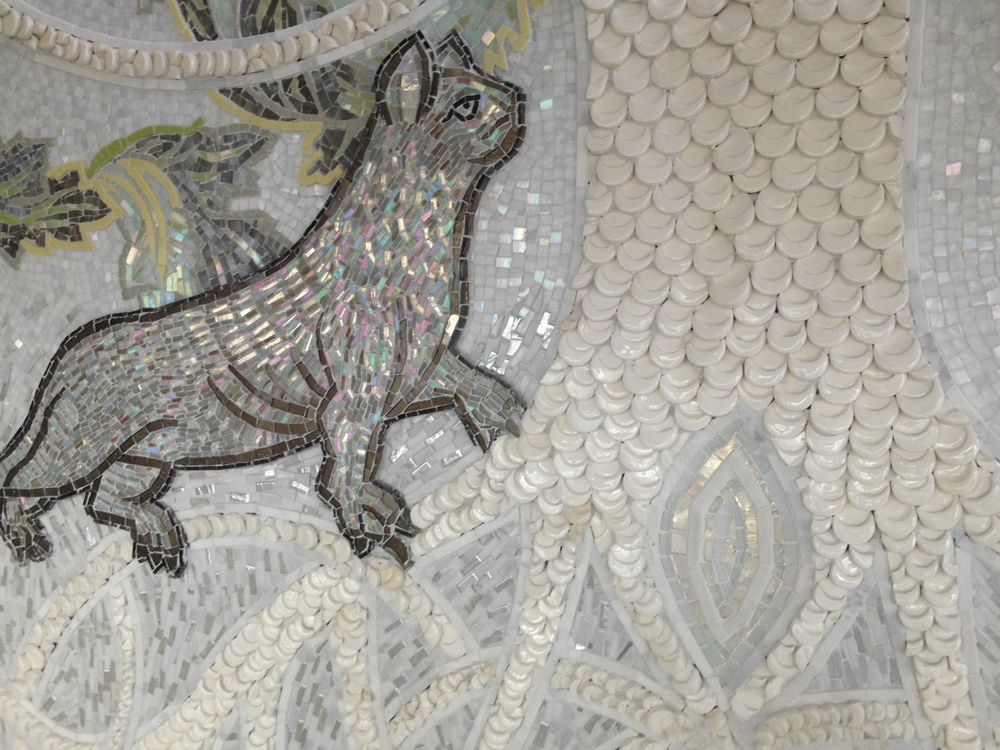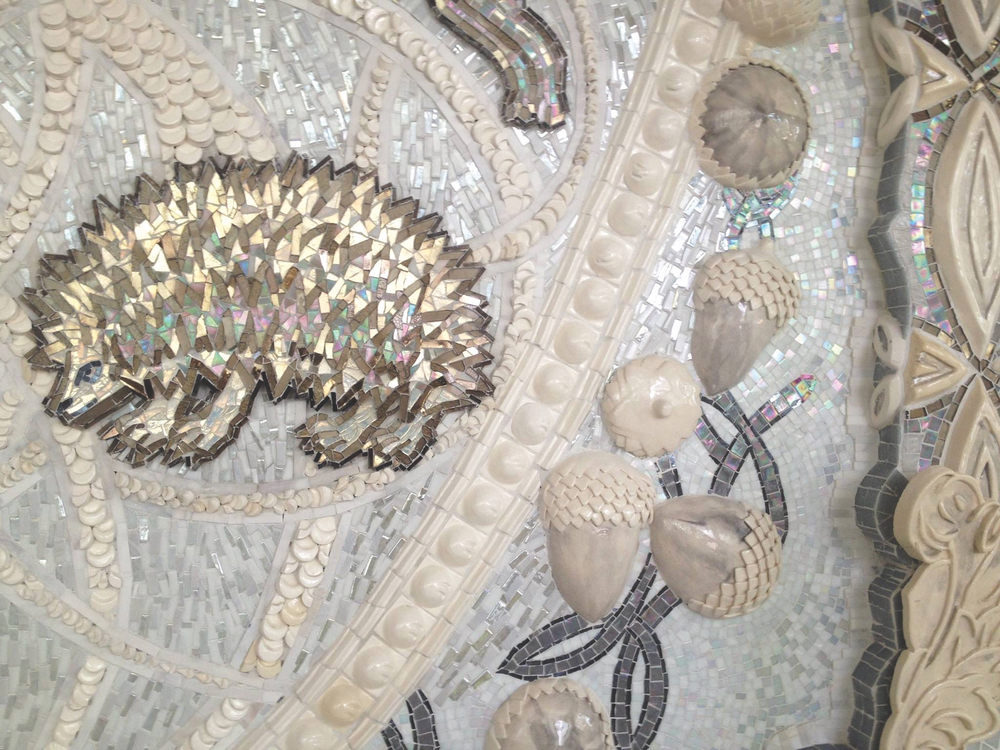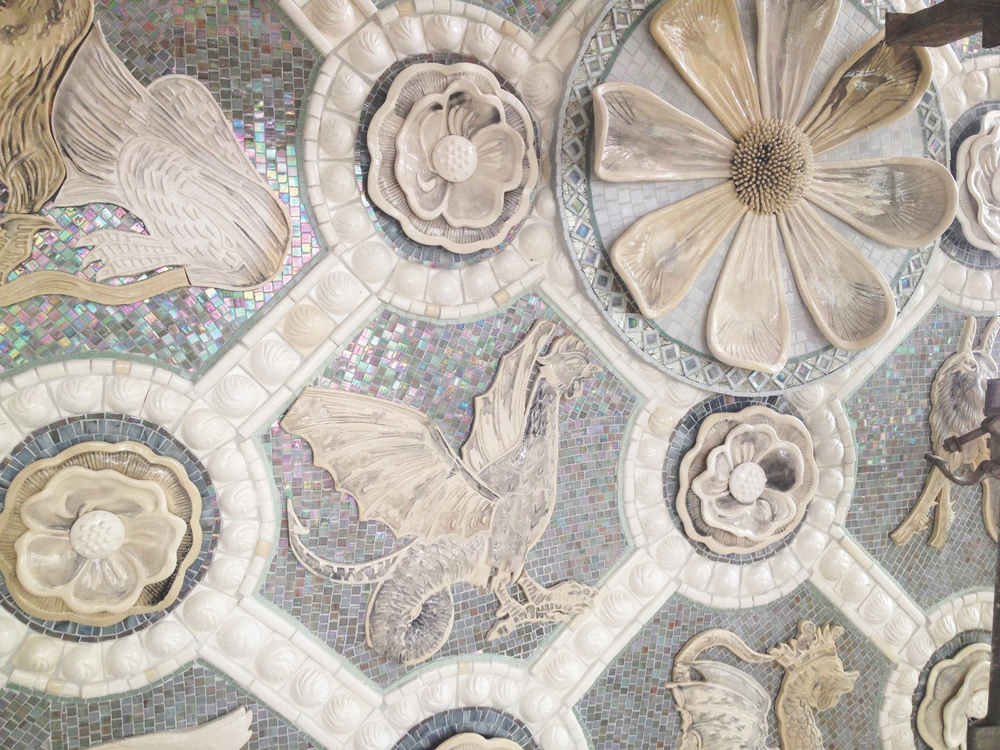 Producing a 3,500-pound mosaic wall takes an enormous amount of work; however, the Ashford Castle wall is far from being Jane's largest project. That honor goes to her epic mosaic rising seven stories above the South African city of Johannesburg. Jane covered the elevator shaft of the Melrose Arch building with beautiful deep cobalt blues and gleaming yellows stretching across an area of 7,500 square feet. The towering project covers the building's exterior, exemplifying how location is one of the many factors Jane must take into account when creating her works. Whether she wants to add vibrancy to the floors of a private home, envelop a wall next to a pool, or embellish a high rise's facade, each scenario presents different challenges.
Overcoming such hurdles requires years of experience in deciding what materials to use and how to finish and install them. That is where Jane's experience as an architect comes into play. The concrete walls behind the Ashford Castle mosaic presented no major obstacle in terms of their load-bearing capacity or the humid air in the spa area. However, other structures, such as the drywall on a recent project in Sydney, Australia, can be a different story. For certain wall types, Jane and her team must first locate key supporting components and reinforce the structure throughout, even though the weight of the mosaic will be spread out quite evenly. Her mural at Long Island's Great Neck Station faced the toughest test of all, thanks to the region's extremes of temperature. The vast difference between the plummeting depths of winter's subzero weather and summer's searing heat can occasionally cause certain sections of tile and plaster to expand and contract, resulting in cracks and shifts.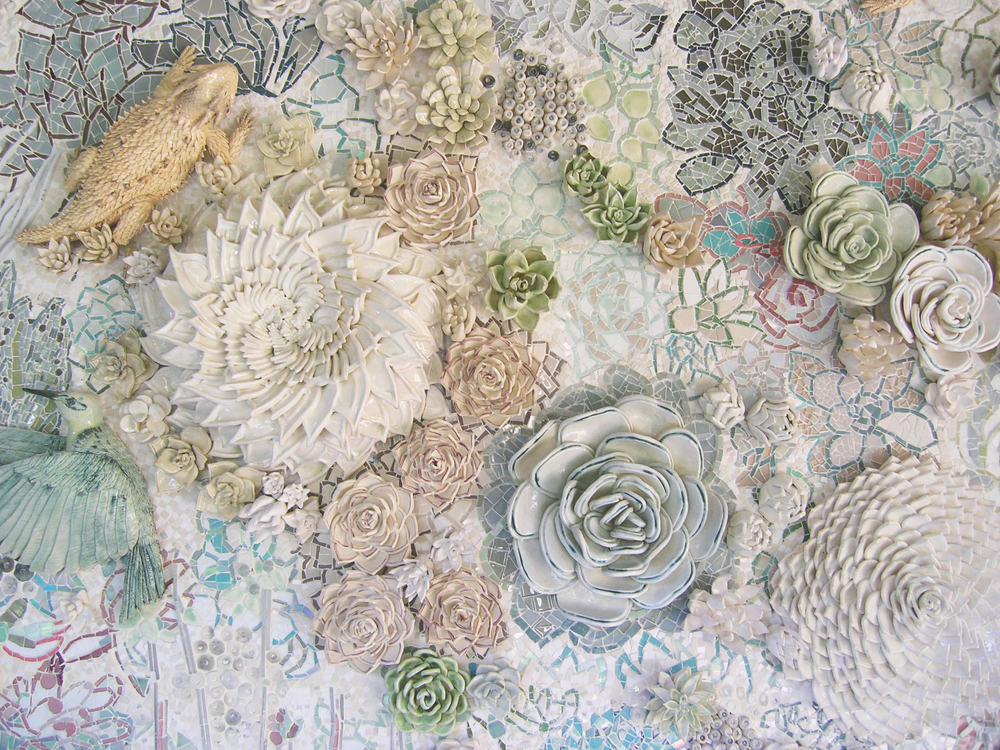 She calls her style more of a collage of tiles and glass, employing her own fired and glazed ceramics to add her personal identity.
In terms of the materials she uses, Jane by no means limits herself to traditional methods. Although she's influenced by different eras and artists—most notably Spain's Antoni Gaudí—Jane quickly saw the merit in trying out new mediums and techniques. She calls her style more of a collage of tiles and glass, employing her own fired and glazed ceramics to add her personal identity. "On one of our community projects in South Africa, we actually used a number of old car reflectors, proving that even in disadvantaged communities you can make art from that which you find discarded," explains Jane. She doesn't limit herself to mosaic art, either. Back in her hometown of Durban, Jane completed a part-painted, part-mosaic wall at her children's school. For this, she also enlisted the help of the young students both in designing and completing the work.
It's this sense of togetherness that Jane hopes to foster through her community projects. In Port Elizabeth, South Africa, she helped train locals and involved them in the creation of a stairway mosaic at a public park. The program was made possible by the Mandela Bay Development Agency, and Jane encourages all levels of government to get involved in assisting those from less fortunate backgrounds. Without this support and input, these plans would never have come to fruition.
It's this sense of togetherness that Jane hopes to foster through her community projects.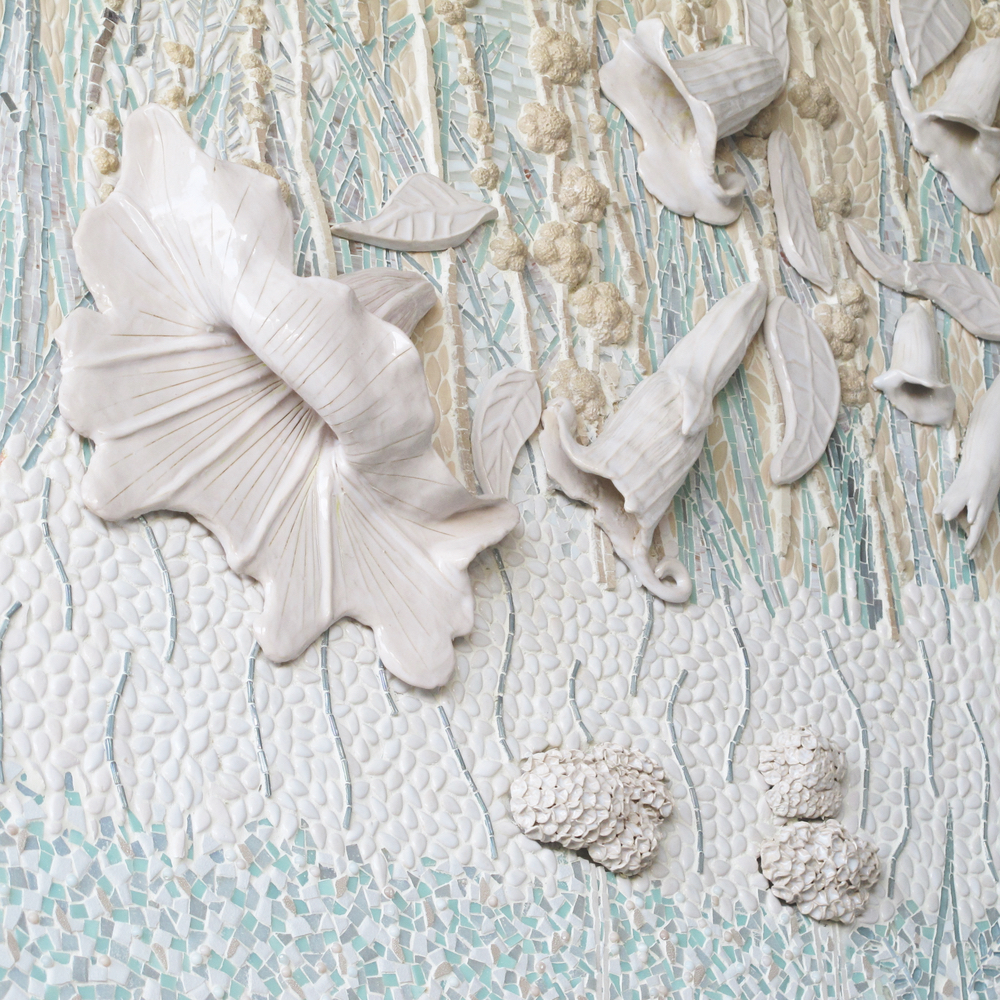 Traveling and meeting new people have influenced Jane's work greatly, and so has becoming a parent. Jane's exhibition Loathing and Loving and Giving aims to provide a glimpse into the inner conflict she feels being both a passionate artist and a loving mother. She often finds herself torn between the extremes of needing time to focus single-mindedly on her work and her natural desire to spend time with her family. Jane is fortunate, however, to live in close proximity to her immediate family members in her recently adopted home of Brisbane, Australia, where she receives great assistance and inspiration from all of them. This support network is particularly handy when she travels overseas to complete her intricate works. The level of detail they have is only possible to attain with enough time to focus her creative energies. If we're lucky enough, she'll have a spare moment in the future to grace our shores again here in the United States and demonstrate once more her unique eye for detail.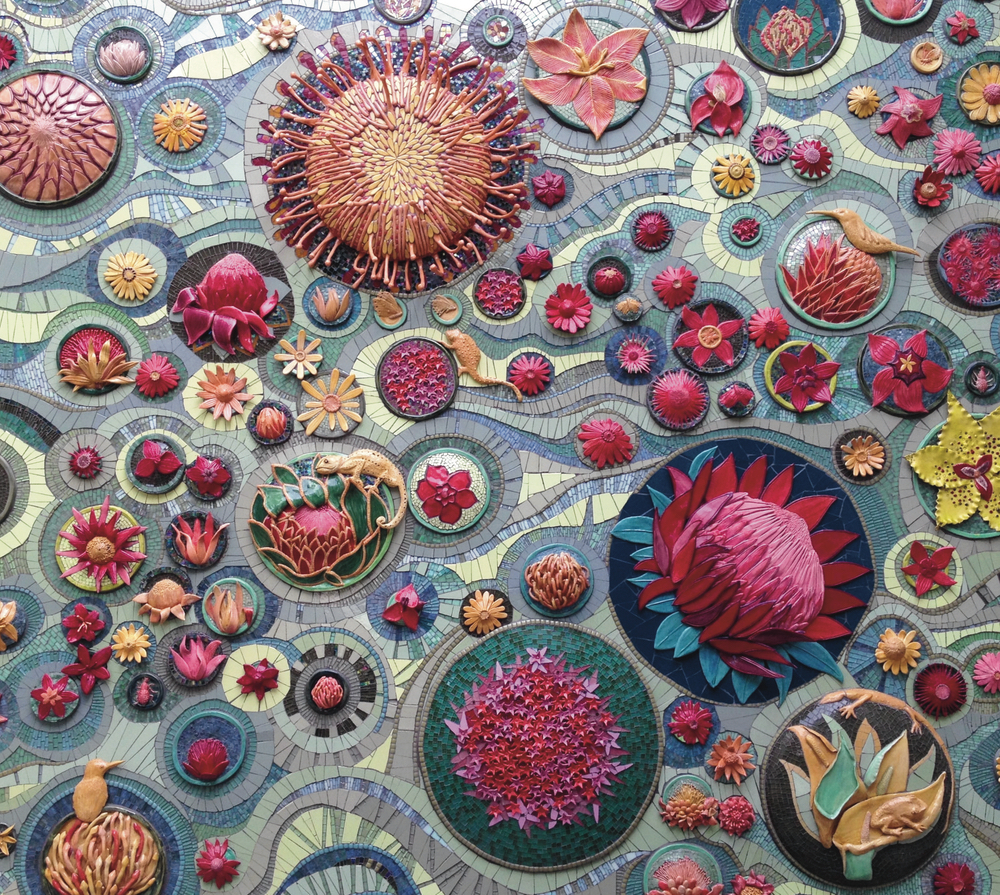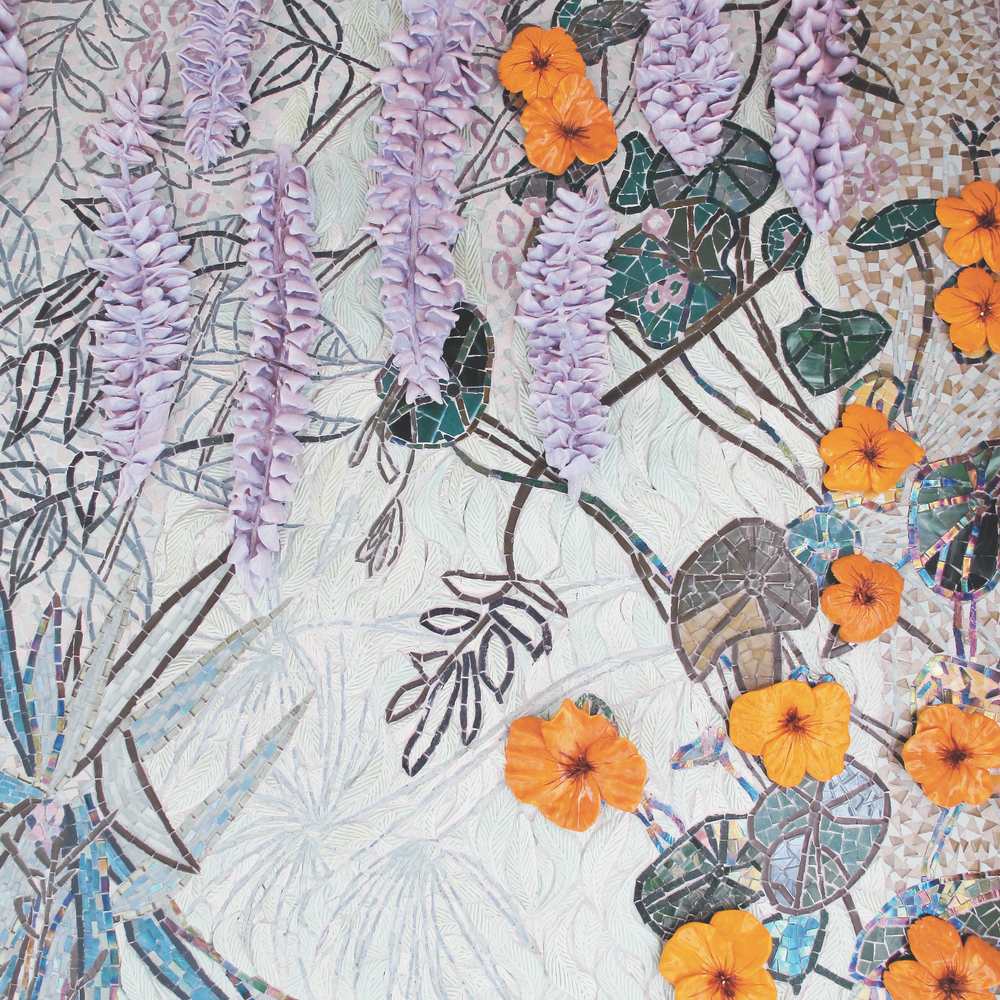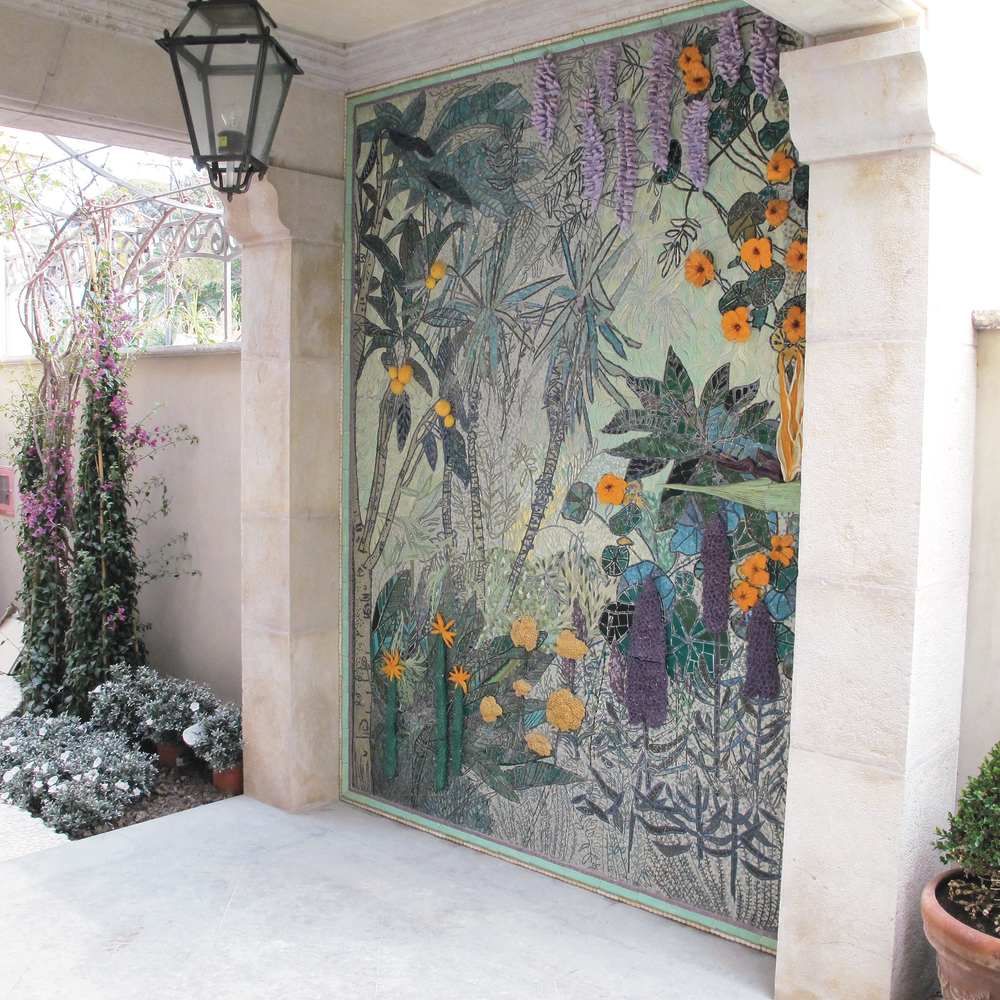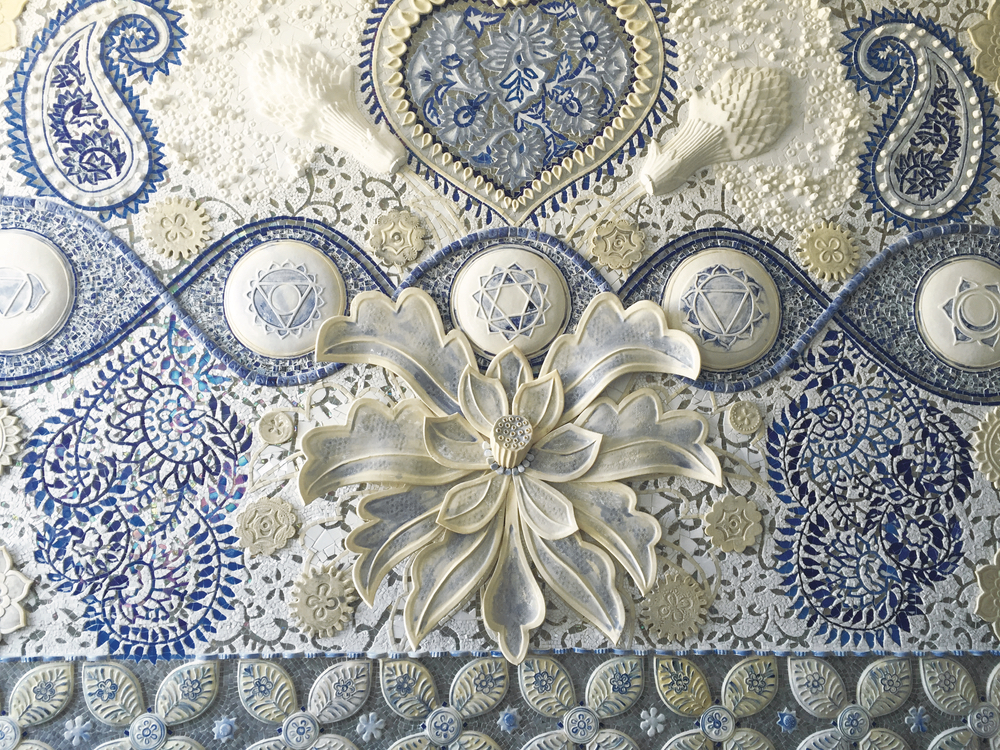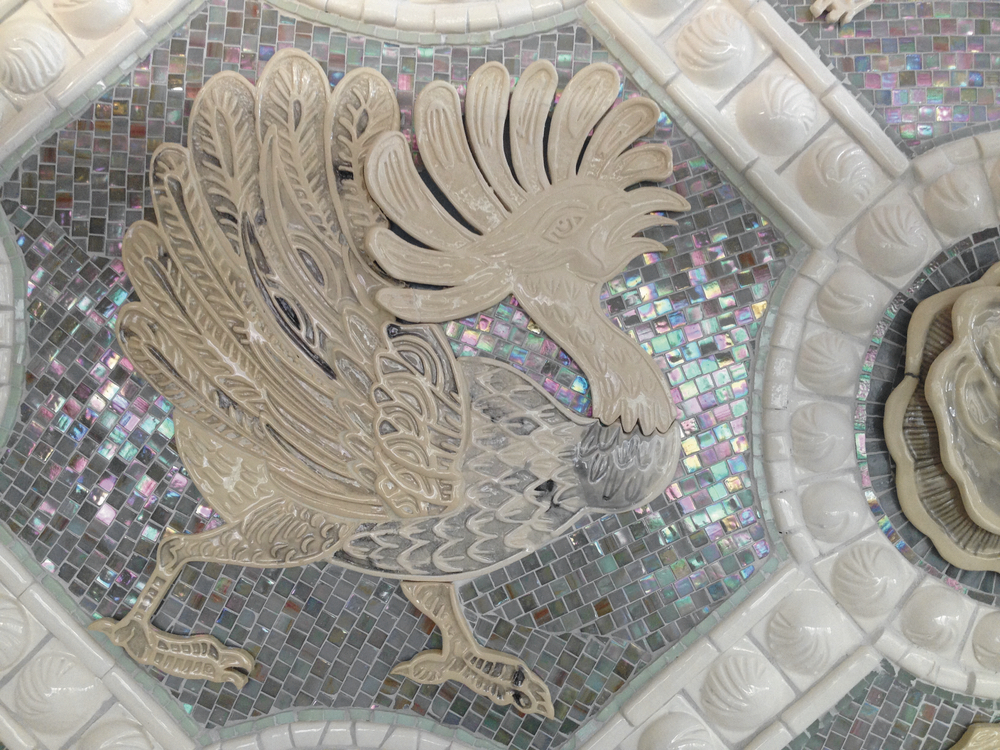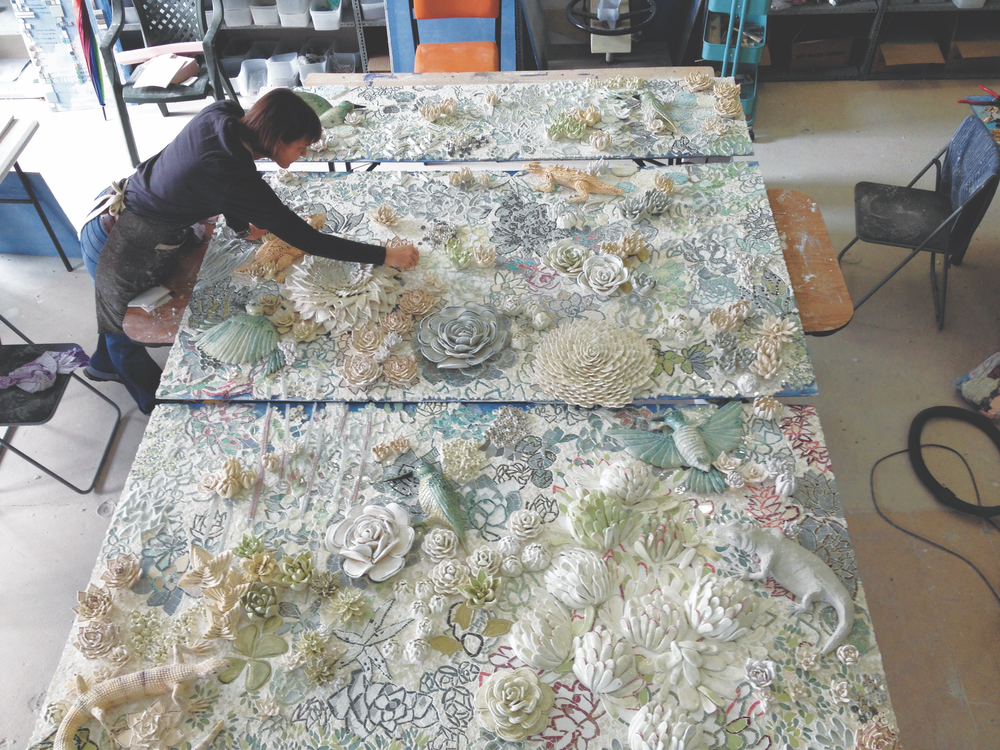 ARTICLE CATEGORIES