When Your Heart Is Your Guide
By Lisa Burwell
I've met many talented, successful, and impressive people in my journey through life, but not many of them shine as brightly as the visionary founder of Alaqua Animal Refuge, Laurie Hood. This tall, willowy, green-eyed blonde with an effervescent, inspiring personality and runway-model good looks has been a tireless and passionate animal advocate since she was a child. She has accomplished many good things on behalf of animals as she educates the public, leading the way in showing compassion, love, and humanity toward all creatures. She is something of a healing counselor whose love nurtures a bond between animals and the community.
Laurie and her husband, Taylor, who is the executive director of Alaqua, recently hosted a fund-raiser on the lawn of their home in Freeport, Florida, which overlooks the serene West Bayou on the Choctawhatchee Bay. Devoted friends and family and beloved patrons shared a memorable evening under the stars during the Fifth Annual 100-Point and Cult Wine Dinner on June 16. Love and excitement for this great cause filled the air, as did the aromas of wonderful food prepared by Chef Nikhil Abuvala of Roux 30a. The event's mission was to raise money for the next phase of Alaqua Animal Refuge, which is poised to become one of the nation's largest and most comprehensive animal sanctuaries and educational centers. It will connect people and animals in a place that, until now, seemed only imaginable in a storybook. New York Times best-selling author and former CEO of The Humane Society of the United States Wayne Pacelle eloquently penned our feature story, "Big Dreams Require Big Vision," expounding on Laurie's magnificent obsession.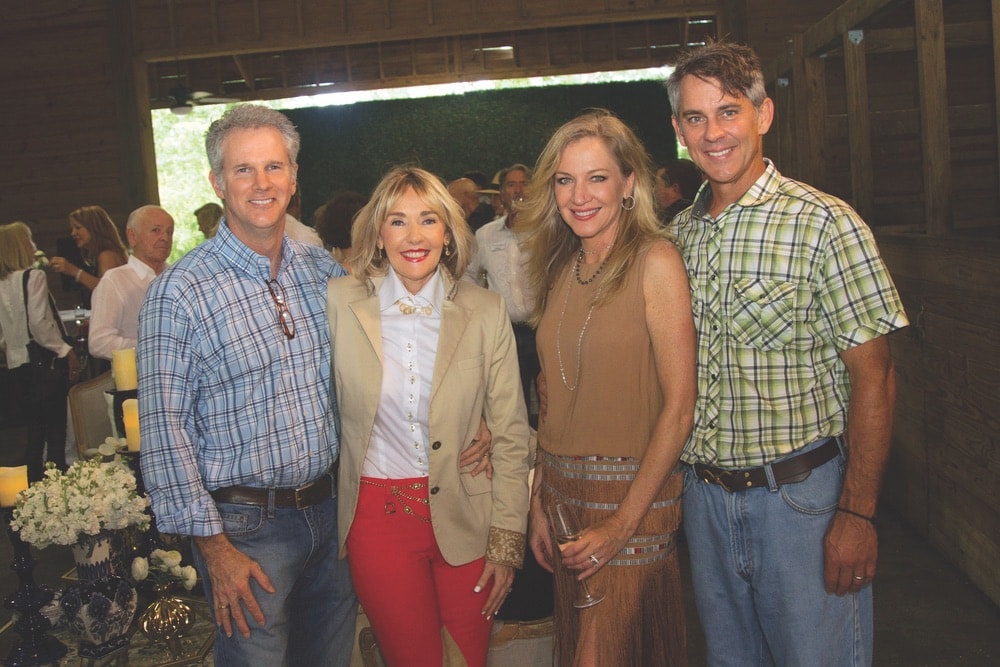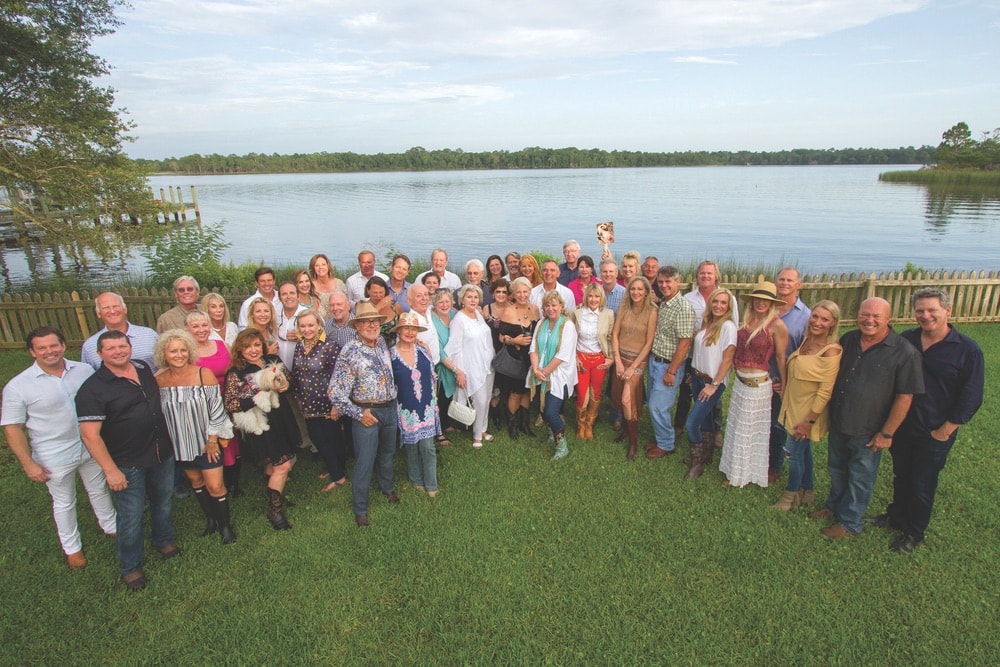 Mother, wife, entrepreneur, fund-raiser, animal advocate, and visionary are just some of the roles Laurie fills on a daily basis. Even more impressive is how she does it all with grace, a beautiful smile for all, and a calm resolve that she is going to see her vision through to the end. I had only a glimpse into the daily life of Laurie Hood during the week of our cover photo shoot and her fund-raiser, but I can tell you that not many could keep her schedule and still maintain such determination. When posing for a photo with an armful of puppies, she smiled and said, "People think all I do is play with puppies all day." As much as she might like to do just that, running a massive nonprofit animal refuge does not leave her very much time. One of the highlights from our cover shoot included meeting a blind palomino named Delilah; Delilah had been scheduled to be euthanized—that is, until Laurie learned about her and bought her the night before she was to be put down. This is just one of many heartwarming examples of our cover girl's deep love and concern for animals. We watched her talk to her many birds—and them talk back to her—and bottle-feed a piglet she named Nugget, who was the runt of the litter. Being around the animals and witnessing the love shown by her employees, volunteers, and donors is a very humbling and grounding experience.
The vision and heart behind VIE from its inception was to create a platform for good news and to tell stories of the everyman and everywoman who defy the odds to attain a goal simply because it is the right thing to do—in other words, people fulfilling their destinies. Laurie exemplifies an ordinary person who is following her dreams and accomplishing the extraordinary. I thank her for leading by example and proving that one person can make a difference.
To Life!

—Lisa Marie
— V —
ARTICLE CATEGORIES