Ballynahinch Castle and Christian Siriano Fashions Inspire the Feminine Hunter
By Jordan Staggs | Photography by Alex Hutchinson
Classical music filters through the elegant dining room as hairstylist Louise Jordan adjusts the soft golden curls of model Clara McSweeney.
'This absolutely never happens,' remarks photographer Alex Hutchinson. Everyone—the hotel staff at Ballynahinch Castle, videographer Barry Ryan, and the hair and make-up team from Bellissimo Galway salon—has commented on the incredibly rare sunny weather. It's almost as if, after months of harsh winter rains, Ireland cleared its skies just for this. 'Is this song from a Disney movie?' Hutchinson asks with a grin as everyone deliberates. 'I'm surprised I don't know—I'm such a Disney fan,' says McSweeney, looking every bit the part of a princess in a feathered calf-length gown and nude pumps by renowned American fashion designer Christian Siriano. Ryan mentions Beauty and the Beast, a fitting story for the day's theme, as the photo shoot was inspired by the 'feminine hunter'. The soft feathers and silk gowns by Siriano, a member of the Council of Fashion Designers of America, flow seamlessly into the rustic beauty of the castle hotel.
Sunlight glimmers off the calmly flowing Owenmore River below the castle and filters beautifully through the panoramic windows that span the length of the dining rooms. Guests enjoy a quiet morning breakfast, occasionally peeking curiously into the adjoining space where Hutchinson and his crew are working. They are taking advantage of the beautiful natural light, while the Bellissimo team prepare model Faye Dinsmore for a shot outside on the castle grounds.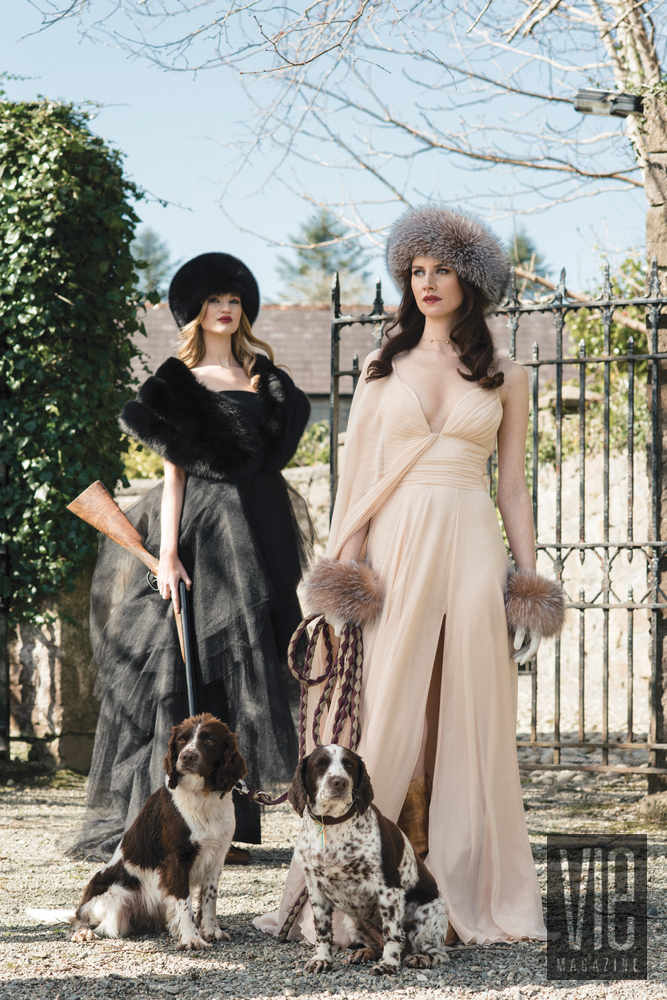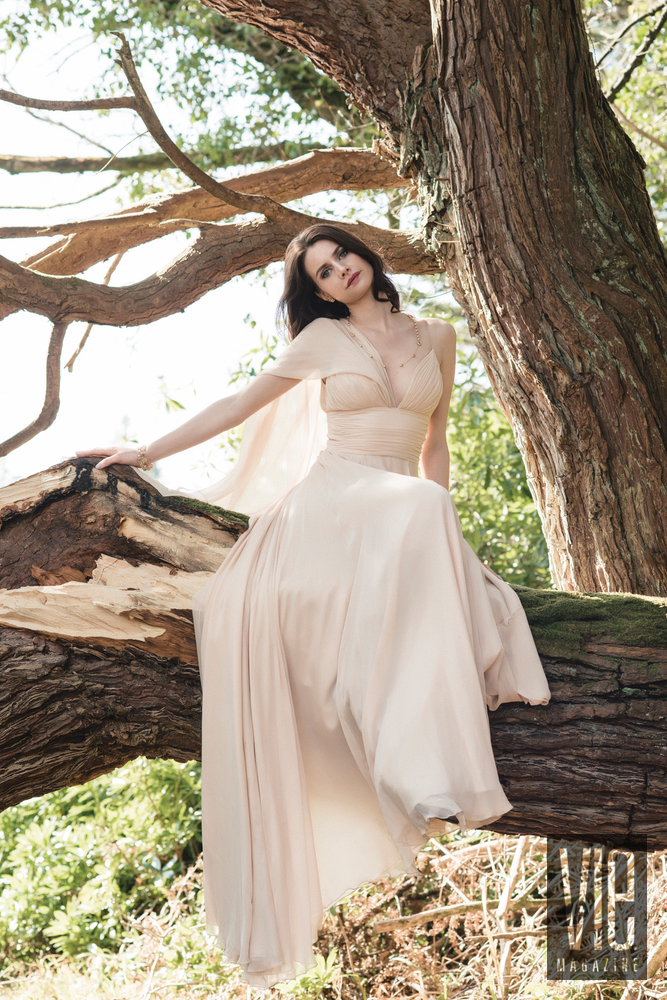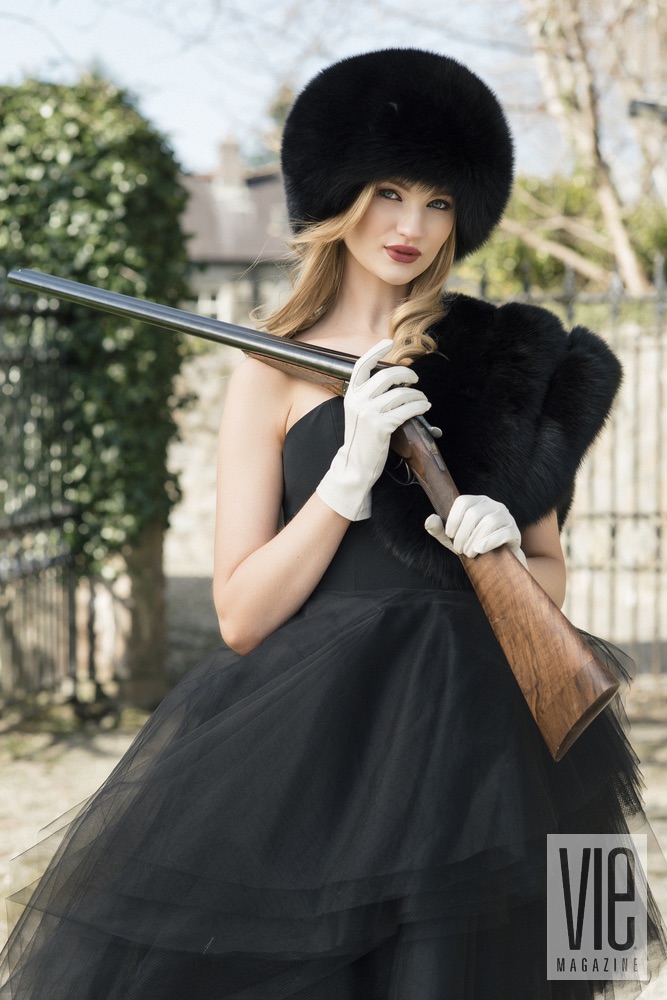 A Fairy-Tale Landscape
Ballynahinch Castle, a shining diamond tucked away in the rugged yet enchanting wilderness of Connemara, is a four-star luxury hotel boasting forty-eight charming guest rooms, a friendly and knowledgeable staff, endless scenic views, and a cornucopia of on-site and nearby activities that include hiking and walking, biking, fly fishing, tennis, clay and woodcock shooting, horseback riding, and even a boat trip to a local deserted island. The estate takes its name from the Gaeilge Baile na hInse, meaning 'dwelling on the island', which refers to the grounds' original sixteenth-century O'Flaherty Castle, whose ruins sit on an island in Ballynahinch Lake to the north.
The Martin family of Galway inherited the 250,000 acres of land occupied by the O'Flahertys when the feudal system was disbanded and began construction on Ballynahinch Castle in the 1750s. A member of the family, Richard 'Humanity Dick' Martin, who was a member of parliament for Galway and a staunch animal rights activist (as well as an accomplished duellist), introduced the first legislation affording animals rights in Ireland and also founded the Royal Society for the Prevention of Cruelty to Animals. Looking carefully upon entering the castle, one can see a placard in his honour just to the left of the front door.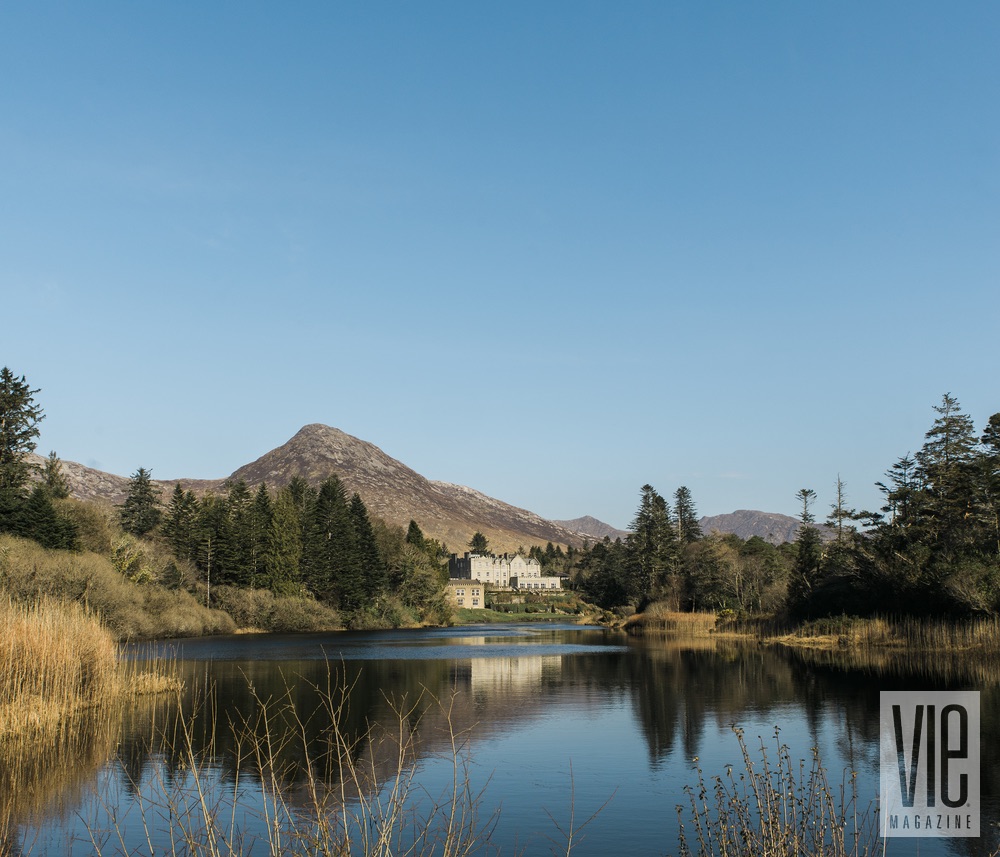 When the Martins fled from debt collectors in the 1870s, the land once again changed ownership, first to the Berridge family of Ireland and then into the hands of royalty, as would befit such a castle. The Indian Prince Ranjitsinhji, the Maharaja of Nawanagar, a world-class cricketer who played for England, acquired Ballynahinch and spent the fishing season—from February through September—at the castle every year until his death in 1933. Ranji, as he was affectionately known, was well regarded by the castle staff, and his name is emblazoned opposite Humanity Dick's at the castle's main entrance. Guests can also raise a glass to these former proprietors as they enjoy casual dining and drinks in the cosy Ranji Room, just past the Fisherman's Pub on the castle's west side.
Ballynahinch Castle began welcoming visitors from the world over after becoming a hotel in 1946, and although it has changed ownership a few times since and has recently undergone some extensive renovations under the care of passionate owners Catherine and Denis O'Brien, its hospitality and charm have never failed.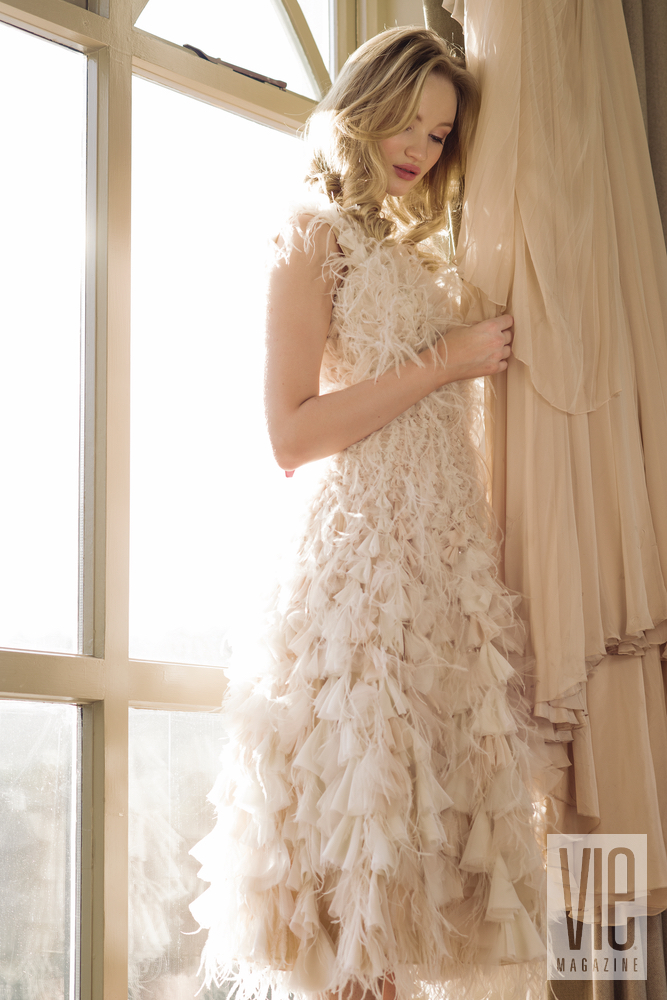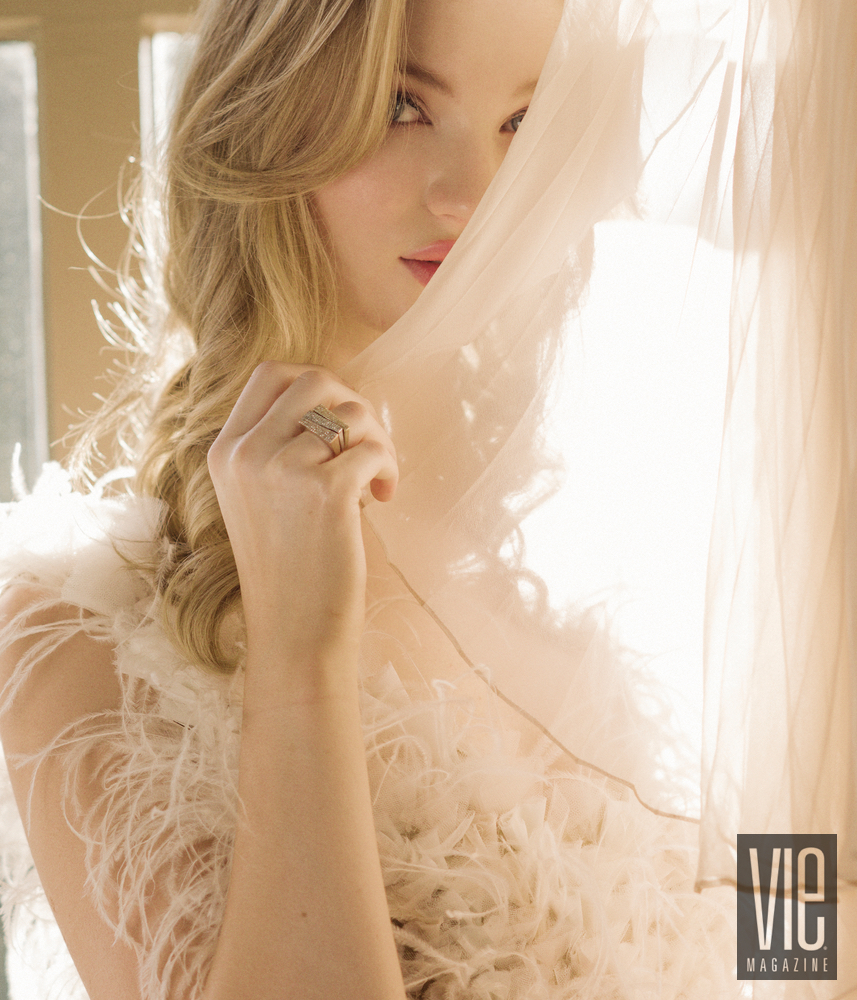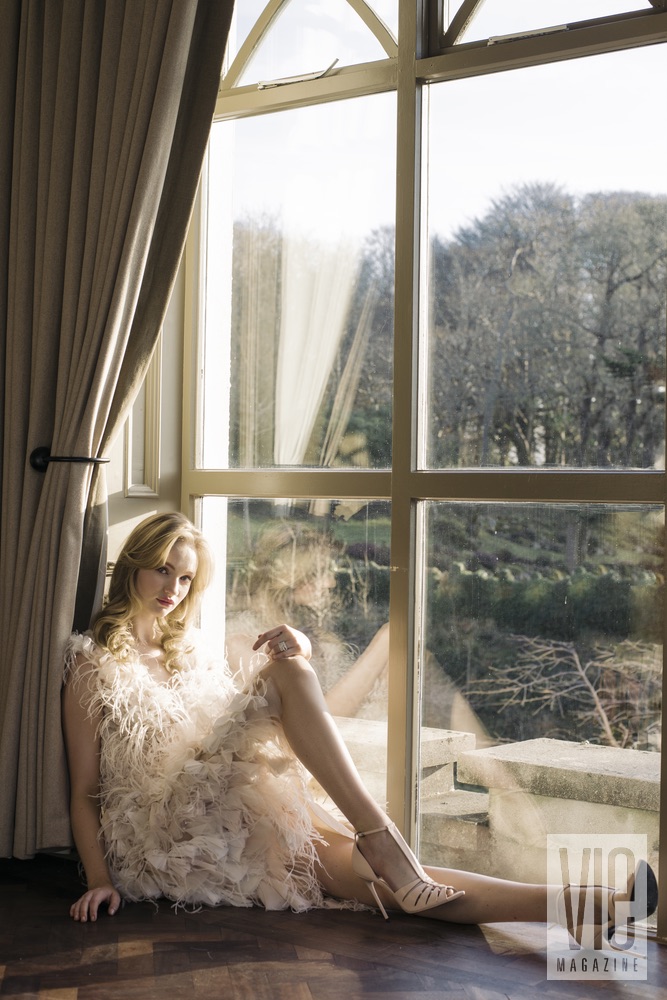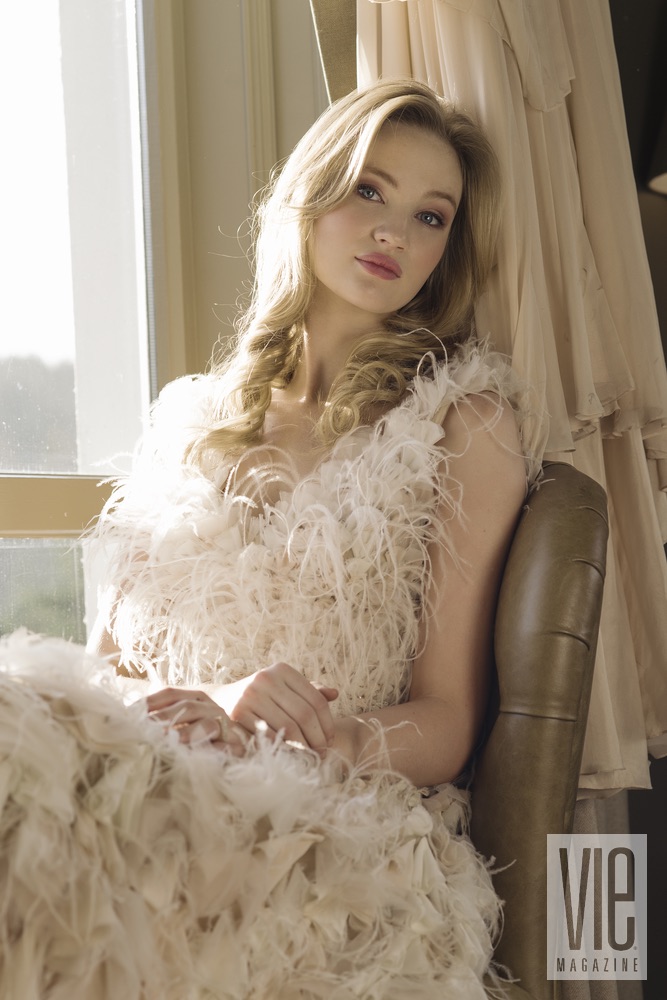 'There is something incredibly charming and relaxing about walking the riverbank, watching the water swirl and eddy. Truly, catching a fish is a bonus,' says Ballynahinch Castle's general manager of nineteen years, Patrick O'Flaherty, who enjoys walking the grounds and taking advantage of the superb fly fishing for wild Atlantic salmon, sea trout, and wild brown trout when he's able to steal a few hours away from running the busy hotel and its amenities. O'Flaherty resides on the grounds with his wife, Cliodhna Prendergast—an accomplished chef, food blogger, and food photographer also featured in this issue—and their children, Jake, Iseult, and Milo.
In addition to the fishing season, which is most active from April on for trout and June on for salmon, castle guests may enjoy activities year-round. Shooting lessons with instructor Shane Bisgood, who studied at the Holland & Holland Shooting Grounds near London, is an adventurous pastime for those who wish to test their marksmanship. Ballynahinch also charters a boat from nearby Roundstone, captained by one of the castle's team members, John O'Sullivan. The three-hour trip takes passengers across the bay to the idyllic deserted island of Inishlacken, where they may stop for photographs and take in the briny fresh air before continuing on to visit a lobster fishery. On the way, sights include grey seals, various sea birds, and, of course, Connemara's iconic stone walls and lush greenery, which hark back to a time lost in other parts of the world but never forgotten in Ireland's west. 'It truly is a magical trip', O'Flaherty assures, 'and guests often return with lobster for dinner.'
The Owenmore Restaurant is perhaps the jewel in the crown that is Ballynahinch Castle—or it at least shares that title with the breathtaking landscape surrounding it and the river for which it was named. Its windows span the back of the castle, overlooking the river and surrounding forests, and its fare is fresh, local, and nothing short of divine. Head chef Ultan Cooke and his team strive to delight guests with every meal, from spectacular gourmet options in the Owenmore dining room to the traditional selections in the Fisherman's Pub. A breakfast buffet and hot selections from the kitchen are also available each morning in the Owenmore room, and one should not miss the chance to sit by the windows and sip tea or coffee as the wilderness of Ballynahinch awakens.
Indeed, with a full range of on-site activities at Ballynahinch Castle and a robust calendar of festivals, music, theatre, and athletic events throughout the year in Connemara, it is never the wrong time to visit Ireland's west.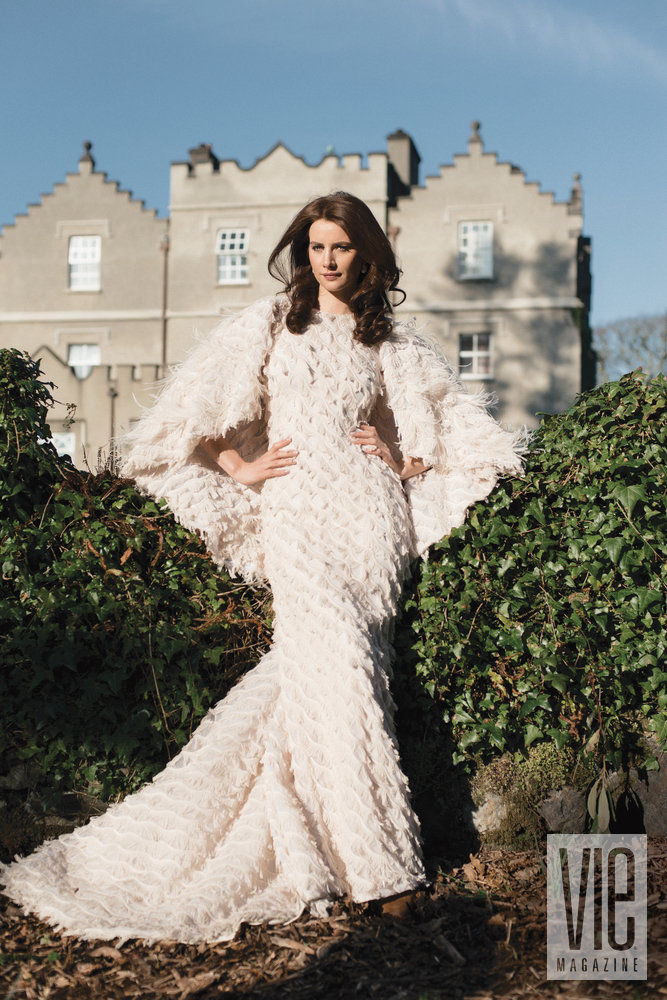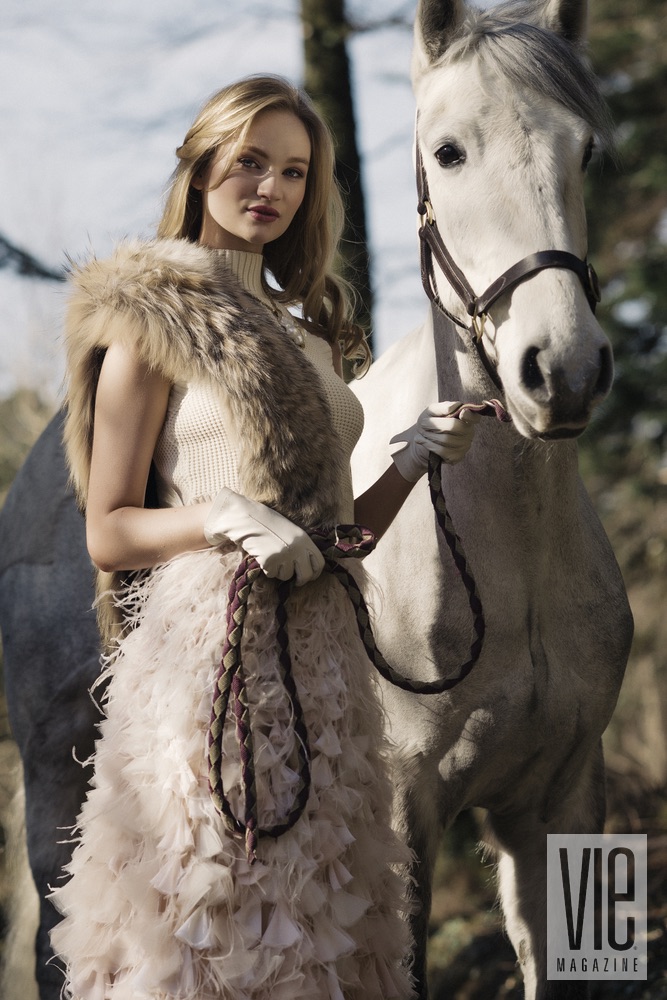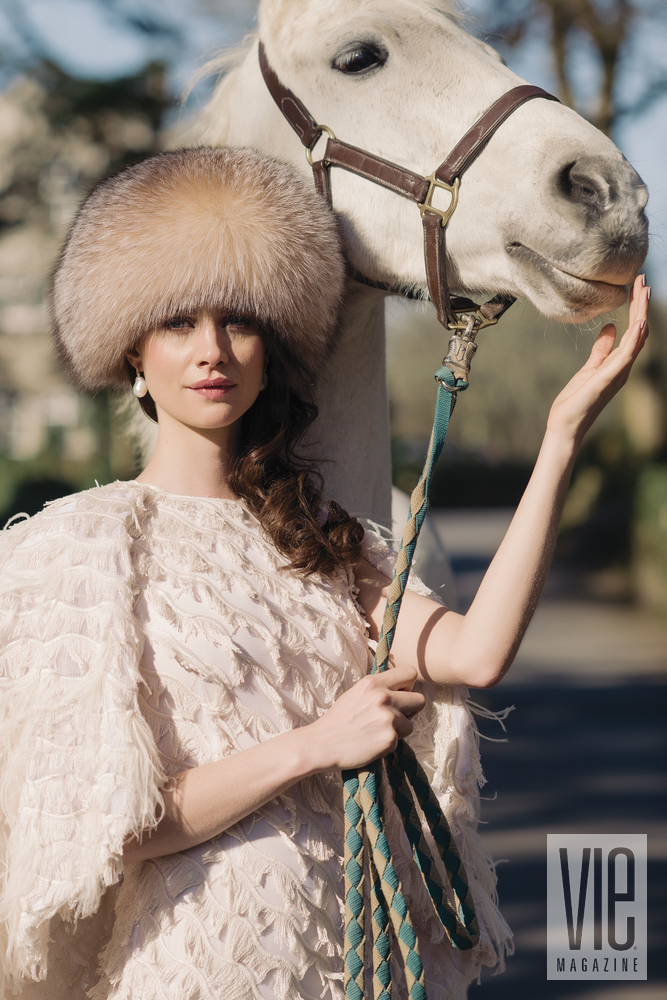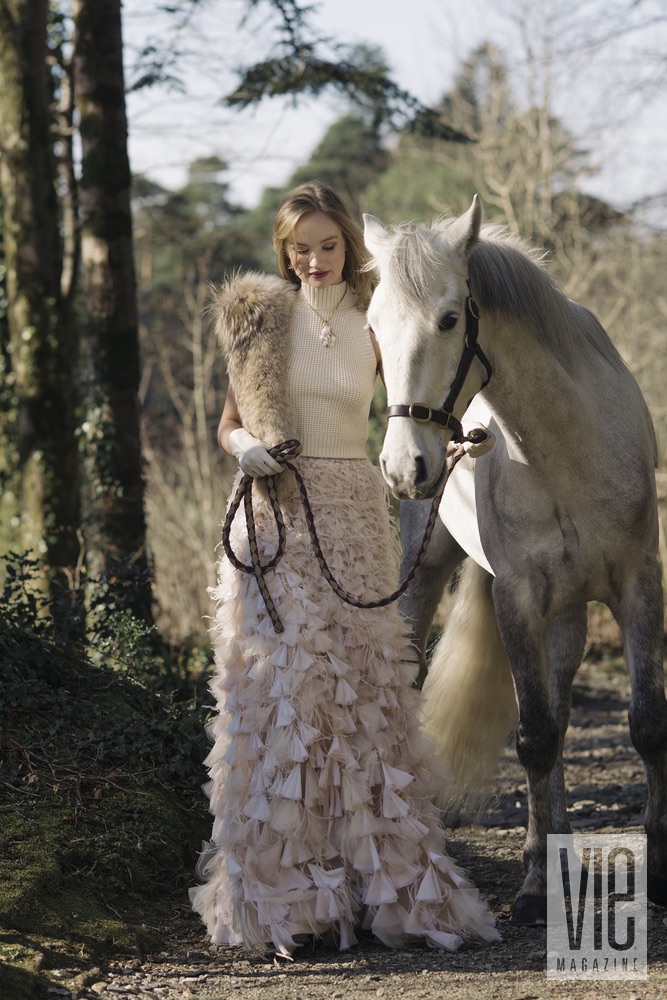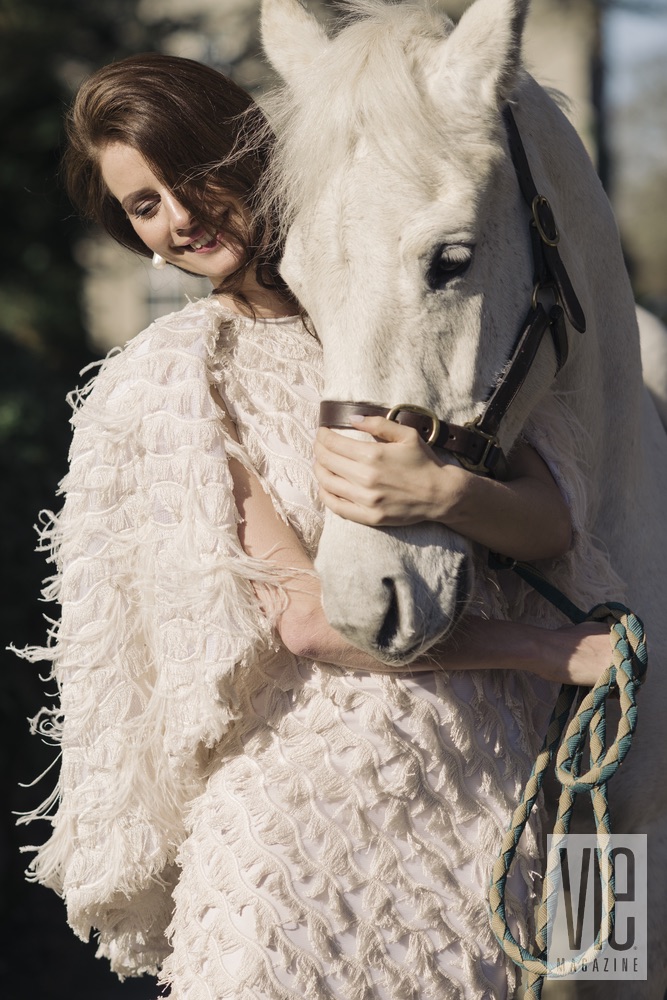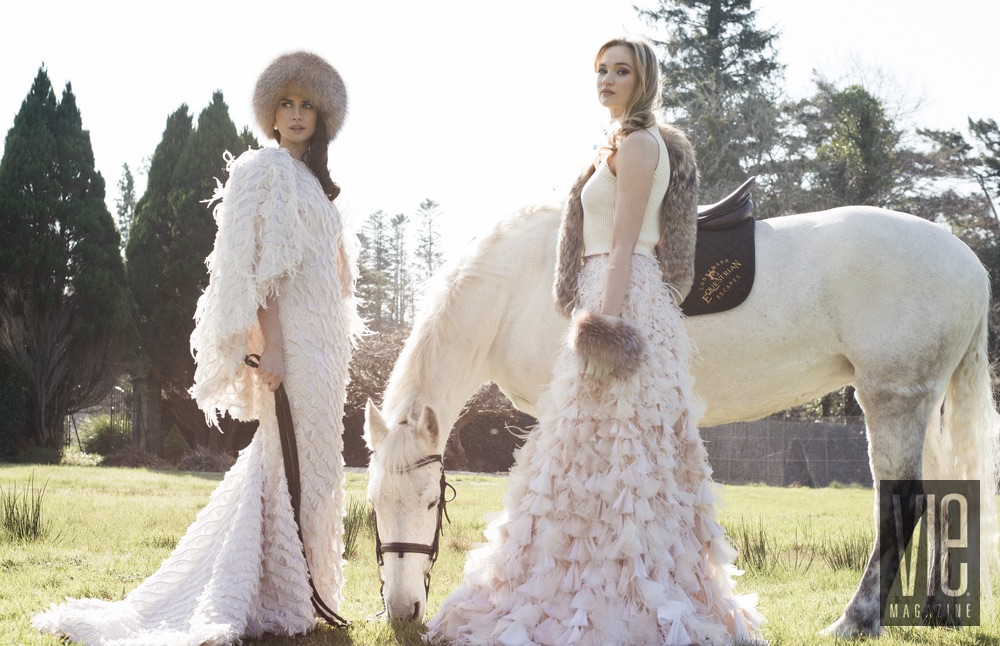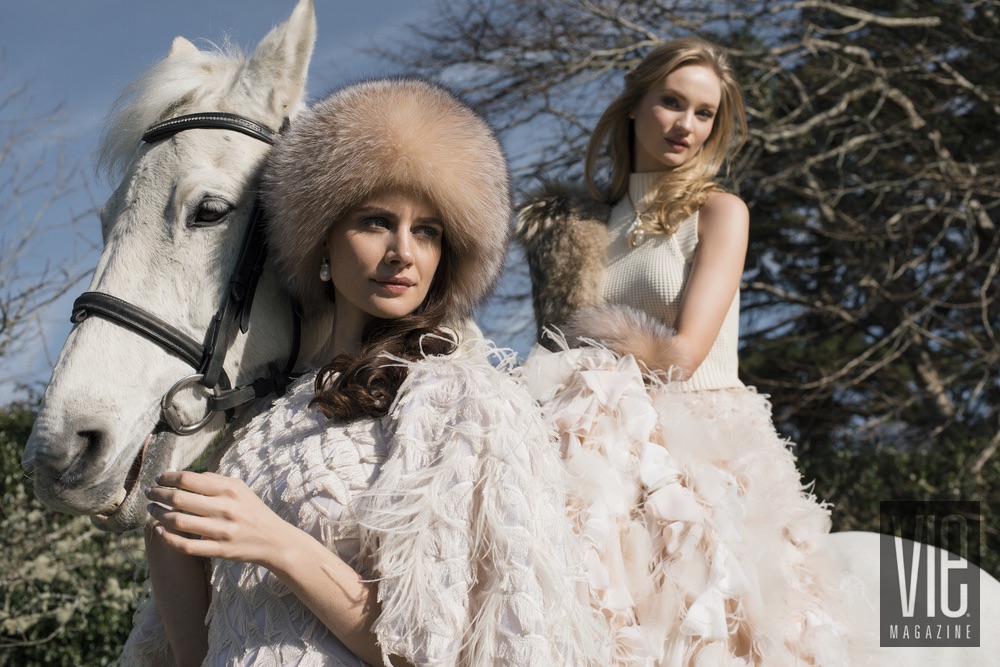 A Magical Scene
'Can you tilt your head that way, please?' Siriano asks model Faye Dinsmore as she poses against a vine-strewn wall on the castle grounds. He snaps a quick iPhone photo of her with her fellow princess for the day, McSweeney. Meanwhile, Hutchinson, an accomplished young photographer based in Dublin whose portfolio includes shooting for magazines and other publications around the world, is setting up his next shot with the help of staff members from Connemara Equestrian Escapes. Dinsmore stands regally, holding the leads of two dappled spaniels, Maggie and Cindy, as McSweeney shoulders a hunting rifle. Elegant pieces from Destin Jewelers in Florida, along with chic fur hats, stoles, and cuffs by Surell Accessories, perfectly complement Siriano's gowns, evoking a vibe of Doctor Zhivago with a couture edge—the creative vision of Connemara Life and VIE magazine editor-in-chief, Lisa Burwell.
'I think the skirt's going to lay really nicely here,' Siriano remarks as he adjusts McSweeney's feathered ballroom-style skirt while she sits tall on horseback. He stands by attentively, jumping in occasionally to adjust his creations and offer encouragement and praise to the models. 'I've been on a lot of photo shoots, and people always think I'm the assistant', the thirty-year-old designer jokes, 'until I come barrelling through and change everything.'
That's how he works—sitting back on the sidelines and observing until it's time to jump in and make magic happen for Hutchinson's camera, working seamlessly along with the whole magazine crew and the staff of Ballynahinch and Connemara Equestrian Escapes. It's the same way Siriano operates his business endeavours, from designing to marketing and creative collaborations with national American brands such as Payless, Lane Bryant, and Bed Bath and Beyond; he is personally involved and has the final word in how his own brand will be perceived. His gowns were featured on the cover of VIE in November 2015, worn by Tony Award–winning actress and performer Kristin Chenoweth and other prominent members of the theatre and classical music scenes in New York City. It was after this shoot that collaborations began to bring Siriano and his designs to Ireland for the fairy-tale inspired castle photo shoot.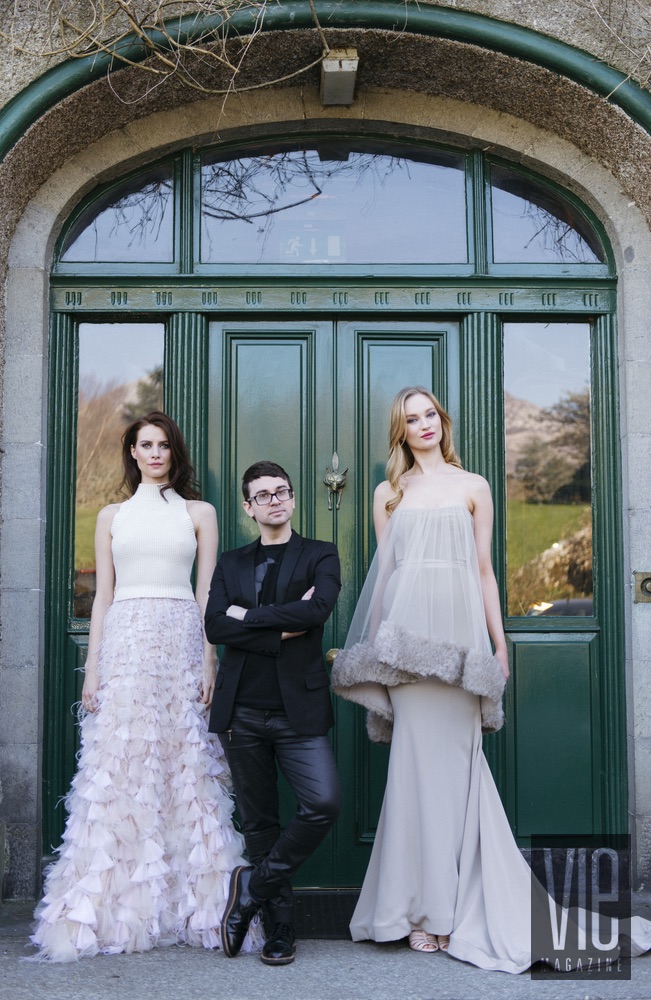 Siriano's then-fiancé, musician Brad Walsh (the pair wed in July of this year), takes candid shots behind the scenes and awaits his turn to climb into the saddle, shooting short video clips throughout the grounds to use in a music video for his new single, 'Creases', which debuted in late March 2016 along with his six-track EP titled Secondary. His first full-length album, Six Infinite, was released on October 28.
'There was a quiet buzz about the hotel when the VIE/Connemara Life team arrived,' O'Flaherty says. 'The staff were thrilled to watch the shoot, see the models show off the beautiful Christian Siriano creations. In particular, though, everybody was impressed with how down-to-earth and unpretentious the team were—Alex on camera and models Clara and Faye were all a pleasure to work with.'
The Ballynahinch staff were accommodating to the utmost degree, and one of their own was even recruited as a background male model—Tarek Biddulph, who works in the castle and resides in the nearby town of Clifden. Burwell and her publishing team at The Idea Boutique—who held a grand opening celebration for their Clifden international branch office at Ballynahinch Castle in August 2014—have a tradition of recruiting local talent to join in on photo shoots, both in Ireland and the United States. Biddulph donned waders and wellies and took up a net and a fly fishing rod for a shot out on the Owenmore. 'I think that's great', Siriano says, 'because it looks natural—it makes it more authentic.'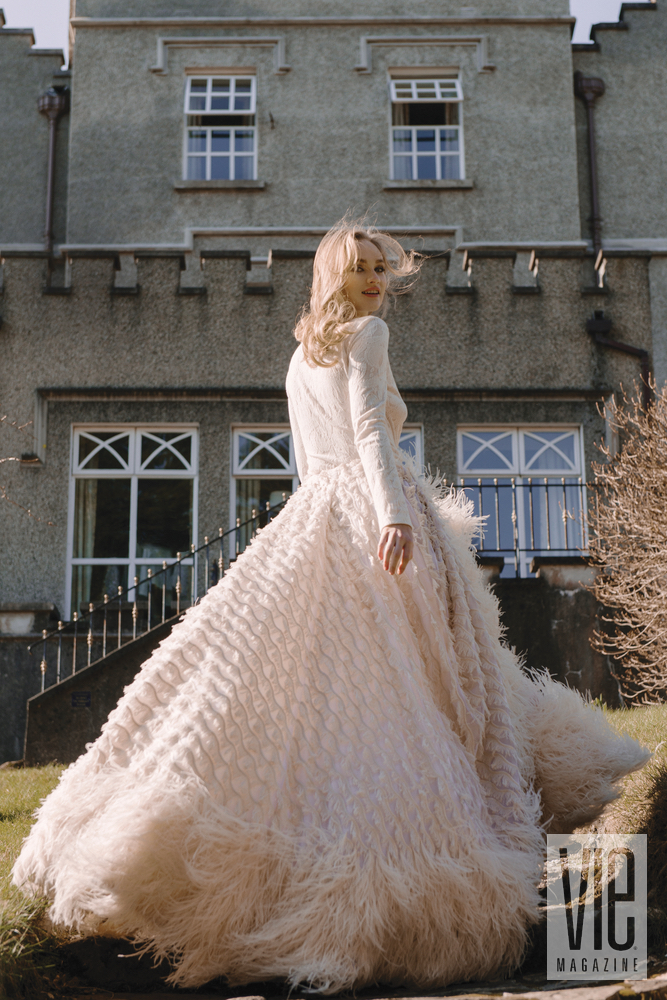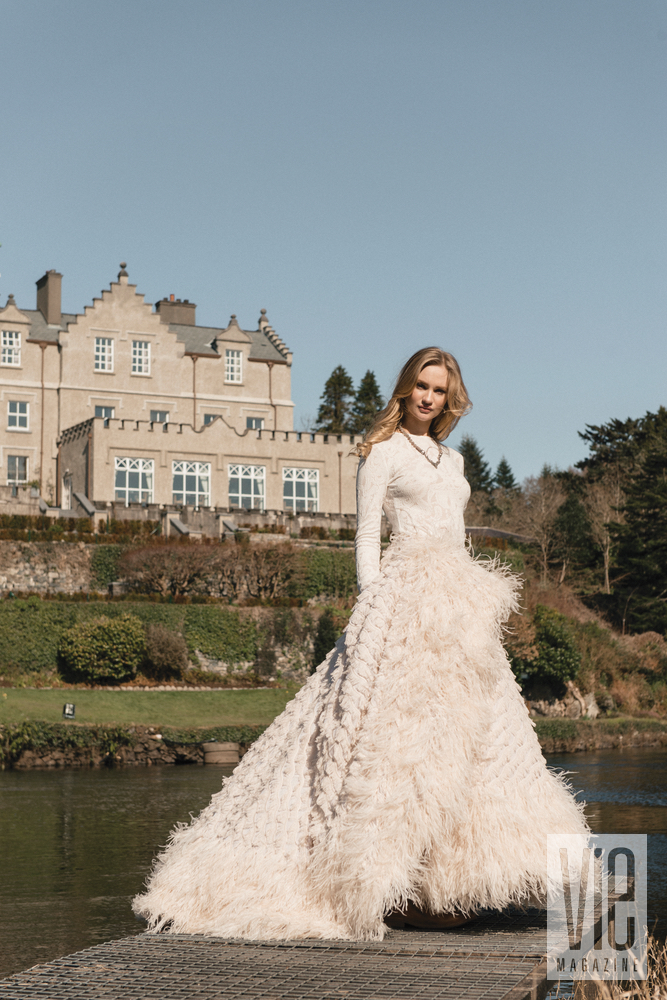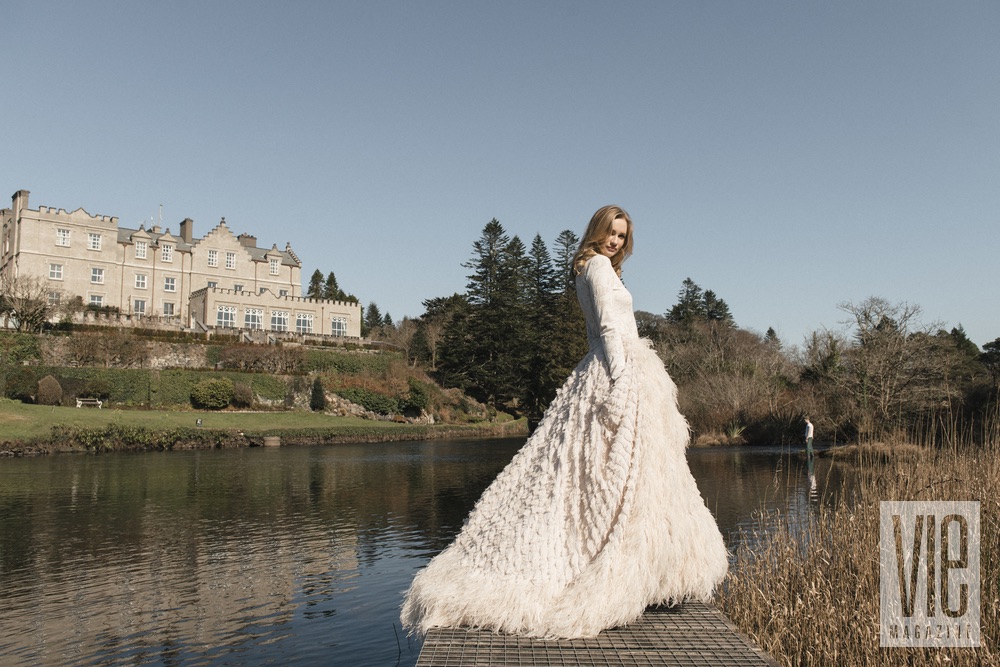 An Everlasting Love
Everything in Connemara seems to echo Siriano's sentiment; the region abounds with a refreshing air of unpretentious authenticity. Its natural beauty and rural Irish culture, which is anchored in charm and tradition but also embraces the changing modern world and its many technological and social advancements, are captivating to visitors, including Siriano, Walsh, and the American team from VIE magazine. It was the love of Connemara, its people, and its culture that brought Lisa and Gerald Burwell to open the international branch of The Idea Boutique in Clifden, near Lisa's extended family home in Tullycross, in 2014. Although the company's headquarters is located along a very different coastline—on the Gulf of Mexico in north-west Florida—the Wild Atlantic Way has stolen the hearts of its owners and staff, and they aim to share the area's wonders with the world via Connemara Life and other marketing endeavours in both Ireland and the United States.
'The poet Michael Cody refers to Connemara as "a state of light,"' O'Flaherty says. 'I think this is a wonderful way to convey the magic of this part of Ireland. The landscape is in part dramatic, in part gentle. It can be severe or beguiling, and this constant change of character is all because of the light. Situated as we are on the Atlantic coast, the weather patterns are in constant flux, and the effect on the landscape of shadows and light is magnificent.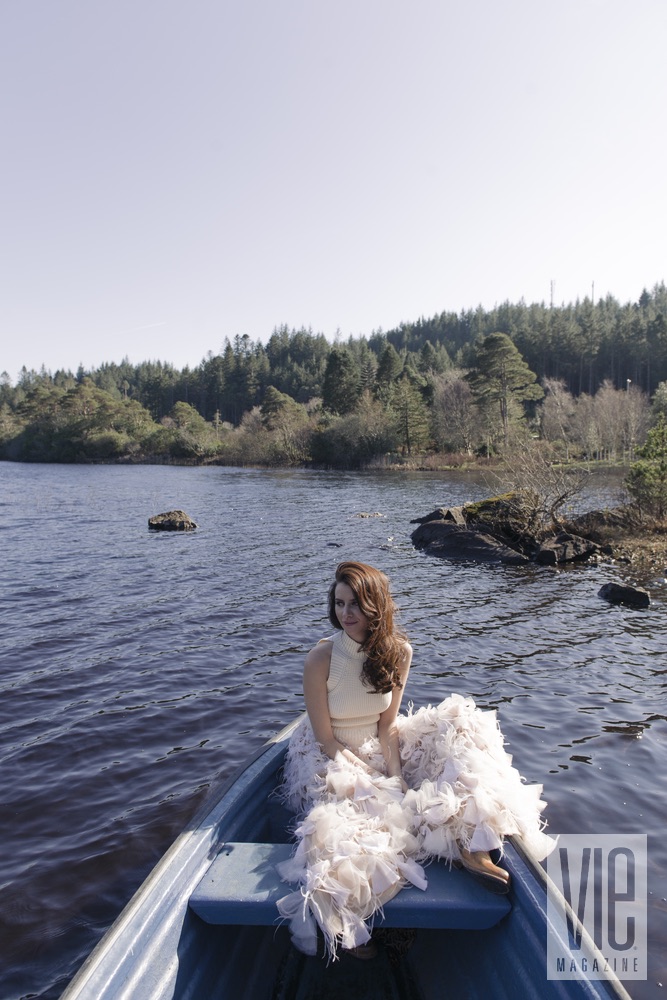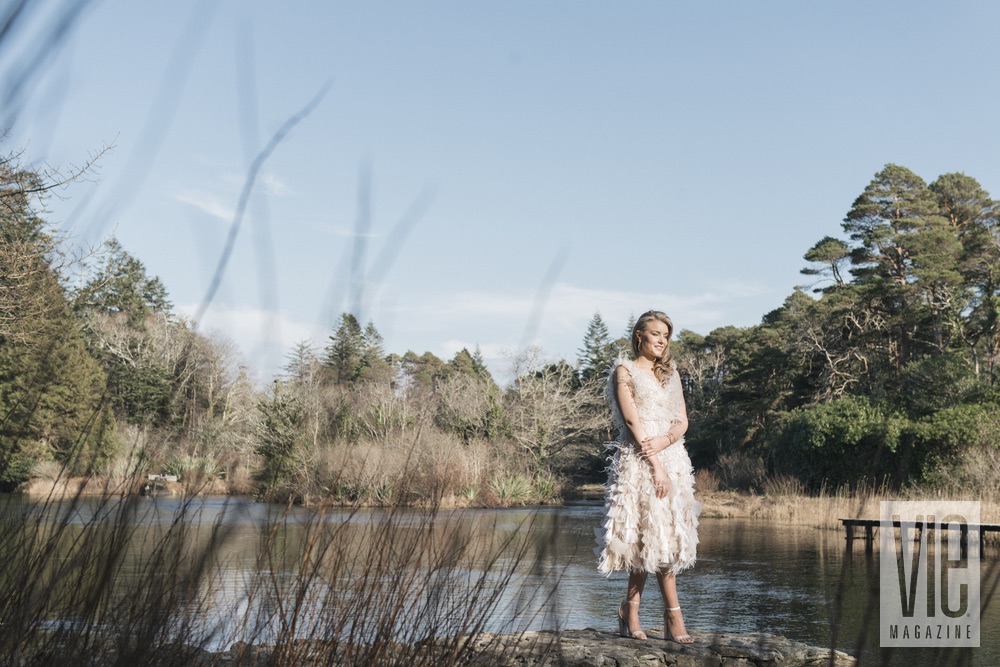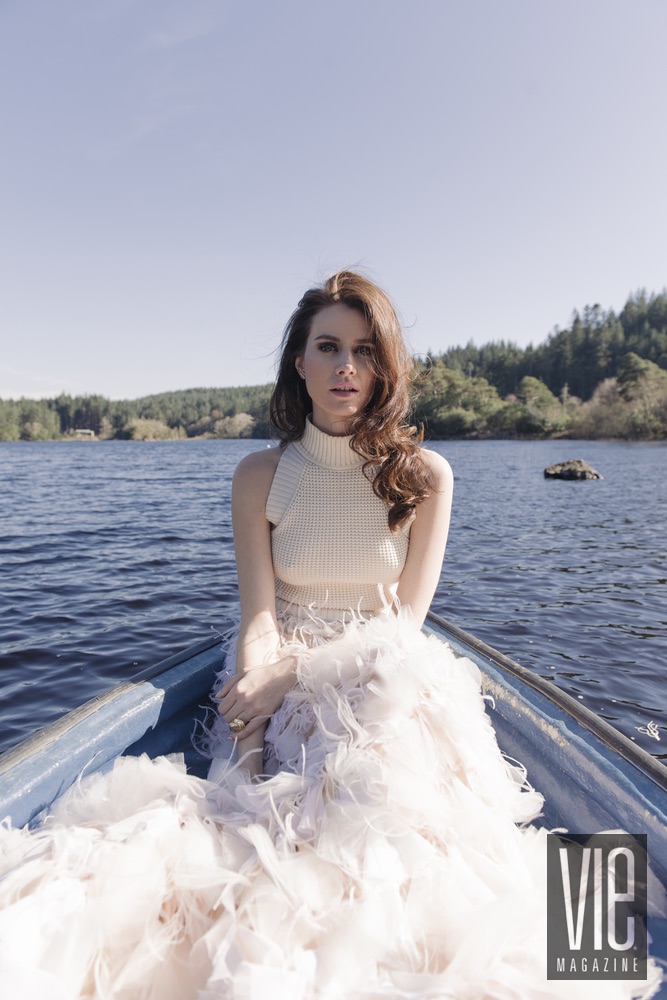 'The people of Connemara are open, curious, and yet private,' he continues. 'There is a readiness to accept people into the community, which is sometimes lacking in rural life. There is a sense of duty to support and help your neighbour that I believe comes from living in what is a beautiful but harsh landscape. This, coupled with the fact that a great many Connemara families came from the islands, I think gives a strong sense of community. I know I could not wish for better neighbours.'
There are many things to love about Connemara, and one simply cannot discover them all in one visit. It seems as though something more beautiful and exciting lies on every winding path, around every bend in the road, and over every rolling hill. This landscape of light and shadows is best discovered for oneself, and Ballynahinch Castle hotel's smiling staff and incomparable setting are dedicated to helping guests discover the magic of western Ireland for years to come.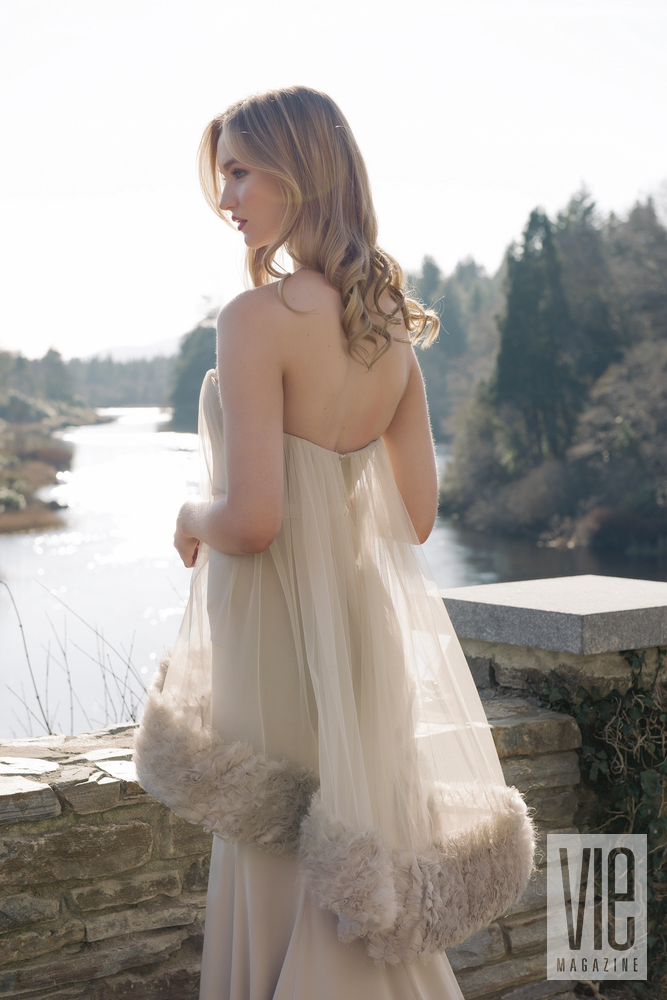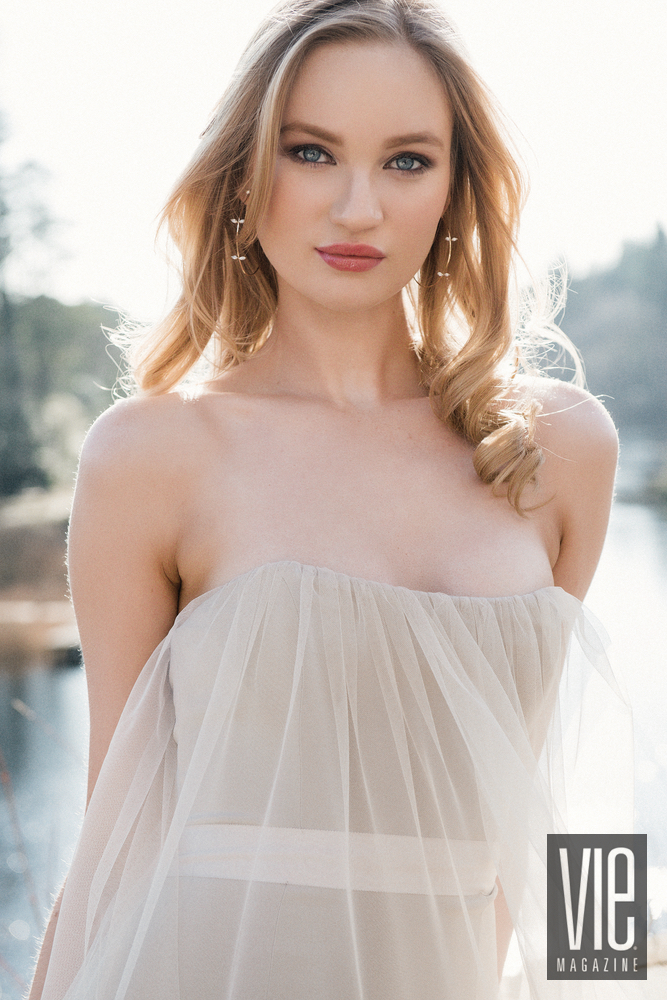 —V—
---
www.Ballynahinch-Castle.com www.ChristianSiriano.com
Behind the Scenes of An Enchantment: Ballynahinch Castle and Christian Siriano Fashions Inspire the Feminine Hunter
from
VIE Magazine
on
Vimeo
.
ARTICLE CATEGORIES