Alys Beach Is Perfection on the Gulf Coast
Interview by Lisa Burwell | 
Intro by Jordan Staggs | 
Photography courtesy of Alys Beach
If you grew up visiting the coastal South, particularly the area that is affectionately called "30-A" after the eighteen-mile scenic highway that runs parallel to its white-sand beaches, you might have marveled over the pristine town of Alys Beach when passing through. Alys Beach is a gorgeous example of New Urban town planning, created by Miami-based firm Duany Plater-Zyberk in the late 1990s and realized in 2004. The community was designed to combine "the harmonious forms of Bermudan architecture with the gracious character of courtyard living," according to the town's website. "The vision for Alys Beach embraces a commitment to architectural excellence and a deep respect for the natural environment."
Elton B. Stephens had a dream of creating a community like no other when he purchased the land just north of the Gulf of Mexico that would become Alys Beach—(the community was named for his wife, Alys). Years later, his son Jim, along with town founder Jason Comer, and many others made that dream a reality. "Creating Alys Beach was large," Comer told The Alys Gazette on the town's tenth anniversary. "We were trying to create a place that was all about those highly formative and memorable events in our childhood. And when you approach something with that sort of love in your heart, you give it everything."
Today, Alys Beach is a thriving beach community moving into its final development phases. Town Architects Erik Vogt and Marieanne Khoury-Vogt oversee the design of beautiful courtyard, compound, and villa homesites along with common areas and amenities to fill out the community. Visitors might claim that strolling through the town feels like you've stepped into a magical fourth dimension. A place where the salty sea breeze makes fabric curtains ripple from the private courtyards and balconies that line streets with whimsical names like Nonesuch Way or Sugar Lump Lane. And, perhaps surprisingly, even in the midst of a global pandemic, people can't wait to have a piece of that magic to call their own. In fact, Alys Beach just closed its most profitable off-season in the real estate market.
VIE took some time with Alys Beach's vice president of sales, Tom Dodson, and director of public relations, Diana Lane, to talk about this phenomenon and the growth of Alys Beach moving forward in 2020.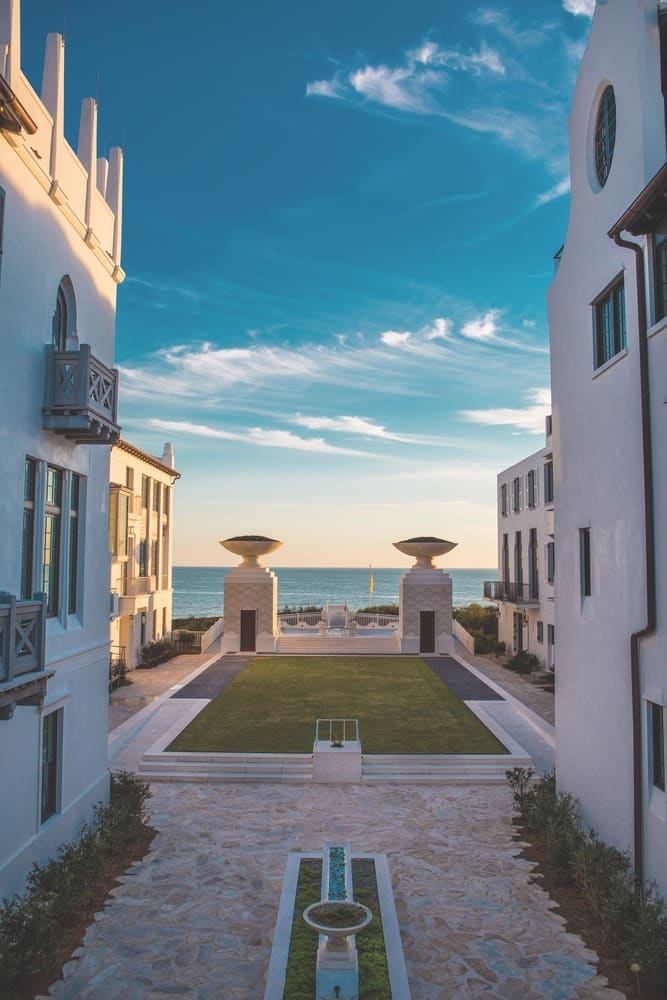 VIE: The town planners at Duany Plater-Zyberk have said that Alys Beach is their favorite community they have envisioned along Scenic Highway 30-A, and many would agree. What sets Alys Beach apart? Its ethos, its architecture, its way of life?
Tom Dodson: Two things truly differentiate Alys from others: the architecture—the number one driver of our buyer's interest—and the sense of community. With only 22 percent of our homes in the Alys Beach Rental Program, the 78 percent of true second homes and primary residences have formed lasting relationships in Alys Beach. I was speaking with a second-home owner who said they have their old friends where they have their permanent residence, but they have their special Alys Beach friends that they look forward to spending valued time with while at the beach.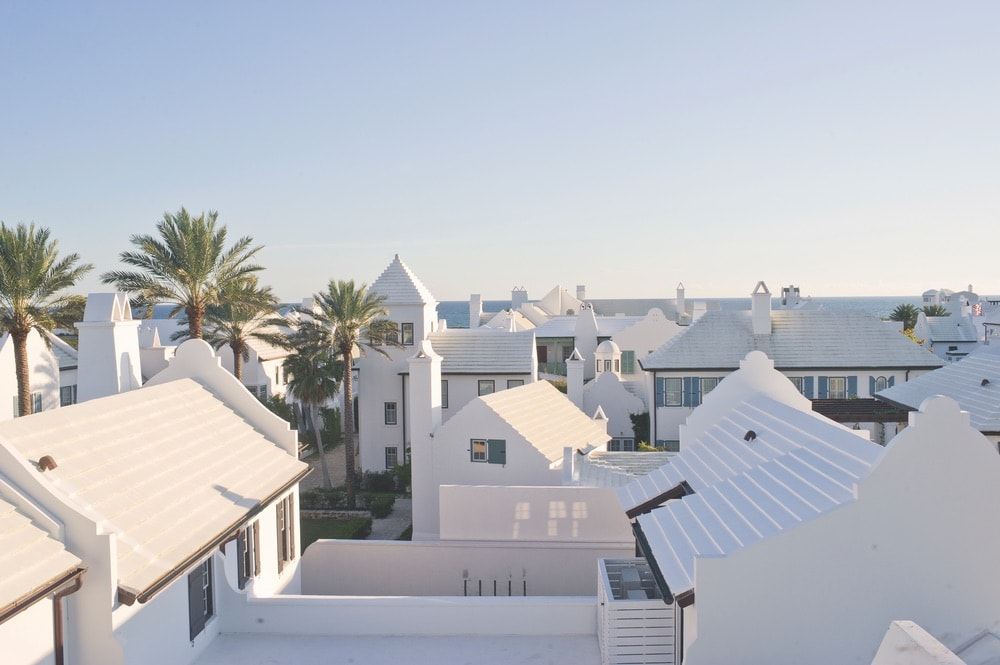 VIE: How has the real estate market in Alys Beach been affected by COVID-19, if at all?
TD: The COVID-19 pandemic is a very difficult time and one that no one was expecting or prepared for. It has made people rethink what's important and what we were meant to do. It has caused a pause in peoples' lives, an opportunity to remember the value of spending time with family. Having a beach home in Alys Beach offers this escape to a place where one can spend time in the outdoors and share memorable times with family.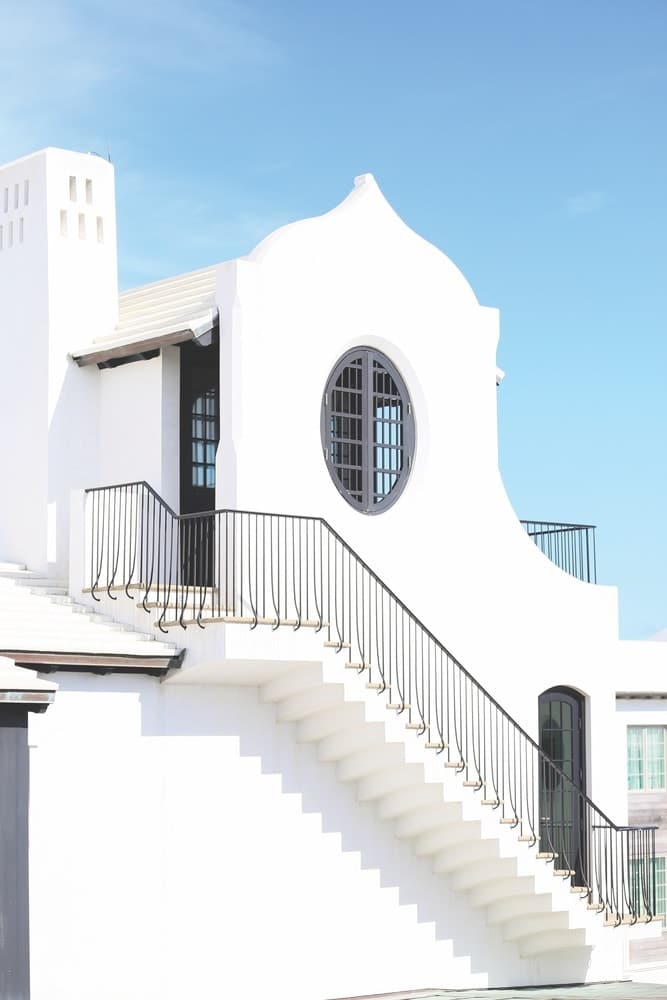 VIE: You've just experienced your strongest off-season sales record—congratulations! Why do you think this is?
TD: Partially thanks to the mind-set of our customers and also because Alys Beach is now becoming a real town with the delivery of our town center (where shops and restaurants will soon open), the opening of ZUMA (a state-of-the-art wellness and fitness center), and the realization of the private owners Beach Club at Alys Beach, which will be completing construction later this year. These have been differentiators for Alys Beach in our marketplace.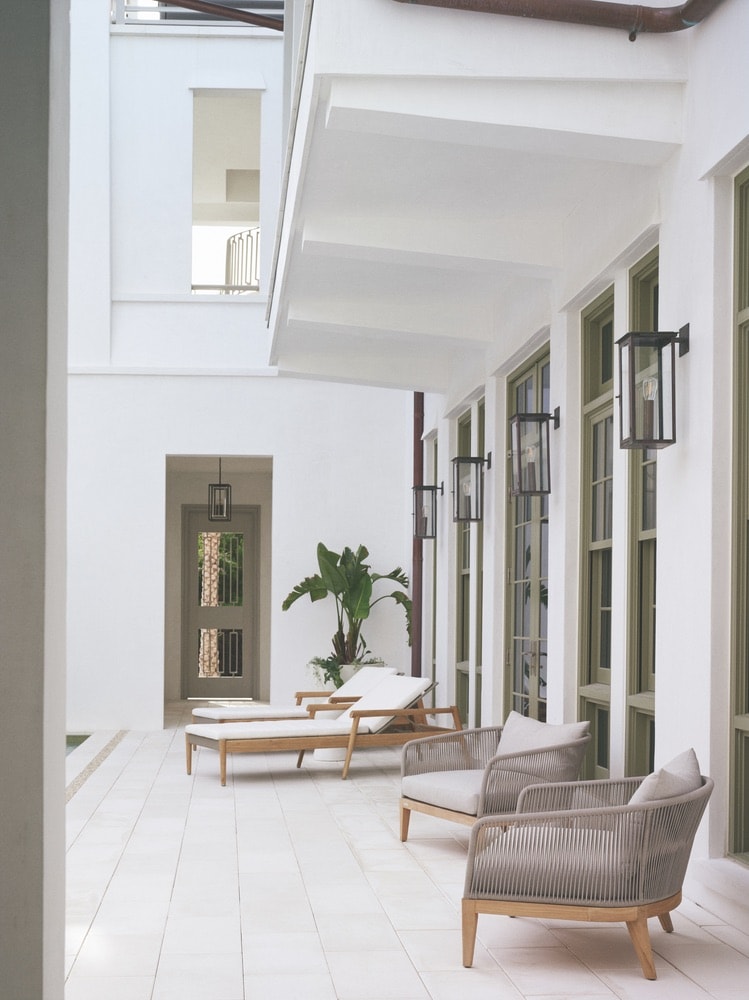 VIE: What have been your most significant achievements in real estate so far in 2020?
TD: Alys Beach took a strong position during the downturn of the real estate market from 2008 to 2012 in that the founder did not drop pricing in Alys Beach to what the current market prices were at the time. This was to ensure owners that we were not going to negatively impact their pricing as well. I believe we benefited greatly from this both as a developer and as a town. We have continued to see the vision of Alys Beach become a reality with the delivery of the town amenities and town center, as well as with the continued growth of developed homes. It has been the realization of the vision and the growth of the town that has been quite rewarding.
The setting alongside the Plaza with The Beach Club to the west and the exceptional sunset views to the beach make this a very prominent site in Alys Beach.
VIE: You have just announced The Selene & Easterly, two new Gulf-front condominiums in Alys Beach. Can you tell us a little about these new buildings and what makes them exceptional investment properties?
TD: We are most excited with the offering of The Selene & Easterly, which will complete the Beach Club complex, comprising the private owners Beach Club, the Beach Plaza, and The Selene & Easterly. We wanted to complete the Plaza, which is flanked by The Beach Club on the west and The Selene & Easterly on the east. We wanted Scott Merrill and his team from Merrill, Pastor & Colgan Architects to lead the design direction for this important neighborhood, the only Gulf-front condominium neighborhood planned in Alys Beach. The setting alongside the Plaza with The Beach Club to the west and the exceptional sunset views to the beach make this a very prominent site in Alys Beach.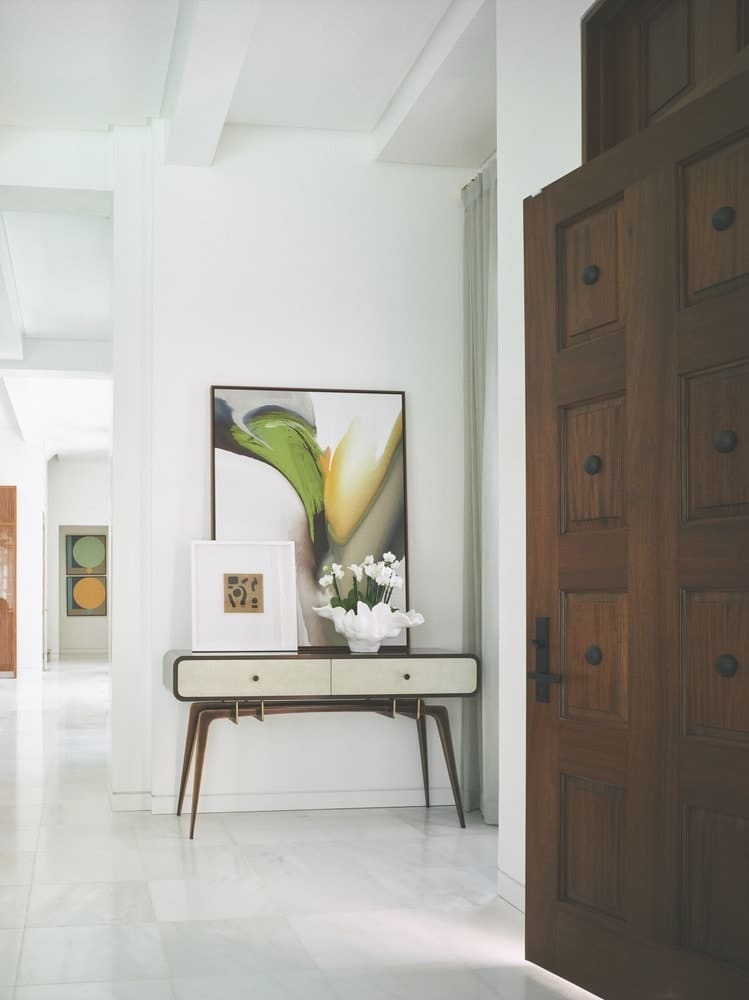 VIE: How did the architects work with the existing Alys Beach town plan to ensure a seamless integration for these new condos?
TD: Scott Merrill and the team from Merrill, Pastor & Colgan have worked with Alys Beach for several years. Scott had collaborated with Andrés Duany in the very early visioning years of Alys Beach. We worked with Merrill, Pastor & Colgan on the design development of a prominent Town Center residential and commercial building, The May, and were extremely pleased with the attention to detail and felt that they would be the best architects for the design of The Selene & Easterly.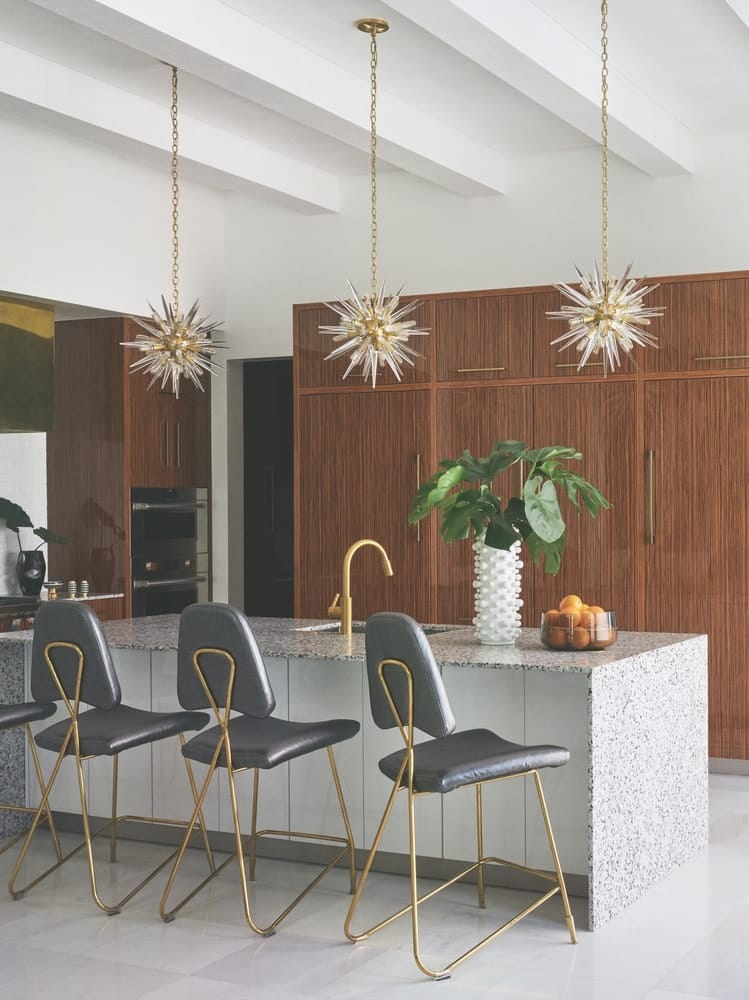 VIE: What news can you share about commercial real estate and new retail and restaurant offerings coming up in Alys Beach?
TD: We have worked on the casting of our Town Center to ensure a good mix of tenants to offer a memorable experience for our owners and guests in Alys Beach. The liner building, located on North Castle Harbour across from George's Restaurant, is currently occupied by commercial tenants offering experiences from specialty cocktails, wine, spirits, and a variety of cuisines at NEAT Bottle Shop and Tasting Room to specialty boutiques of curated pieces, household furnishings, and accessories. A new restaurant, The Citizen, will be opening in late fall of 2020 in The May, and the majority of the commercial spaces in the newest buildings being delivered to the Town Center, The Camden & Whitby, have been leased.
The Beach Club will be the iconic place in Alys Beach that will optimize the beach experience and the unforgettable views the Gulf Coast provides.
VIE: How is progress coming along on The Beach Club at Alys Beach, and what makes this such an exciting new amenity for owners and guests?
TD: We are extremely pleased with the delivery of The Beach Club at Alys Beach and anticipate opening in late fall of 2020. The Beach Club will be the iconic place in Alys Beach that will optimize the beach experience and the unforgettable views the Gulf Coast provides. This is a place where every detail is designed with homeowners in mind; it is here where owner relationships will be strengthened, friendships formed, and a community gathered in defining life at Alys Beach. The Beach Club will be a true differentiator for Alys Beach thanks to its private nature, providing an exclusive oasis for our owners.
The Beach Club has been a part of the fabric for Alys Beach, part of the discussion and visioning for many years. With the downturn in the market in 2008, the Beach Club was put on hold but is now becoming a reality. Many have waited patiently, while others are now being driven to purchase based on this and other amenities, including ZUMA, recently delivered in Alys Beach.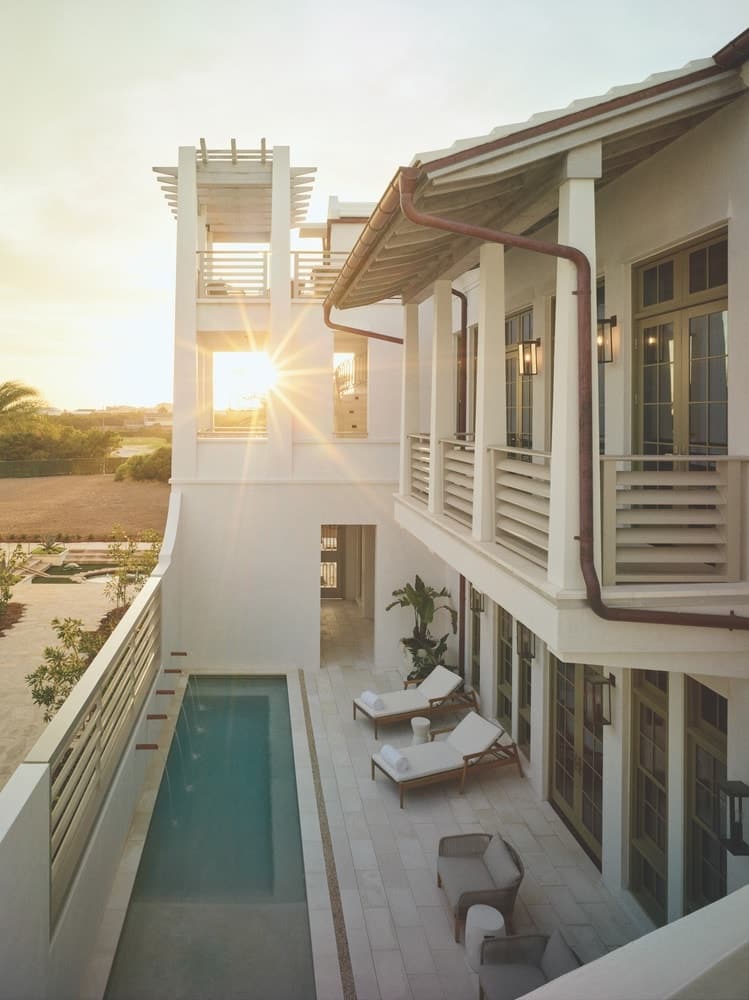 VIE: Congratulations on the first edition of The Alys Journal! How is this different from the existing (and beautiful) newspaper, The Alys Gazette? What can readers expect with this newsletter's On the Market section in the future?
Diana Lane: We've created this new digital publication as a way to keep our Alys Beach friends and family close in spirit, a way to reach out to readers more regularly to offer a virtual gateway into our beautiful town. The Alys Journal will be a casual, visual way to keep us connected, and to update readers on town news and developments—a bridge between our social media channels and The Alys Gazette (neither of which will be going away). Readers can expect to see regular highlights of new sales releases in the On the Market section, which will be a regular feature of The Alys Journal.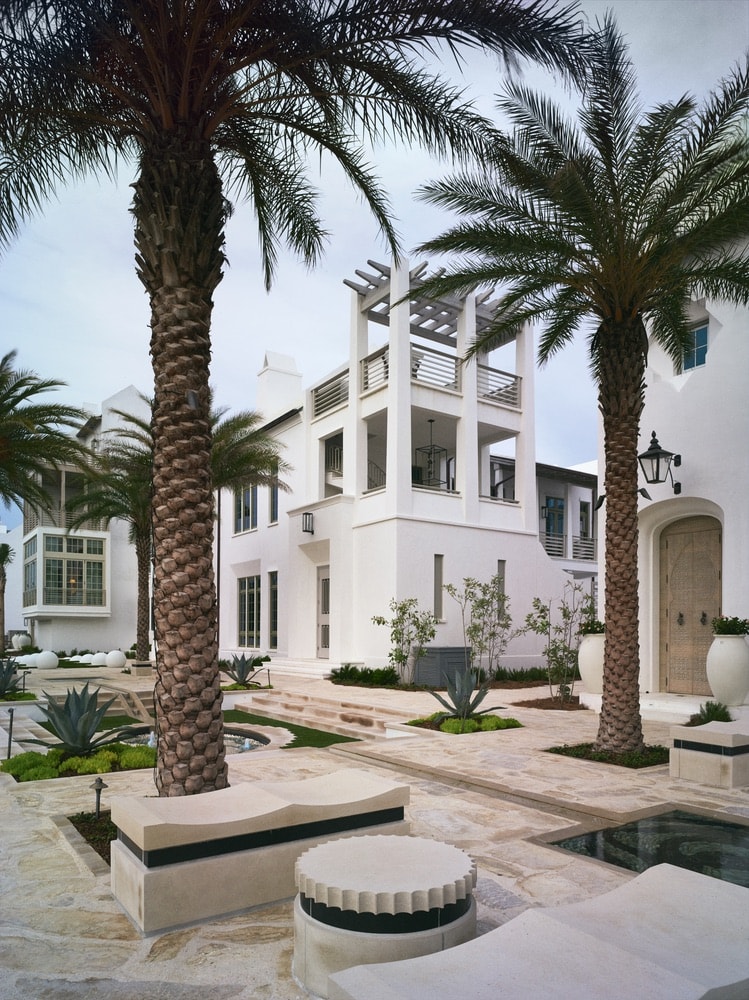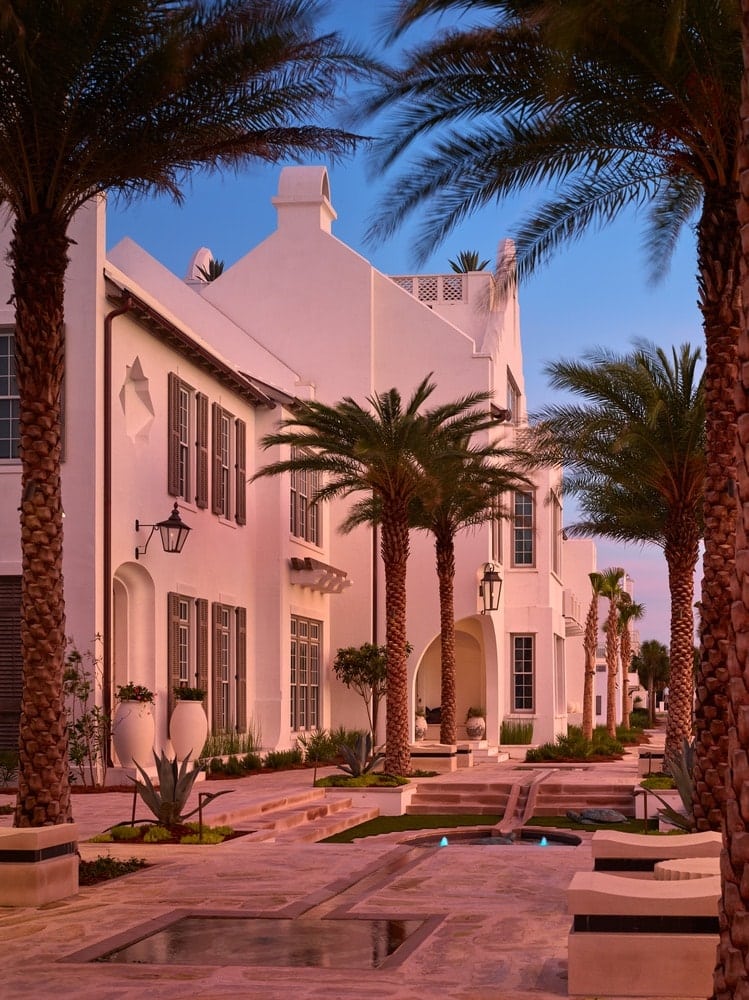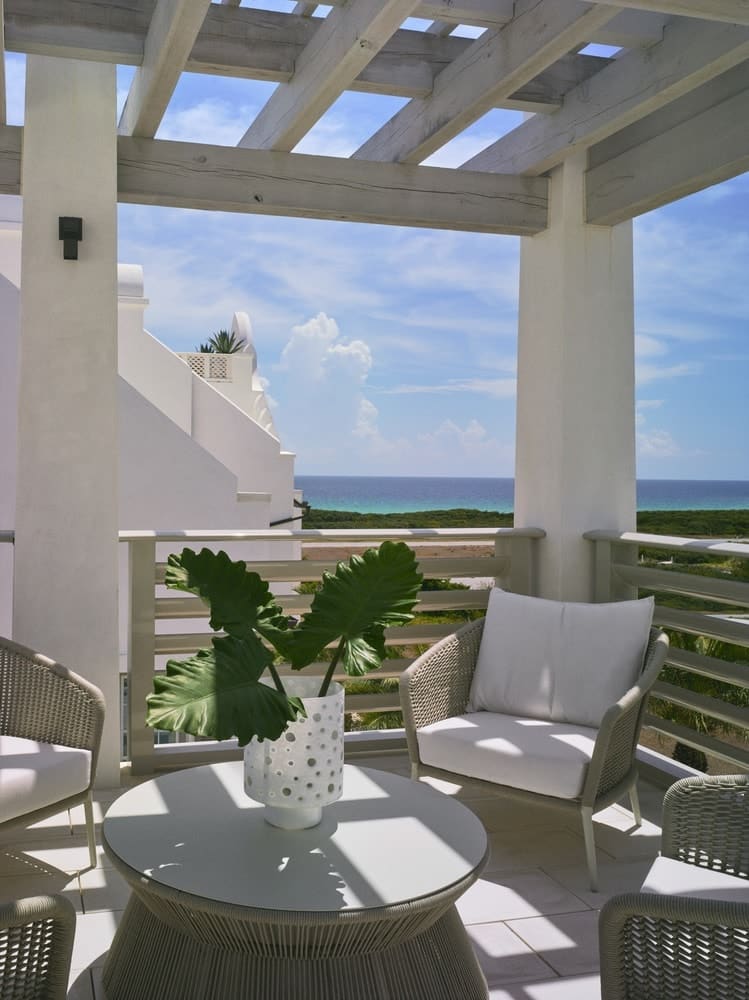 VIE: Do you expect to see more homeowners turning their Alys Beach properties into primary residences this year as a result of COVID-19 and the changing workforce environment?
TD: We have seen many of our second-home owners living in Alys Beach for the past sixty days. They have been extremely pleased with their experience while living here and many are planning more time in Alys, especially those who are empty nesters. In the month of May, eighteen properties were contracted for purchase. Most of these new owners will split time between their residences and beach homes, with many claiming primary residence in Florida for tax purposes.
DL: We genuinely feel that people are looking for communities where family, neighborhood, and connection are integral and where they have access to amenities for wellness, life's luxuries, and fun. The desire for a safe and secure environment has also come more into focus over the last several months and, while our Gulf beaches are a natural lure, the fact that our town is built to FORTIFIED Standards offers even more security and longevity to owners.
— V —
---
To learn more about Alys Beach and real estate opportunities in the community, visit AlysBeach.com or contact the sales center at sales@alysbeach.com or (866) 744-9958.
ARTICLE CATEGORIES