Hope For All Creatures Great and Small
By Lori Eckert | Photography by Romona Robbins
It's a crisp, clear morning, and Alaqua Bayou in Freeport, Florida glistens as the sun slips above the tree-studded horizon. The serene silence that blanketed the night on a nearby farm is broken as a rooster rears back his flame-red head and proudly crows.
But this is no ordinary rooster, and this is no ordinary farm.
Bobby is a rescued rooster—yes, roosters can be rescued. Along with more than two hundred fifty animals, which were once homeless, abused or neglected, Bobby, who is in his senior years, lives at Alaqua Animal Refuge, the Emerald Coast's premier no-kill animal shelter and adoption center.
The refuge was founded in January 2007, when Freeport resident Laurie Hood learned that, at that time, thousands of animals were euthanized every year because of the lack of an animal shelter in Walton County.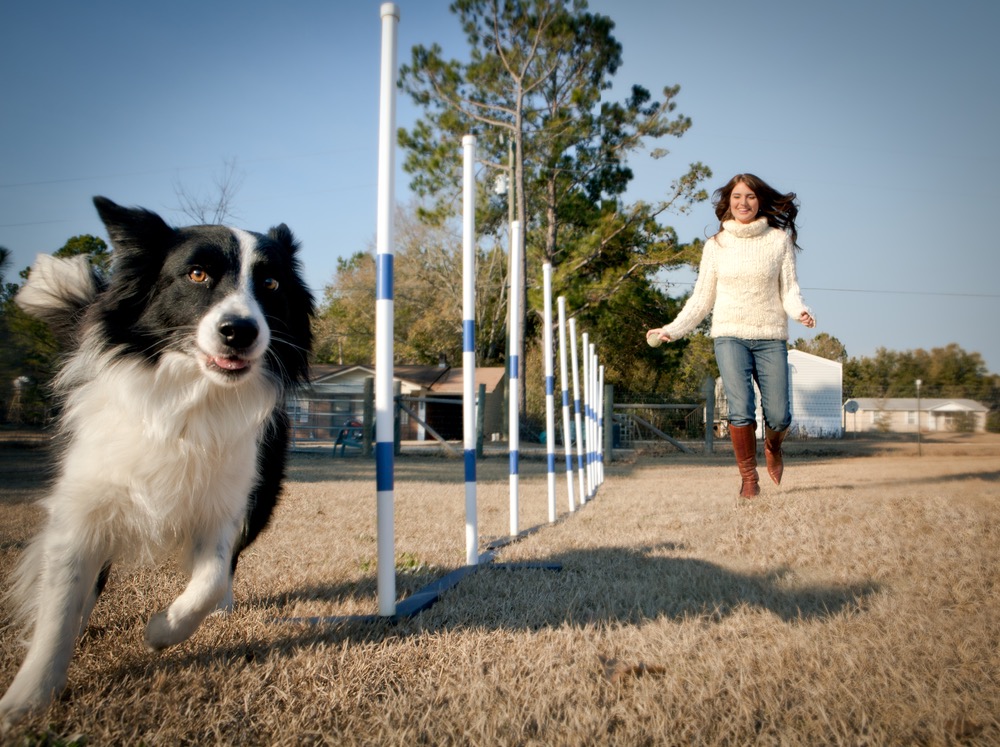 A graceful, soft-spoken blonde, Hood's petite size and gentle nature belies the power of her ambition. In just four years, Hood's vision to provide a unique no-kill facility has resulted in finding homes for more than six thousand animals.
Hood lives across the street from the ten-acre refuge with her two young boys and husband, Taylor. And once Bobby announces the arrival of dawn, her day starts at a pace that would physically and emotionally wear down nearly any Wall Street executive.
7 a.m.
"Many days begin, before I have even had my first cup of coffee, with finding an animal tied to our gates," says Hood. "When we can, we take surrenders—animals that owners can no longer care for—but when animals are abandoned at our gates, which is illegal, we must turn them over to the county. The animals are often frightened, hungry and sometimes cold and wet. It is a heart-wrenching way to start a day."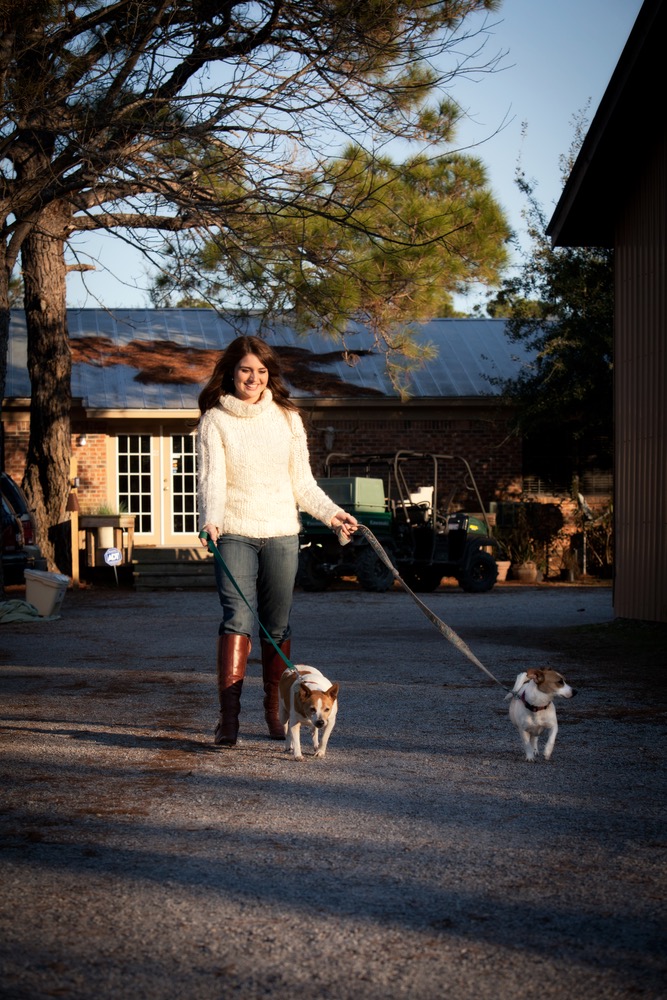 8 a.m.
The large iron double gates swing open and six full-time and four part-time staff members report to work, followed by more than a dozen volunteers. The first task at hand is feeding the dogs, cats, horses, pigs, ducks, chickens, pheasants, emus, rabbits, and other unique boarders, such as sugar gliders, monitor lizards and deer. There are also special diets and medications for animals that are young, old, nursing or have special needs, so the process requires extreme coordination and organization among staff and volunteers.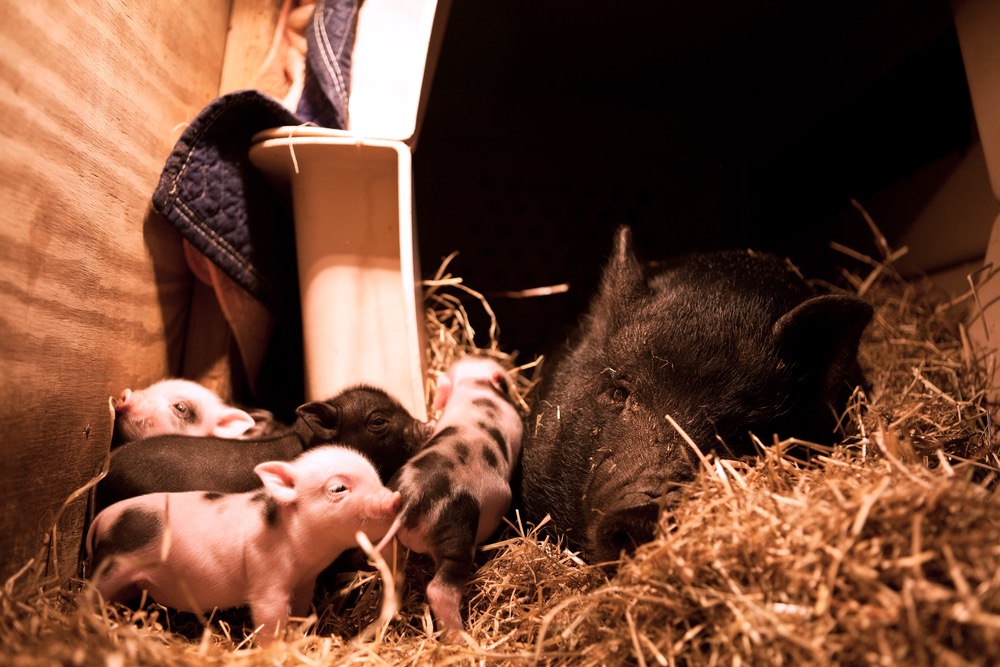 Surgery also starts at 8 a.m. for Dr. Amy Williams, the staff veterinarian, and Jerry Moore, the veterinary assistant. Williams and Moore operate three days a week, performing up to twelve procedures per day, from standard spay and neuter operations to lifesaving amputations.
And on this particular winter day, eight just-born squeaking, squealing piglets are found by staffers during the feeding rounds. "We had no idea Maybelline was pregnant when we rescued her. Our population just went up by eight, literally overnight, and the babies need to be cared for immediately. This shows we never know what to expect during a day at the refuge," says Hood, shaking her head, but with a smile.
8:30 a.m.
After the feeding cycle begins, volunteers start dog walking—a task that rarely happens at a traditional shelter—to ensure that the dogs get ample exercise, socialization and on-leash training, while greatly reducing any possible aggression tendencies. The dogs are taken down the farm's winding gravel roads and are allowed to sniff and explore to their hearts' content.
By this time, the office staff has settled in, gathering details from phone messages left overnight, preparing for visiting groups, such as school children, and checking referrals for potential adopters.
Kim Helder has been a volunteer for five months, assisting in the office. Like all the volunteers and staff members, the Santa Rosa Beach resident also helps whenever and wherever needed. "I never sit down. As soon as I get back in the office, I am out the door again, giving a tour," she says.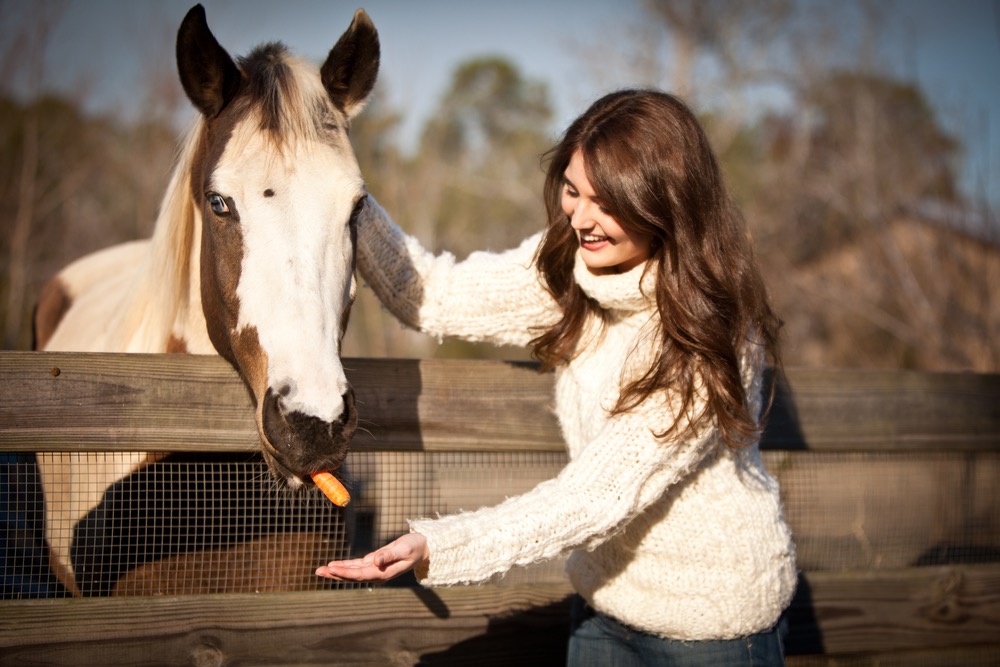 We had no idea Maybelline was pregnant when we rescued her. Our population just went up by eight, literally overnight, and the babies need to be cared for immediately. This shows we never know what to expect during a day at the refuge.
9:30 a.m.
As feeding comes to an end and the walking team is out in full force, the cleaning process must begin. Staff and volunteers clean pens, stalls, litter boxes and pastures as well as the two infirmary wards, two quarantine wards, a livestock barn, a horse barn, multiple dog runs, and six puppy, six dog, and two cat cottages.
10 a.m.
Today, the staff quickly gathers in a back office, trying to catch a few minutes to discuss administrative functions. Hood's first order of business is the course of care for the refuge's special-needs animals, including those with physical challenges and emotional issues due to abuse and neglect. April Madr, the events coordinator, gives a rundown of the many community activities in which the refuge is involved for the upcoming weeks. And goals, such as adoption and donation numbers, are discussed among the group.
Maintenance work, such as mending pasture fences and upkeep in the barns, which is ongoing at the refuge, has begun by this time.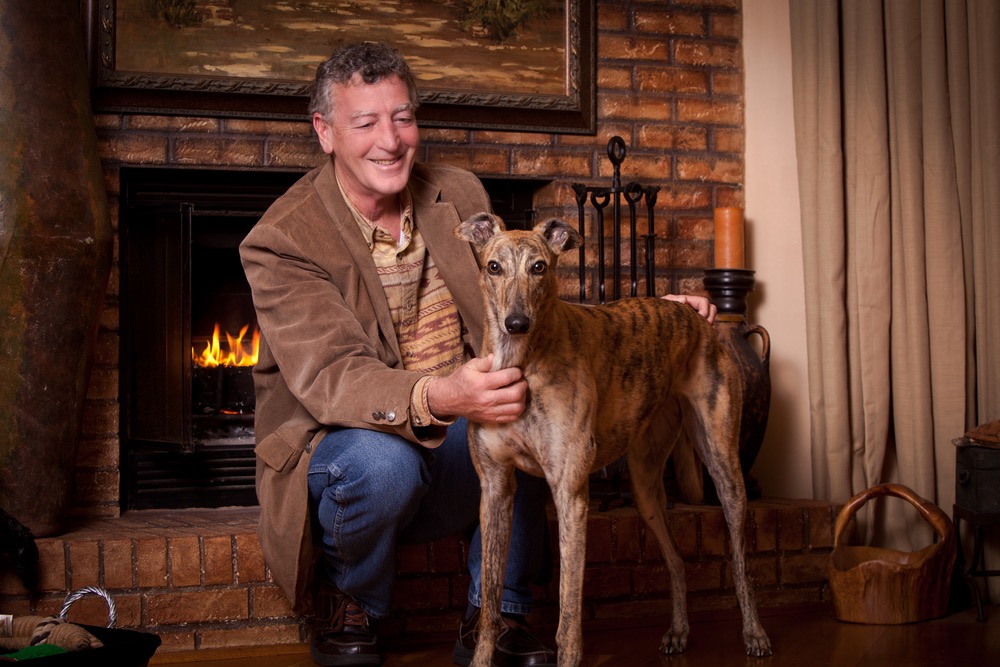 Noon
The refuge is officially opened, and the parking lot is full as the clock strikes twelve. This is the most intense part of the day, as the adoption process—key to the refuge's mission—begins. Every prospective owner is given a tour through the sprawling refuge.
Samantha Graves is the refuge's adoption coordinator. She knows every animal by name and its story, and she takes pride in creating the perfect match. She says she finds the greatest joy in her work when she places an animal and the new owners keep in touch. "I love hearing those success stories," she says.
But Graves, a Freeport native, also says it is often overwhelming knowing that they alone can't meet the need and take in the hundreds of surrenders about which they are contacted. Surrenders have dramatically increased with the economy's downturn and cases of abuse and neglect are also on the rise. "I hate seeing the results of animal abuse. It's difficult just knowing that someone could do the things we see," she says quietly.
I hate seeing the results of animal abuse. It's difficult just knowing that someone could do the things we see.
Graves, Hood, other staff members and volunteers grab lunch when and where they can, because for the next four hours, they are in constant motion, with their main focus on the adoption process.
Shari Roberts of Santa Rosa Beach is one of the many local residents who have turned to the refuge to find a pet. Roberts, who is the manager of the South Walton Senior Center, was searching for the perfect pet for her sister, Shirley Marshall, when she found Evie.
Roberts had previously called the refuge, asking them to keep her in mind for a specific kind of dog. Graves sent several pictures of Evie and Roberts immediately knew "this perfect little female Shih Tzu" was the one for Marshall, age seventy-two, who is dealing with the loss of a loved one. "My sister just loves her. She has called several times and said, 'Evie is the best gift I have ever gotten in my whole life,'" says Roberts.
"There are so many great dogs out there, just the sweetest most wonderful dogs—many of them could have been physically abused, but they still love and are able to forgive. There's a lesson we all could learn," she adds.
2 p.m.
Christina Flynn and Paul Goans, canine agility trainers, are running some very happy dogs through the challenging but fun course at the refuge. The couple, owners of Easytrain, teaches several agility and obedience courses to the public throughout the year.
In a nearby pasture, volunteers are washing four large dogs in a patch of warm afternoon sun, while another volunteer works to socialize a litter of six energetic and mischievous beagle puppies.
Meanwhile, the office continues to hum with activity—and the constant ring of the more than a hundred calls received that day.
Hood is at her desk, deeply focused on grant writing, searching for money in a down economy to cover operations costs. Today, she is applying for funds for S.N.A.P., a refuge program that offers low- to no-cost spay and neuter procedures to dog and cat owners in Walton County. S.N.A.P., which costs $100,000 annually, does not cover Alaqua Animal Refuge's rescues, but Hood says it is an important community service that helps alleviate the pet overpopulation problem in the area.
Fund-raising efforts, such as grant writing, are seemingly unending for Hood, who says it cost $38,000 per month to operate the refuge. She relies on her board of directors to identify sources, as well as help steer the refuge toward its mission.
Richard Liles joined the board nearly a year ago. A resident of Walton County since 1983, Liles understands what Alaqua Animal Refuge's mission means to the community. "I just like the principle of it being a no-kill shelter, and they are the only group around that is able to help animals other than cats and dogs," he says.
Liles, owner of Richard Liles & Associates interior design firm in Santa Rosa Beach, is not just a board member; he is a recent adopter, too. Piper, a four-year-old greyhound, was one of two former racetrack dogs saved by Alaqua Animal Refuge. Once malnourished and raced beyond the point that her young body could handle, Piper found safety and care at the refuge last fall and now has a loving home with Liles and his wife, Laurie.
4 p.m.
Another shift of volunteers has reported to work and a complete repeat of the early-morning routine begins. For the next three hours, dogs are walked, horses are returned to the stables, all the animals are fed, medication is dispensed, and most importantly, final pats on the heads, scratches behind the ears, and hugs are given.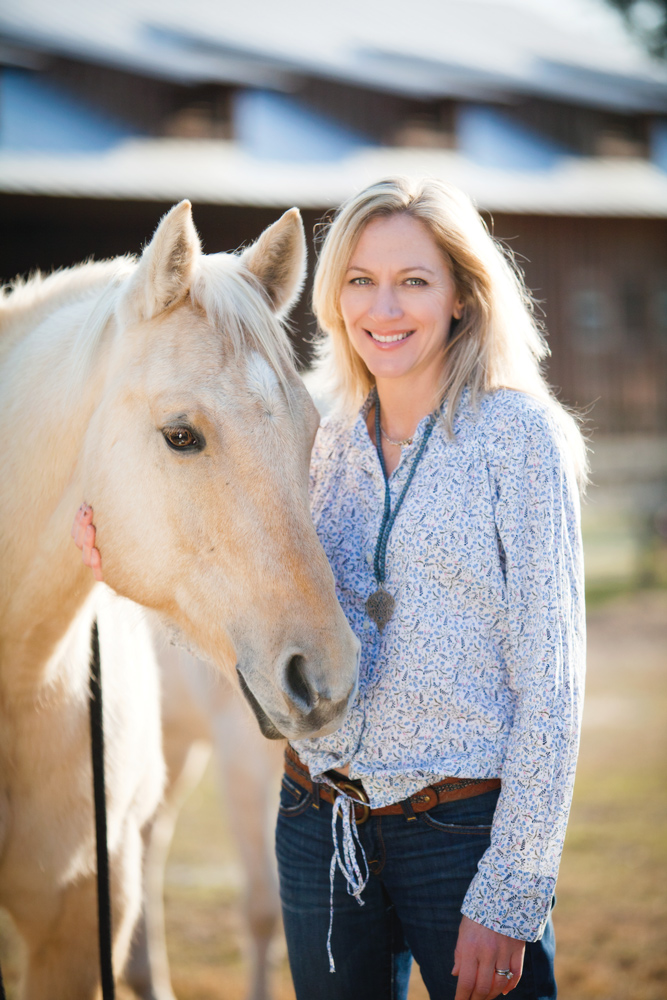 6:30 p.m.
All the animals are secured for the night. But some evenings it takes longer to close the refuge: If rain is coming, wall-like flaps must be secured, and if a cold snap is expected, portable heaters must be set up. And, if there is an animal in serious need—which was the case with Champ, a malnourished miniature horse that was rescued last August—Hood, a woman who gives each animal her all, can be found settling in for the night to sleep by its side in the barn.
7 p.m.
The sun has long since set and the gates are finally shut and secured. Bobby, the very vocal rooster, has nestled down into his warm pen. He is resting so he can herald a new day tomorrow—a day that is sure to be an extraordinary one at an extraordinary farm where second chances are granted, hope is fostered, and love, even for old roosters, grows.
— V —
ARTICLE CATEGORIES