A Trek to Slovenia's Highest Summit and around Its Alpine Lakes
By Kim Duke-Layden | Photography by Kim Duke-Layden and John Layden
When I mention that my latest adventure was to Slovenia, most people respond with a quizzical look or they ask, "Where exactly is that?" Formerly part of Yugoslavia—and bordered by (clockwise) Austria, Hungary, Croatia, and Italy—Slovenia straddles Western and Central Europe. It is generally a blip on the travel radar, overlooked by many Americans. Last summer, I spent three wondrous weeks with my husband, John, exploring this compact wonderland. We traversed Triglav National Park (www.tnp.si)—home to Mount Triglav, Slovenia's national emblem and highest peak at 9,400 feet—then cycled from the capital, Ljubljana (lyoob-lyee-AH-nah), down the Slovenian-Italian border to the Adriatic Sea. Throughout our journey, we crossed paths with many Slovenes, who are some of the friendliest and most genuine people we've ever met. Slovenia is truly one of Europe's best-kept secrets!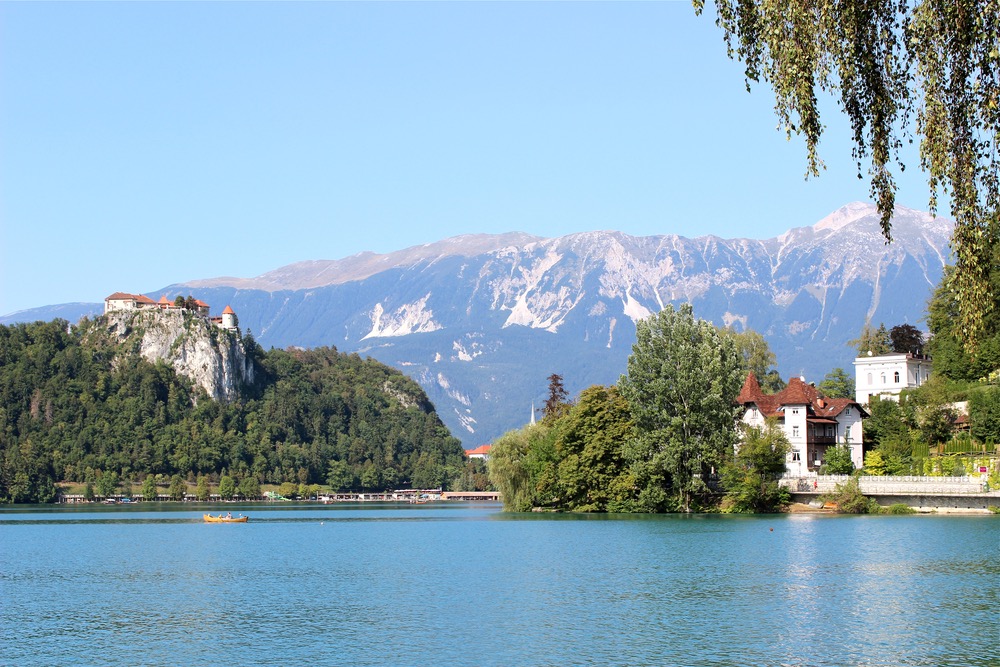 Introduction
John and I are avid hikers and, whenever possible, include mountainous destinations in our travels. For years, we have hiked Europe's Alps and longed to spend a night in one of the countless charming mountain chalets tucked high in alpine backcountry. We envisioned arriving by foot to bond with fellow nature-loving adventurers over hearty food, rounds of beer, and engaging trail stories.
Last August, one of the "must dos" on our bucket list became a reality as we embarked on an incredible five-day, self-guided hike in Slovenia's jaw-dropping Julian Alps. A plethora of superlatives couldn't sufficiently describe our astounding adventure, which exceeded our expectations and ranks as one of our best vacations—ever! Read on for part one of our exciting adventure to Slovenia.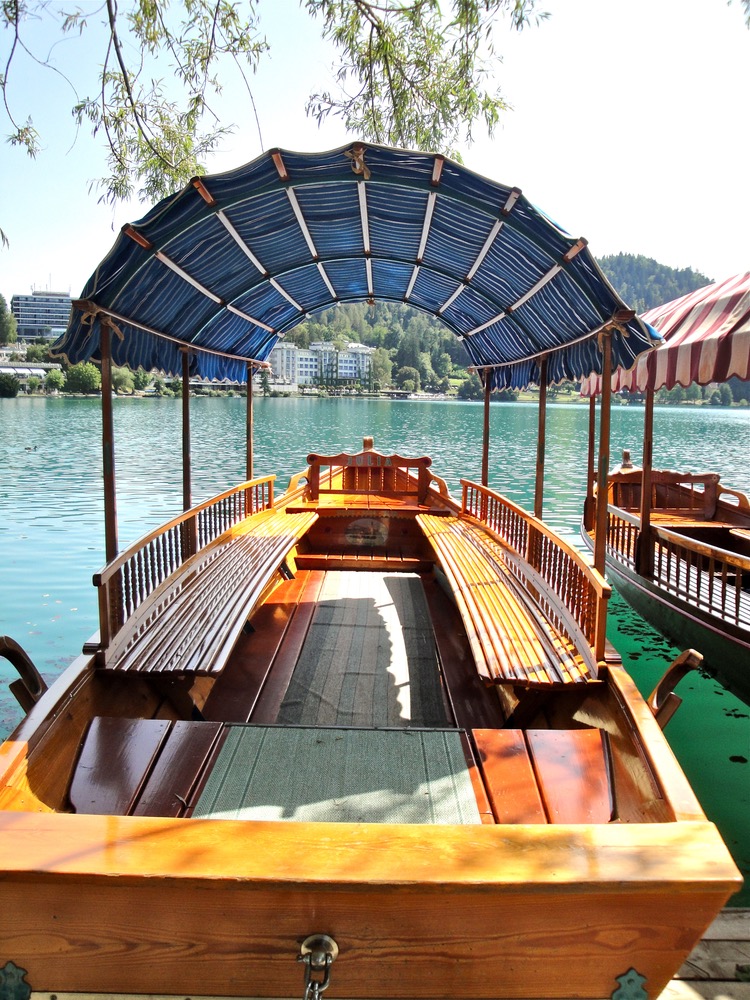 Peering out the plane's window during our descent into Venice Marco Polo Airport, I watched water taxis zip like water bugs across Venice's shimmering canals. Since many US airlines don't offer direct or connecting flights to Ljubljana's Jože Pučnik Airport (LJU), our shuttle driver, Milan, from GoOpti, (www.goopti.com) awaited us outside customs to drive us to northwest Slovenia. He was pleasantly surprised when I greeted him with "Dober dan" (Slovene for "Good day"), two of the five words in my vocabulary of the challenging and vowel-deprived Slovene language. Thankfully, many Slovenes know at least a little English and many in tourist-related jobs speak it fluently.
Nestled northwest of Ljubljana, between the Karavanke and Julian Alps, lies irresistible Bled, Slovenia's picture-perfect resort village, whose idyllic lakeside location has attracted visitors for more than a millennium. Since the Royal Hapsburg days, Bled has been Slovenia's "hostess with the mostest" for entertaining international dignitaries and celebrities.
One of our Bled highpoints was staying at charming four-star Hotel Triglav Bled (www.hoteltriglavbled.si/en), whose hillside perch on the outskirts of town afforded us riveting panoramas of gorgeous Lake Bled. From our balcony, I gazed across emerald waters to tiny Bled Island, Slovenia's only real island, which is crowned by a lovely Baroque church with ruby-red roof tiles and a towering belfry. A parade of pletnas (traditional flat-bottom boats with colorful canopies) ferried passengers back and forth.
During our brief visit, we only scratched the surface of the countless outdoor pleasures Lake Bled offers. We swam its invigorating mineral waters; explored its cliff-clinging medieval castle; cycled the three-and-one-half-mile loop lined with sunbathers, swans, and centuries-old villas; kayaked to Bled Island; shopped craft markets; picnicked in the park, and promenaded the lakeshore under the moonlight. At Bled's lively lakeside cafés, we also became acquainted with Slovenia's tasty wines and two national brews, Laško (lashko) and Union (oon-yun).
During our brief visit, we only scratched the surface of the countless outdoor pleasures Lake Bled offers. We swam its invigorating mineral waters; explored its cliff-clinging medieval castle; cycled the three-and-one-half-mile loop lined with sunbathers, swans, and centuries-old villas; kayaked to Bled Island; shopped craft markets; picnicked in the park, and promenaded the lakeshore under the moonlight.
Bled is blessed with numerous farm-to-fork restaurants serving delicious Slovene cuisine and regional specialties like grilled trout, wild game, and Bled's signature creation, kremna rezina—vanilla custard layered with whipped cream and sandwiched between crispy layers of puff pastry. The gelato version of this dessert is even more addictive.
We booked our tours online through the reasonably priced full-service travel agency Helia (www.helia.si/en/), specializing in both guided and independent hiking and cycling trips in Slovenia. For our hike, we chose Helia's self-guided Julian Alps Peak Walk, the most challenging route, which also included dom or koča (types of huts) stays.
At Helia's pre-trek orientation, we met Urša Pipan, our trip coordinator extraordinaire. We three clicked immediately and became fast friends while perusing trail maps and route details. A severe storm was forecast for day three of our trip, which coincided with our descent down Mount Triglav. So we created Plan B: If we awoke to bad weather, we would wait until the next day to depart; then we would resume the itinerary. Urša would handle reservation changes. Perfect!
---
Day One: Pokljuka Plateau to Rudno Polje / Distance 9.8 miles
We awoke to another crisp, sunny morning. Following breakfast at Hotel Triglav, Helia's driver arrived promptly at nine. After nearly dismantling the car's trunk to fit our luggage, we rode up the winding, scenic road to Pokljuka, a sprawling 4,000-foot-high forested karst (limestone) plateau situated northwest of Bled. As we waved goodbye to our non-English-speaking driver, I said a heartfelt "hvala" (thank you) and smiled apologetically. Geez. Would we ever learn to pack lighter?
We were psyched to tramp across picturesque rolling pastures dotted with rustic cottages and cows wearing bells. Chalky-white peaks punctuated the horizon against the brilliant blue sky. The trail snaked through dense forests up to a verdant ridge, where the Blejska Koča nestled between rugged mountains. At a picnic table, we lunched on beer and barley soup and then basked in the blissful, sunny surroundings.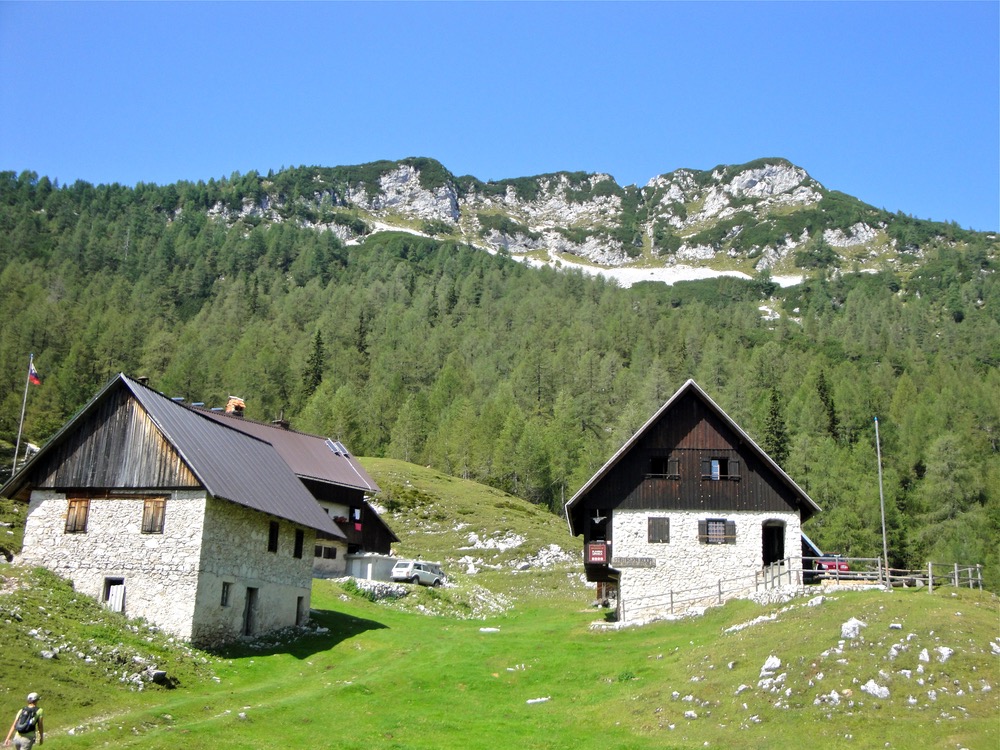 That afternoon we hiked ridges with astonishing spanning vistas. At one eye-riveting overlook, John spotted a shiny, miniscule speck situated near the tallest of Mount Triglav's three peaks. We were speechless after realizing that the "speck" was actually the rooftop of Dom Planika—our next day's destination.
Blame it on altitude or potent pivo (beer), as the afternoon wore on we made several critical mistakes. We failed to reference the directions and coinciding pictures to ensure we remained on track. Additionally, during several legs, we underestimated hiking times and distances, which caused confusion and led us to second-guess ourselves.
Three agonizing hours (and countless expletives!) later, we finally spotted the elusive rock, which turned out to be the size of a VW Beetle!
The day's epic blunder occurred when we assumed we had overlooked a crucial trail marker painted on a rock, which we thought would be roughly the size of a microwave oven. We then backtracked for more than an hour before realizing we had not gone far enough the first time and had to double back to retrace our steps. Three agonizing hours (and countless expletives!) later, we finally spotted the elusive rock, which turned out to be the size of a VW Beetle!
Hope of a post-hike happy hour faded with the sun while we plodded the final stretch up a rugged canyon, through a winding forest, and down a serpentine ski hill to modern Hotel Center (www.center-pokljuka.si). Although we chalked up our comedy of errors as an eye-opening trial run, we knew day two's ascent up Mount Triglav would demand our "A game"!
Hiking time with breaks: Nine hours
---
Day Two: Pokljuka Plateau to Mount Triglav's Highest Hut / Distance: 7 miles
Despite backpacks laden with gear, our spirits soared as we walked in the chilly morning air. It was a beautiful Saturday and Triglav National Park buzzed with outdoor enthusiasts. The sun grew hotter as we traversed the dusty, well-trodden ridge trail, whose sheer cliffs plunged into endless fields of green. The steep climb up mammoth Studorski preval (mountain pass) paled in comparison to the daunting descent as we, burdened with bulky backpacks, corkscrewed down gravelly, narrow switchbacks.
Just as unforgettable were the surreal vistas at the Vodnikov Dom, where we ate a late lunch. Like the canvas of a Van Gogh masterpiece, swirling spires of white, gray, and green spanned our panorama. A friendly local at the next picnic table, who offered to take our picture, said we were the only Americans he had ever seen on the mountain. As we said our good-byes, he questioned our plans to continue to Dom Planika, considering Sunday's forecast. We assured him we had a backup plan and continued up the trail.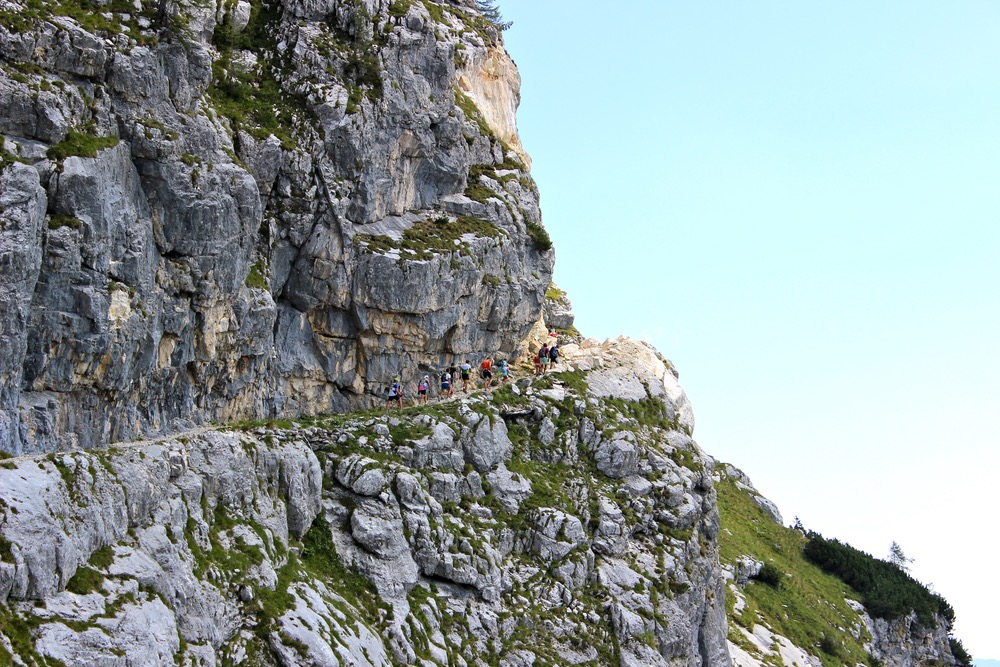 At higher altitudes, the "thrills and chills" escalated and the number of hikers diminished. Several craggy ridges required white-knuckle gripping of cables and spikes that were drilled into the rocks. On our approach to Dom Planika, we inched upward as the air turned very cold and windy. Rather than continue for several more hours to Triglav's summit, we decided to drink in the views, along with some Laškos, from Planika's bird's-eye perch.
Around Planika's rustic bar we bonded with two adorable hut staffers, Auka and Nika. As we finished our simple dinner of sausages, soup, and salad, a group of jovial locals invited us to join them. Of course, we answered, "Ja!" For the next few hours John and I were immersed in quintessential hut experiences. Convivial conversation and libations flowed freely until 10:00 p.m., when last call and lights-out were strictly enforced. Snug in our übercozy room, I smiled myself to sleep.
Hiking time with breaks: Six and a half hours
---
Day Three: Triglav's Summit to Seven Lakes Valley / Distance: 6.8 miles
We awoke to heavy, overcast skies. While packing, John noted that our fun-loving friends, who were veteran hikers, had departed hours before. As we sat alone in the dimly lit dining room sipping thick Turkish coffee, I grew tense. Since we had not received word from Urša to remain, and the storm wasn't forecast to hit for two more hours, we donned rain gear and naively headed out the door. (Unbeknownst to us, Urša had been trying to call us, but there was no cellular service.)
The still air felt muggy as we shuffled and stumbled down the twisted, rock-strewn turns, accompanied only by the familiar clacking of our hiking sticks. Adrenaline coursed through me as I scouted ahead for trail markers, urging John to hurry. No sooner had we finished a tricky cable crossing than it started to rain … then thunder … then lightning! John sprang forward to usher us to safety under the ledge of a huge boulder. Scrunched tightly in our dry cubby, we watched wide-eyed as hail bounced across the rocks. Luckily, the storm passed quickly.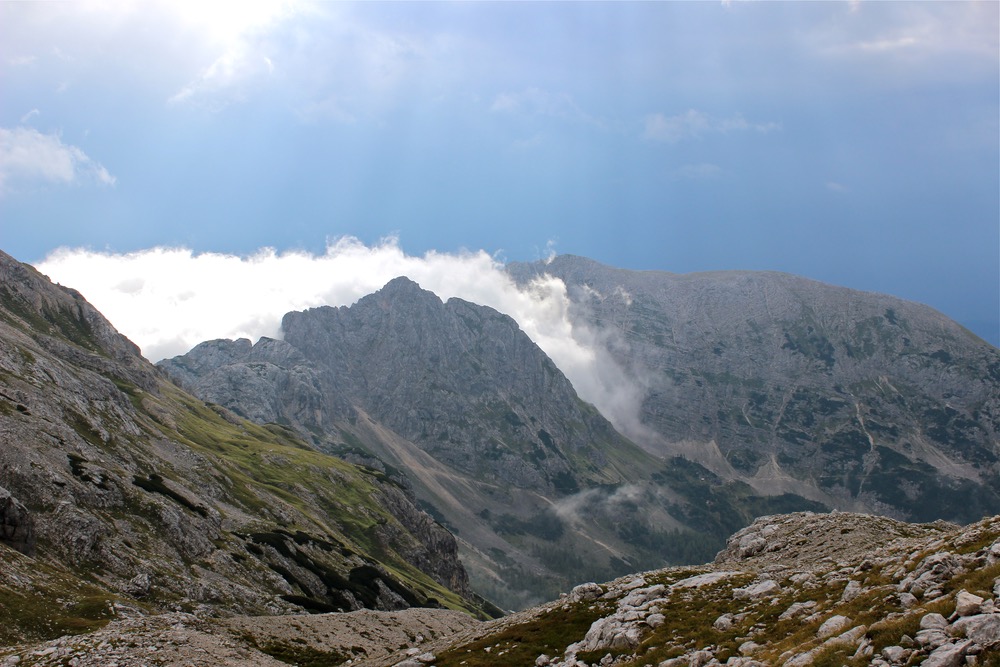 Relieved that we had dodged a bullet, we mobilized, cautiously continuing our descent. Before long, a wall of ominous clouds rolled in followed by pounding rain. This time the stark surroundings provided no natural shelter. As we slogged around a bend, I couldn't believe my eyes—tucked behind the next ridge was a hut. My prayers had been answered!
From our safe haven, we, and a handful of other stranded hikers, waited nearly an hour for the storm to pass. After a quick kiss for luck, John and I ventured out again. During the next six hours, through mist and drizzle, we climbed, crawled, and scaled up, down, and around windswept canyons, volcanic landscapes, alpine bogs, glacial lakes, and thick forests. Urging me on were Urša's counseling words regarding Triglav's weather, "The later in the day, the worse the weather."
According to local folklore, a sighting of Triglav's legendary mascot signifies luck.
Approaching the homestretch to the Triglav Seven Lakes hut, I looked up and froze; grazing nearby was a rarely seen zlatorog, or horned buck. According to local folklore, a sighting of Triglav's legendary mascot signifies luck. Minutes later, we rounded the final bend and reached our hut—just as it began storming.
Hot shower: $10; Pasta dinner for two: $23; Bragging rights after our death-defying descent: Priceless!
Hiking time with breaks: Nine and a half hours
---
Day Four: Triglav Lakes Valley to Savica Slap (waterfall) Hut / Distance: 6.4 miles
Outside our window, I saw a picture-perfect lake beneath brilliant blue skies. In the cheery dining room, we got cozy next to the wood-burning stove where the hut's owner, Herman, had thoughtfully placed our wet boots to dry. With Slovenian folk music playing softly in the background, we sipped cappuccinos and watched as two gray-haired grandmas prepared our scrumptious-smelling omelets in the kitchen.
After practically licking our plates clean, Herman sat down to chat about "hut life." He told us that his supplies were still delivered the traditional way via horse rather than helicopter. When we shared details of our harrowing descent, Herman said that considering the weather, we were extremely lucky not to have been hurt—or worse. Not all hikers have fared as well.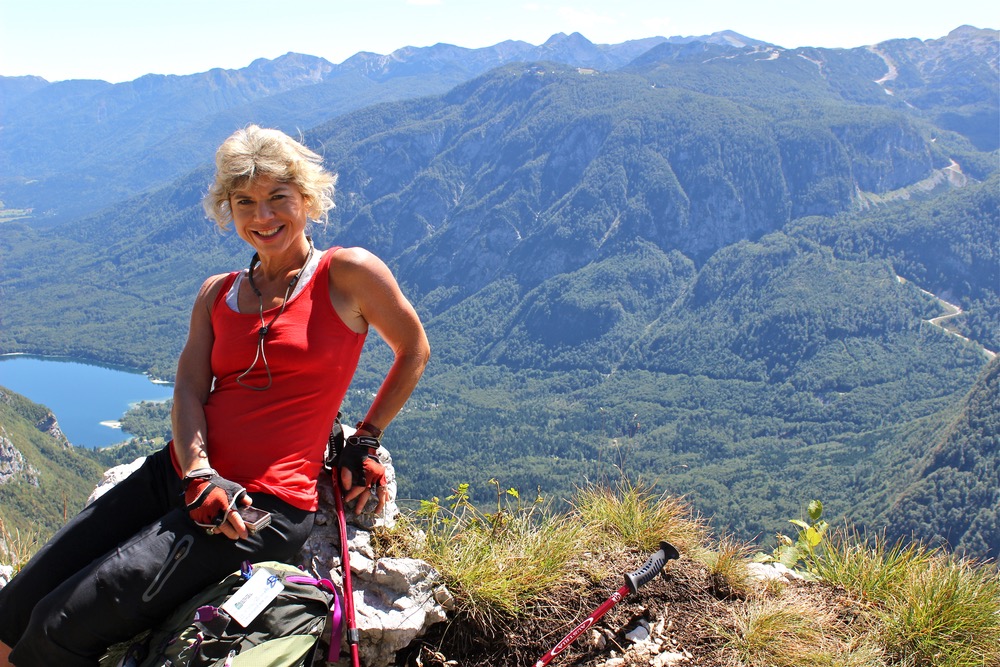 Despite wanting to remain in this alpine Eden, we continued around the muddy lakeshore and back into the forest. Using our hiking sticks for balance, we poked our way down slick, hairpin turns until the rocky trail unfurled and meandered along scenic paths with caves and trickling waterfalls.
The best surprise of the day was the intoxicating ridge-top panorama overlooking the tip of breathtaking Lake Bohinj (BOH-heen). Tied for second were the hot showers and mouthwatering cuisine at the Savica Waterfall hut. After dinner we shared a beer and good conversation with our Hungarian roommate and fellow cyclist, Lazlo, who was the only other guest sharing the pleasant ten-bed bunkhouse.
Approximate hiking time including breaks: Seven and a half hours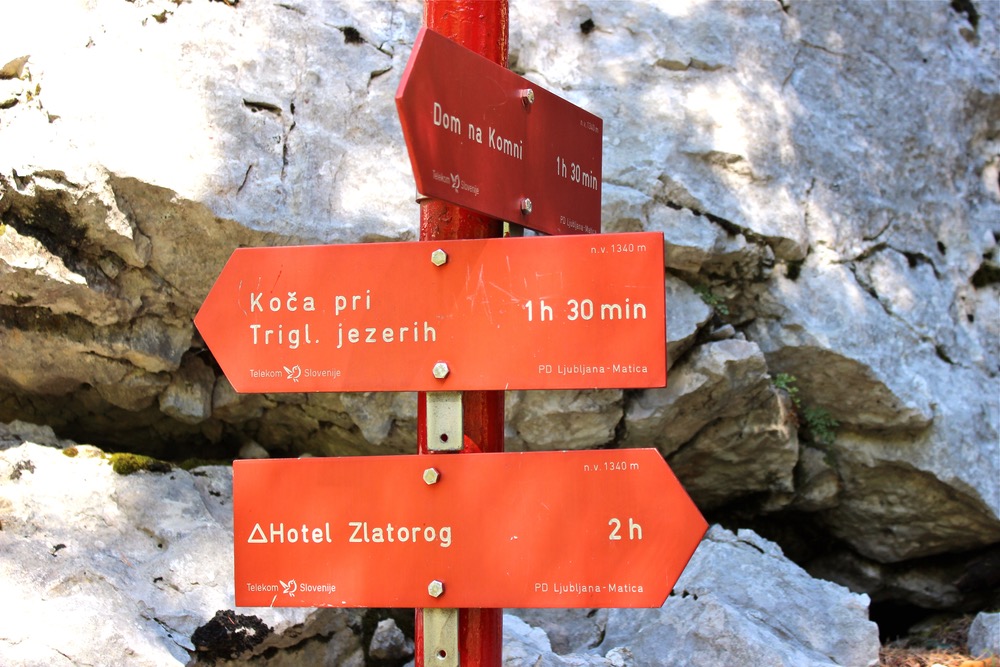 ---
Day Five: Slap Savica to Ribčev Laz Village on Lake Bohinj / Distance: 8 miles
After breakfast we hiked the falls and then grabbed our gear to stroll along refreshingly flat lanes to Lake Bohinj. Charming holiday cottages, adorned with flower boxes of red geraniums, flanked our route. From its shoreline, Lake Bohinj looked mammoth compared to Lake Bled, but both were equally sublime. We skirted along the lovely lakeshore, pausing to take photos and for an afternoon swim at a secluded stretch of beach. Bohinj's enticing yet frigid water kept me from plunging in, but John found it invigorating.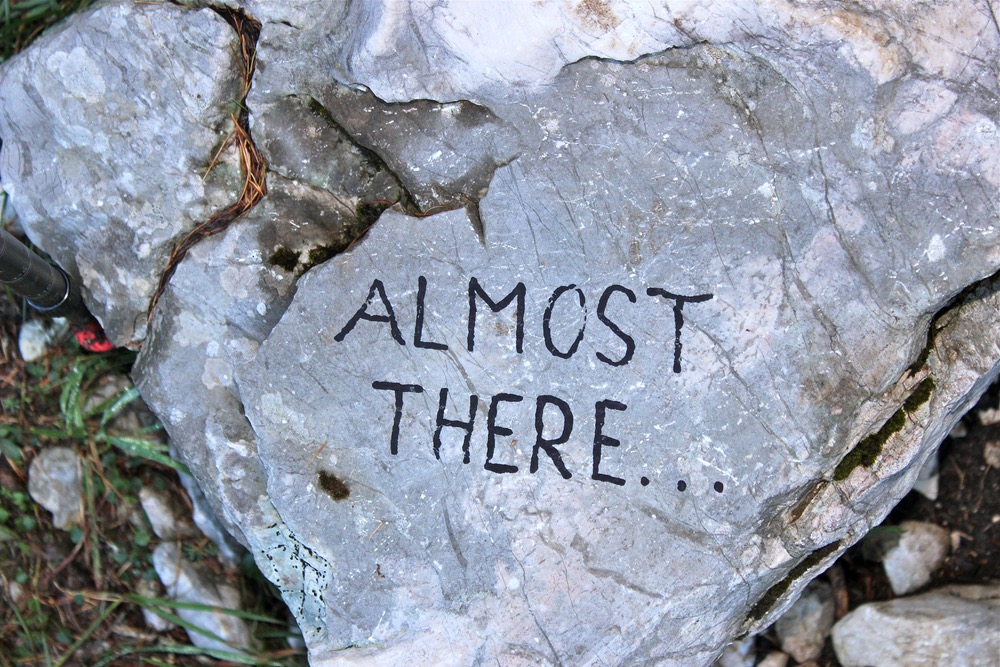 We then followed a circuitous course that shadowed the lake and veered toward the park, edging its fringe, and then zigzagged through a delightful village before ending at Bohinj's alluring hamlet, Ribčev Laz. At a popular snack shack, we refueled on savory, meat-filled pastries called börek, then wandered to the outskirts of town for a glorious "four-star" finish at Hotel Kristal.
Approximate hiking time including breaks: Six hours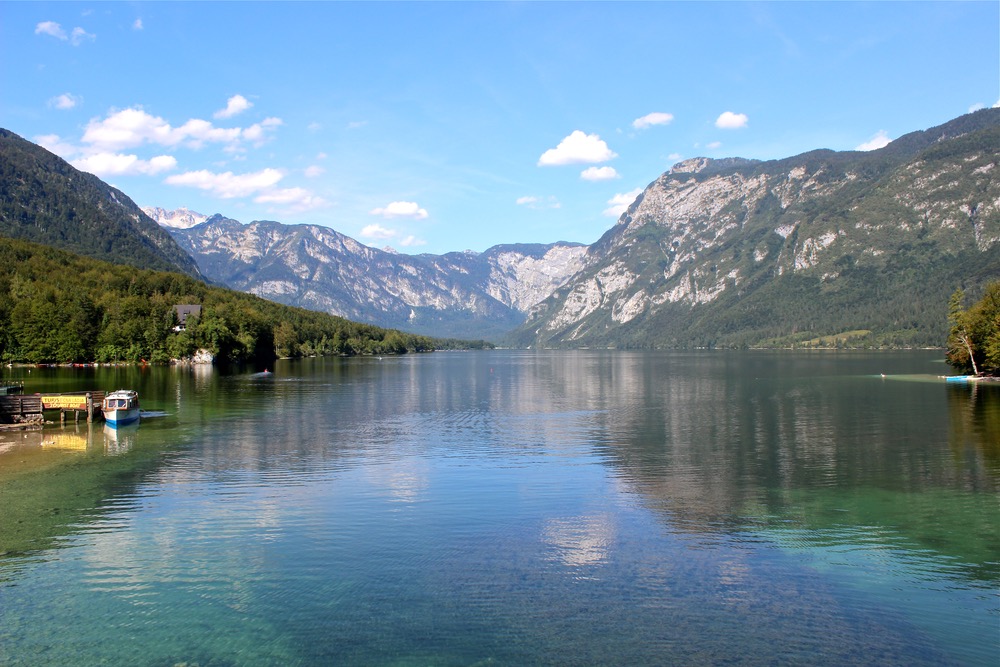 Greeting us in our room were a bouquet of sunflowers and a bottle of chilled Slovenian rosé, compliments of our friends at Helia. From our balcony, we gazed up to Mount Triglav's three magnificent peaks. With raised glasses we toasted, "Na zdravje!" (cheers) to one of our most stupefying experiences. Perhaps Henry David Thoreau said it best—"We need the tonic of wildness … We can never have enough nature."
— V —
---
Kim Duke-Layden is an international adventurer with insatiable wanderlust, who lives at Sandestin Golf and Beach Resort with her husband, John, and is a Realtor® for The Premier Property Group at Grand Boulevard. Contact her at kim@theppg.net.
ARTICLE CATEGORIES