By Colleen Sachs | Photography by Romona Robbins
Flaming Leprechaun, a new producer of premium spirits, has strong roots in the Irish tradition. It is bringing that tradition to the United States over the next two years, beginning in New England. In fact, Flaming Leprechaun became a part of that very American sport, NASCAR, by teaming up with BK Racing as a sponsor for driver David Ragan at the New Hampshire 301; their distinctive logo was seen going around the track on the number 23 Toyota at Loudon, New Hampshire, this past July.
The company's premium spirits include Special Reserve Irish Whiskey (92 proof), Limestone Filtered Vodka (80 proof), Limestone Filtered Gin (88 proof), Triple Distilled Rum (80 proof), and Fiery Irish Cinnamon Spirit (70 proof). Flaming Leprechaun Spirits is a brand of Three Hearts of Ireland and Malcolm Brown Ltd.
Of course, the proof is in the tasting, and Flaming Leprechaun made a big splash at the sixteenth annual San Francisco World Spirits Competition this past March. All of the spirits earned an award, with gin and vodka taking home double gold medals, a silver medal going to the Irish whiskey, and the rum and the cinnamon spirit each earning bronze medals.
These are serious spirits built on ingredients that are pure and of high quality, but as its name suggests, Flaming Leprechaun also treats its brand with a twinkle of fun. The front of each bottle is adorned with its own fierce-looking leprechaun, whose story is poetically told on the back label. Whether it is Ronan picking juniper berries or Brendan discovering the secret of rum on the island of Montserrat, each story enhances the character of its leprechaun and the liquor he represents.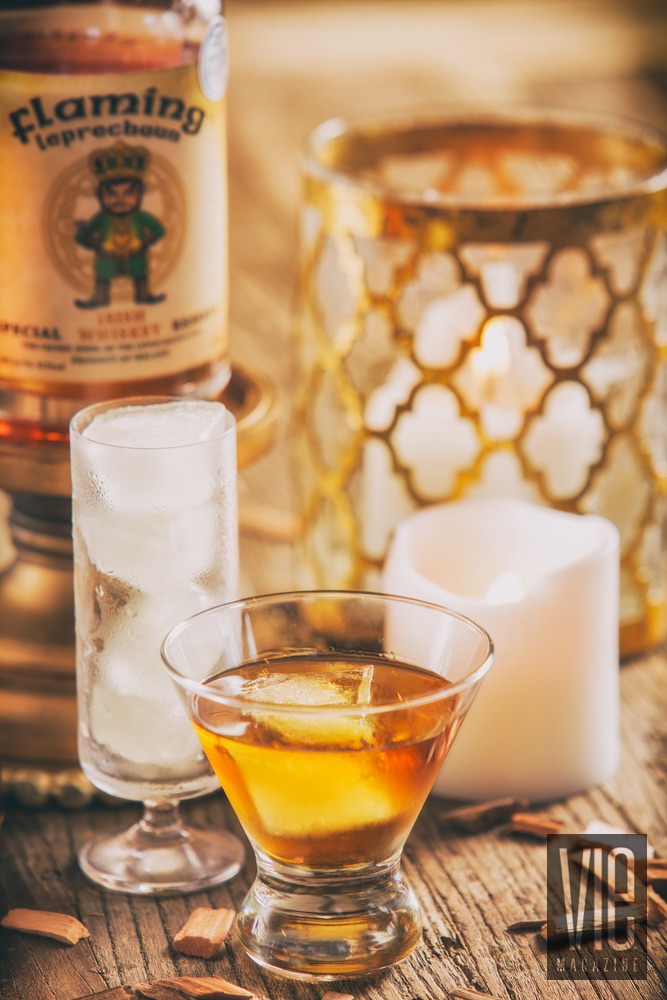 The limestone filtered gin is simply delicious. Its complex botanical notes (juniper berry, coriander, lemon, orange, cassia bark, angelica root, sloe, and nutmeg) make it the perfect choice for making a classic gimlet through which its best features can shine. To mix a gimlet, place one and a half ounces of Flaming Leprechaun gin, the juice of a lime, a tablespoon of agave nectar (which I prefer over simple syrup), and ice cubes in a cocktail shaker. Shake well and pour into a glass, either straight up or on the rocks.
Rum is a good foundation for many different mixers. Try a twist on a classic with a Brendan's Libre: Fill a glass with ice and two or three ounces of Flaming Leprechaun rum, and squeeze a quarter of a lime into it. Add a half teaspoon of pure vanilla extract, and top off with cola. Lime and vanilla are lovely together, and the vanilla adds richness and interest to a standard drink.
Flaming Leprechaun's Irish whiskey gains its golden hue and sweet character from wooden casks, where it is aged for at least three years. No sweetener or coloring is added to the blend, so nothing interferes with the authentic character. This is a good whiskey for sipping, either neat or on the rocks.
Flaming Leprechaun's Fiery Irish Cinnamon Spirit is quite versatile. It can be sipped, mixed into cocktails, baked into an apple pie or other baked goods, or teamed up with hard cider or beer. A strong cinnamon flavor adds heat but does not overpower the taste of the whiskey.
Flaming Leprechaun spirits have an attractive price point. Given their high quality, particularly of the gin and the vodka, these spirits are an exceptional value. Enjoy them in these recipes or in your favorite concoctions. Sláinte mhaith!
---

Lorcan's Elixir
Makes one cocktail
Flaming Leprechaun's wheat-based vodka has a clean, pure quality. It inspired what I'm calling Lorcan's Elixir, an invigorating mix with fresh ginger, lemon, and honey.
Ingredients A one-inch piece of ginger, roughly chopped 1/2 a lemon, cut into four pieces 1 tablespoon honey 1 1/2 ounces Flaming Leprechaun Limestone Filtered Vodka Club soda (optional) Ice
Place the ginger in a cocktail shaker, and crush it with a muddler. Add the lemon and honey and muddle together. Add the vodka and then the ice cubes. Shake well and strain into a glass filled with ice cubes.
For a variation, add club soda and stir.
---

The Smoky Ultan
Makes one cocktail
Flaming Leprechaun's classic Irish whiskey is excellent mixed with two unorthodox ingredients: maple syrup and smoke. The combination creates a wonderful burnt-sugar taste and is akin to sipping whiskey while at a barbecue.
Ingredients 1/2 ounce of Flaming Leprechaun Special Reserve Irish Whiskey 1 tablespoon of maple syrup Smoked ice (method below)
Place the whiskey and maple syrup in a glass and gently stir to blend. Add a cube or two of smoked ice. Enjoy!
To make the smoked ice cubes, you will need: ice, heavy-duty foil, a large pot with a tight-fitting lid, wood chips, a heatproof pan that will fit inside the pot, and plastic wrap.
For making the smoked ice cubes, start with ice instead of water, since smoke is attracted to cold. Turn the vent over the cooktop to high. Line your pot with heavy-duty foil. Sprinkle the foil with wood chips and cover loosely with a crumpled piece of foil; this will provide a platform for the heatproof pan.
Turn the heat on high and cover the pot. When smoke is evident, place the desired amount of ice in the heatproof pan, place the pan in the pot, and cover the pot. Let the ice smoke for five minutes. It should be mostly melted. Carefully remove the pan from the pot (tongs can be helpful here) and set aside until the ice has melted completely. Pour the smoky water into an ice tray or ice molds, cover tightly with plastic wrap, and freeze.
---

Caife Fintan
Makes four servings
The sweetness of Flaming Leprechaun's Fiery Irish Cinnamon Spirit makes it perfect for an after-dinner concoction. The following recipe is a fiery Irish take on the original New Orleans café brûlot.
Ingredients 6-inch strip of orange peel (without the white pith) 10 cloves 6-inch strip of lemon peel (without the white pith) 1/3 cup of Flaming Leprechaun Fiery Irish Cinnamon Spirit 1/3 cup of orange liqueur 2 cups of hot strong black coffee Large saucepan
Stud the orange peel with the cloves. Add the orange and lemon peels to a large, wide pan. Add the Cinnamon Spirit and orange liqueur and heat gently over medium heat. Once warm, flame the mixture (make sure that the vent is turned off) by either tipping the pan toward a gas flame or using a long match. As the flame begins to subside, pour the coffee over the mixture. Ladle into demitasse cups, and enjoy hot.
—V—
---
Learn more at FlamingLeprechaun.com.
ARTICLE CATEGORIES