Getting lost in good pizza
Interview by Addie Strickland | Photography by Romona Robbins
Pizza is one of the few foods almost everyone loves—it's cheesy, delicious, and a weekly staple for many. But for Lost Pizza Co. owner Brooks Roberts, pizza is more than just a beloved dish; it is a way to bring families and communities together. Roberts is bringing a fun and vintage environment where everyone is welcome. Lost Pizza Co. boasts a menu with variety and character unique to each restaurant location. What started as a childhood dream became a franchise reality, and Lost Pizza Co. now provides delicious signature pizzas and dishes across the Southeast.
Roberts and his business partner, Preston Lott, grew up in Indianola, Mississippi, in the kitchen of Pea-Soup Lott-A-Freeze. They always dreamed of owning a restaurant of their own and could often be found cooking up a mess in the kitchen for friends. After graduating college, the friends parted ways, and after a few years, they found themselves seated in a local bar and pizza joint, digging up their old dream of owning a restaurant. Shortly after revisiting the goal, a building next door to Pea-Soup became available. The vision for Lost Pizza Co. took off from there!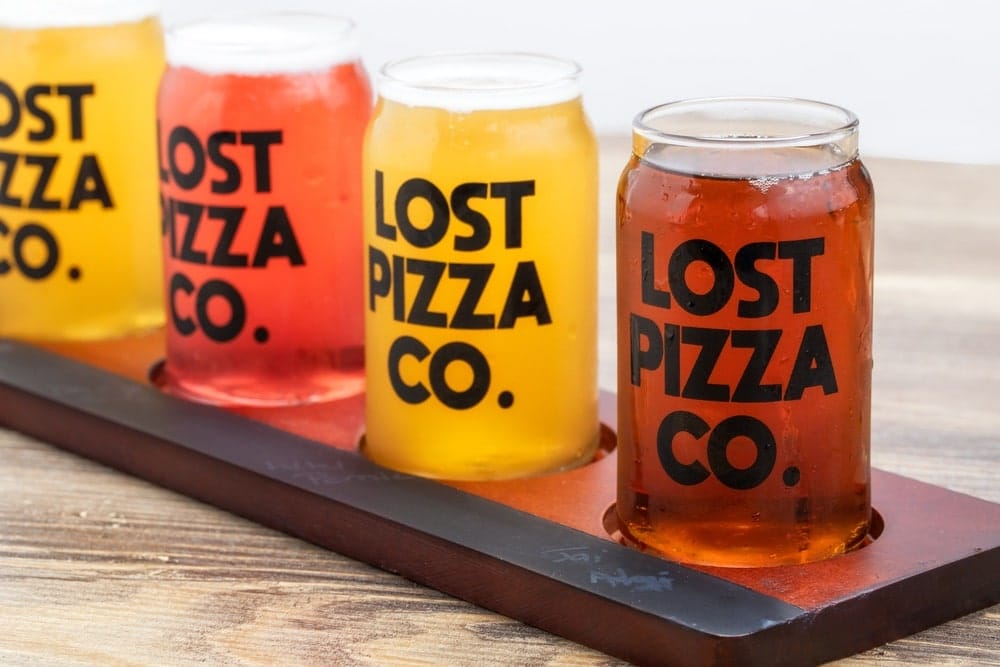 VIE: How has your dream for the company changed and grown over time?
Brooks Roberts: When we started, we were young. We didn't have kids, didn't have a lot of bills, and just wanted a place in our community where you could enjoy the cool vibes and good music, get a delicious pizza, and have a couple of beers with friends—while we somehow made a living off of it! After opening our two original locations, we wanted to continue expanding. So we shifted gears and started looking into franchising. We "lost" the dog in Lost Dog Pizza Co. and became Lost Pizza Co. (to avoid trademark issues). Within a few years, we had Lost Pizza Co. locations across Mississippi. We are super proud to have twenty-four locations in Mississippi, Tennessee, Arkansas, Alabama, and Florida. We have four more scheduled to open this year, including one in Texas, as well as the LPC Rolling Kitchen that feeds the masses at music festivals and events across the South. We were excited to have it at the recent Moon Crush Music Festival in Miramar Beach, Florida, where Lost Pizza Co. was a sponsor this year! These days, we spend most of our time traveling between LPC stores and looking at potential new locations or working from the office instead of the restaurant kitchen. Preston and I moved our families and our franchise business offices to Santa Rosa Beach, Florida, in 2016.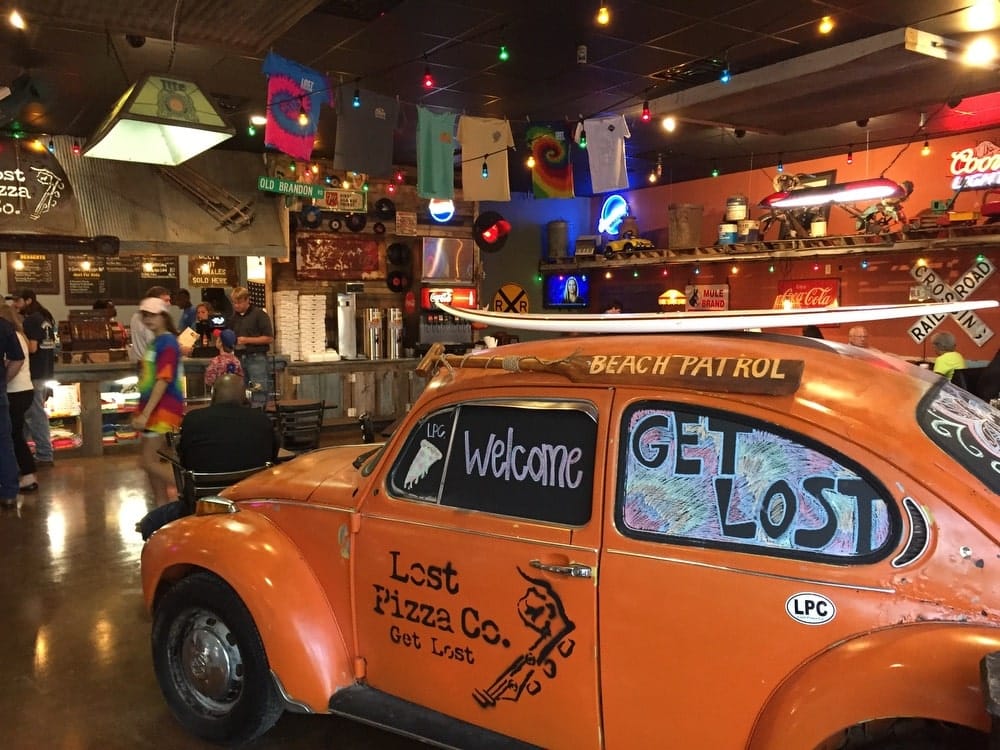 VIE: What makes your company unique from other pizza restaurants?
Roberts: Atmosphere and quality. We make nearly everything fresh every day, from our dough and sauces to many of the salad dressings. We use only the best produce, sliced fresh every morning. Our house cheese blend is from one of the top-rated companies in the world.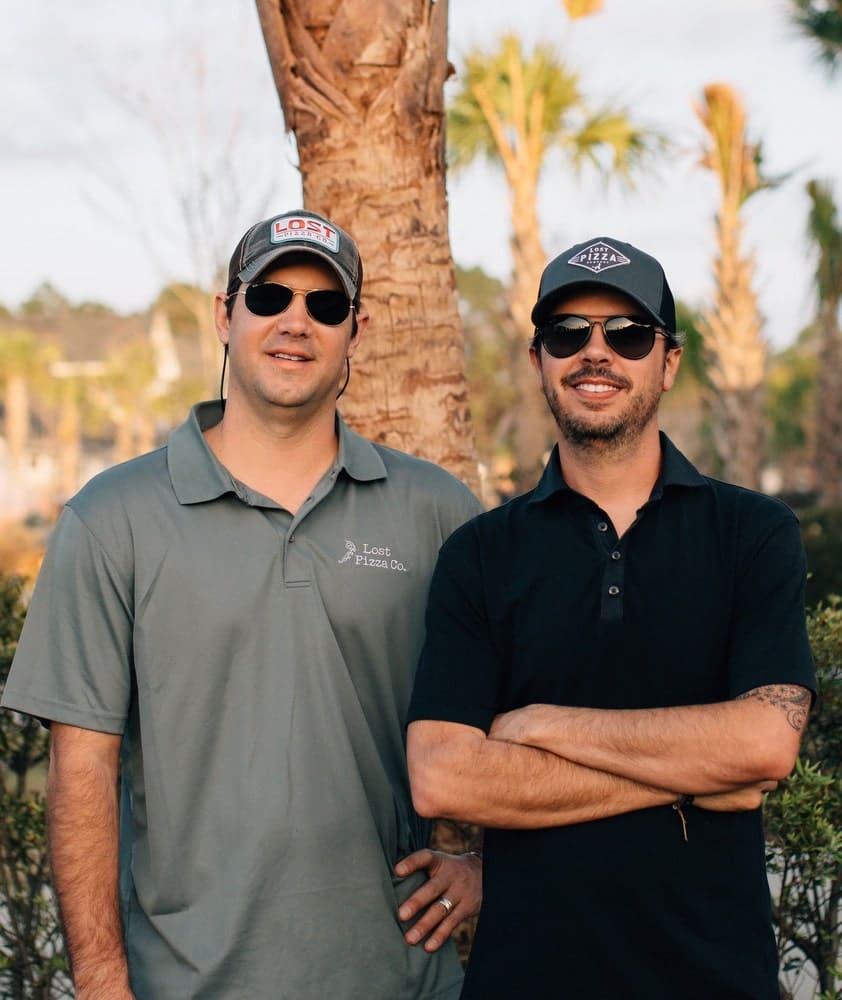 VIE: Your menu offers an array of food, from pizza to tamales. Can you elaborate on the evolution of the menu from the beginning to now?
Roberts: We definitely have a few oddball offerings like Mississippi Delta Hot Tamales. Folks from the Delta and blues travelers alike will be familiar with this Delta delicacy. Tamales are a prominent menu item in the hometown of our original restaurant, so we thought we would share them with the rest of the South! In addition, we run fun seasonal specials like a fried green tomato pizza in the summer, hot tamale cheese dip in the winter, and some crazy wing sauces. Sometimes those specials will eventually make it onto the regular menu.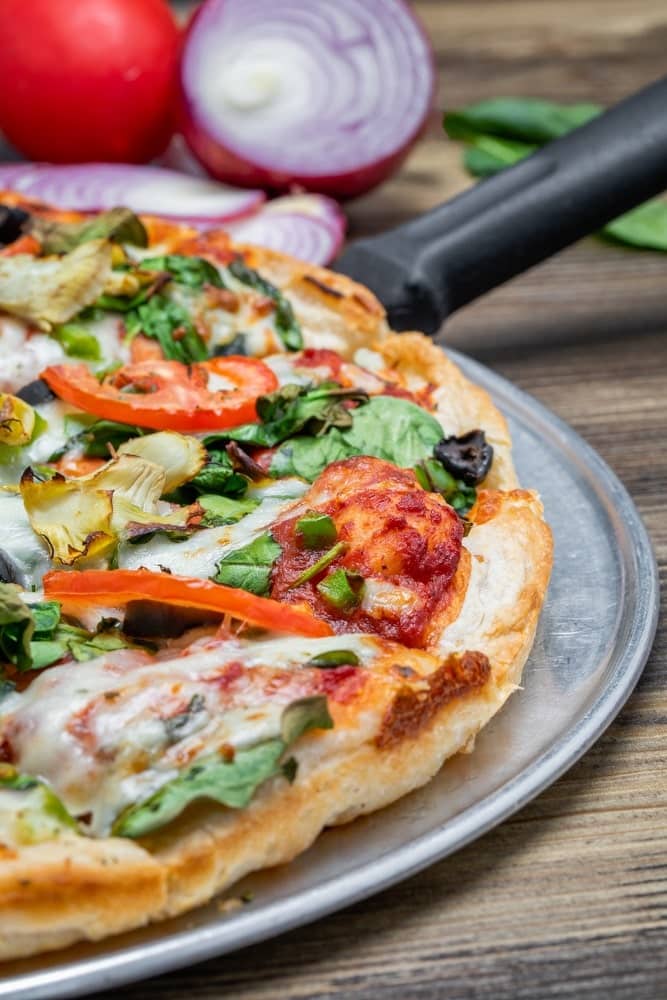 VIE: Are your ingredients locally sourced?
Roberts: For the most part, no. We have some local products in each location, but having restaurants across the South has its issues. We try to use the same products at all locations to keep brand consistency and ensure top quality.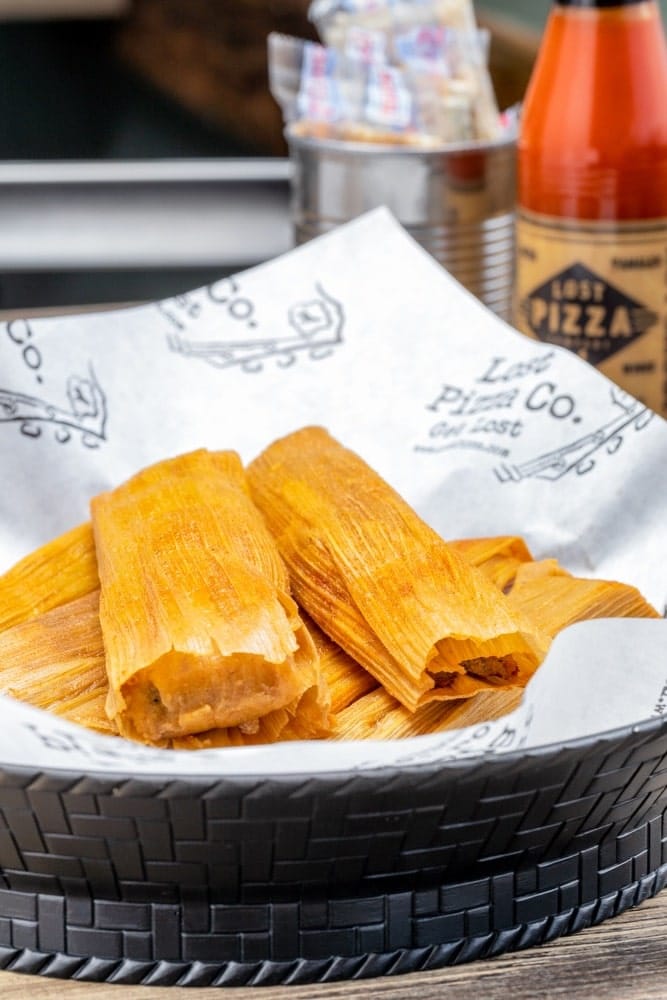 VIE: The restaurants all have a fun, vintage vibe to them. What was the idea behind that theme in particular?
Roberts: Our original Lost Pizza Co. restaurants are in the Mississippi Delta, the home of blues music. The Delta is covered with row crop fields dotted with small blues bars we all call juke joints. They have a very cool, dive bar-esque feel, usually decorated with a combination of local folk art and found items. We wanted our place to have a strong Mississippi Delta juke joint vibe.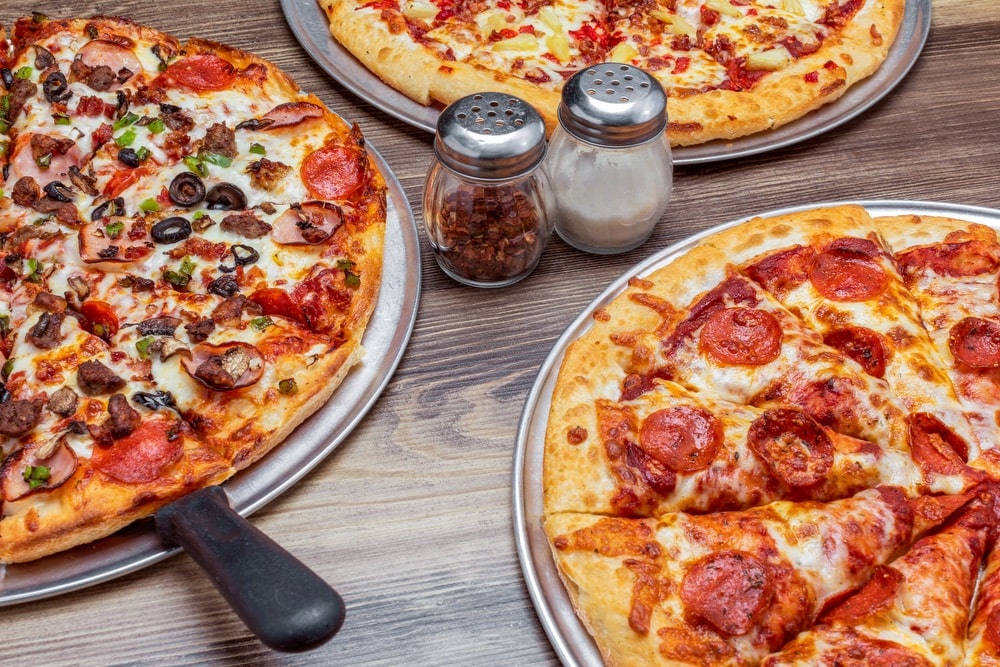 Preston and I are both self-taught artists (I use that word loosely!); I mostly paint in a music-influenced folk-pop style, often using old barn wood or other found items instead of canvas. Preston has a gift for turning random junk into found-art masterpieces, from entire vehicles hanging from the ceiling to giant chandeliers made from reclaimed neon lights. We provide the decorations for each LPC franchise store. In addition, we have a warehouse and workshop here in Santa Rosa Beach where we collect folk art and music memorabilia and create all of our pieces to use in the next LPC.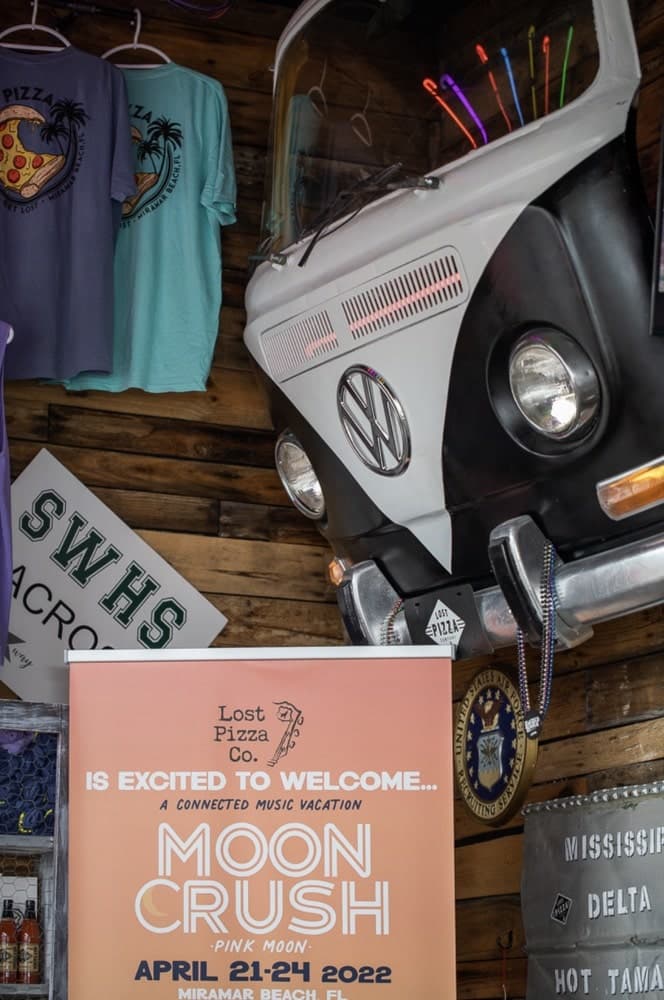 VIE: What's the most significant achievement the company has had? Can you describe the impact that your company has had on the community?
Roberts: Hmm, that's a tough one. We are happy to offer communities a cool place to grab a pizza and an excellent place to work. We have a huge family of LPC employees across twenty-four locations, and we try to make sure they enjoy working at LPC as much as we do. We also strive to be a major part of every community with an LPC location, from hosting fundraisers for local schools and charities to sponsoring local youth groups and teams. For example, after Hurricane Michael, we gathered donations from Lost Pizza Co. locations in Mississippi, Tennessee, and Arkansas to provide relief for hundreds of families affected by the storm.
VIE: Thank you, Brooks! We look forward to grabbing a slice very soon.
— V —
---
Visit LostPizza.com to learn more, find the nearest location, or order for delivery.
ARTICLE CATEGORIES