By Anthea Gerrie | Photography by Sara Essex Bradley
Like Henri Bendel, a Lafayette, Louisiana, native who journeyed to New York to make his name before returning to his roots, Russ Sonnier yearned for his hometown on the Vermilion River after decades serving the fashionable in the Big Apple.
Not that he felt he was following in anyone's footsteps. "I knew a lot less about Henri Bendel when I left Lafayette than I do now," admits the caterer to Manhattan's in-crowd, who is now settled in a neighborhood of mid-century modern homes named for the fashion guru after his estate was subdivided.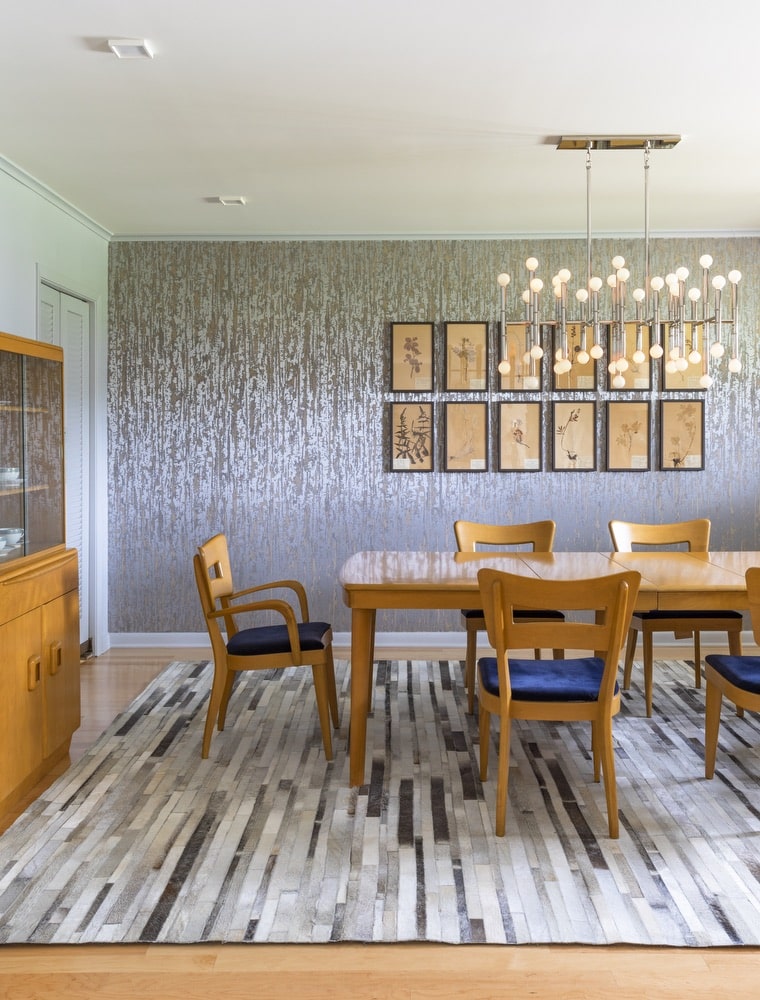 The sprawling three-bedroom, four-bath house is one of the few that remained untouched, thanks to just one previous owner. It was not Sonnier's old family home, but it was one he grew up with. "My sister-in-law's family built it, and I have been coming here since I was eleven years old," he says of the house Joseph and Marie DiGiorgio built for themselves, their three daughters, and dozens of partygoers who poured through their doors over the decades.
"Joseph owned two restaurants in Lafayette and loved to entertain; more than half the space in this 3,400-square-foot home is devoted to entertaining," says Sonnier, who is looking forward to hosting his own large parties once COVID-19 restrictions allow. "I've been here two years and have at least managed one crawfish étouffée and an engagement party for my niece since the pandemic started," he laughs.
"What is remarkable about this unspoiled mid-century gem is not only the many diverse entertaining areas—living rooms on two levels, a dining room, and a bar, as well as a breakfast area—but how much of its original fabric was able to be repaired and retained."
What is remarkable about this unspoiled mid-century gem is not only the many diverse entertaining areas—living rooms on two levels, a dining room, and a bar, as well as a breakfast area—but how much of its original fabric was able to be repaired and retained. "You don't see many original wood kitchens of the period in such good shape here," says Stephen Ortego of Lafayette's SO Studio Architecture. He was delighted to find mid-century features like a pull-out table and chopping board built into the cabinetry and an original wall-mounted foil and kitchen paper dispenser of the period.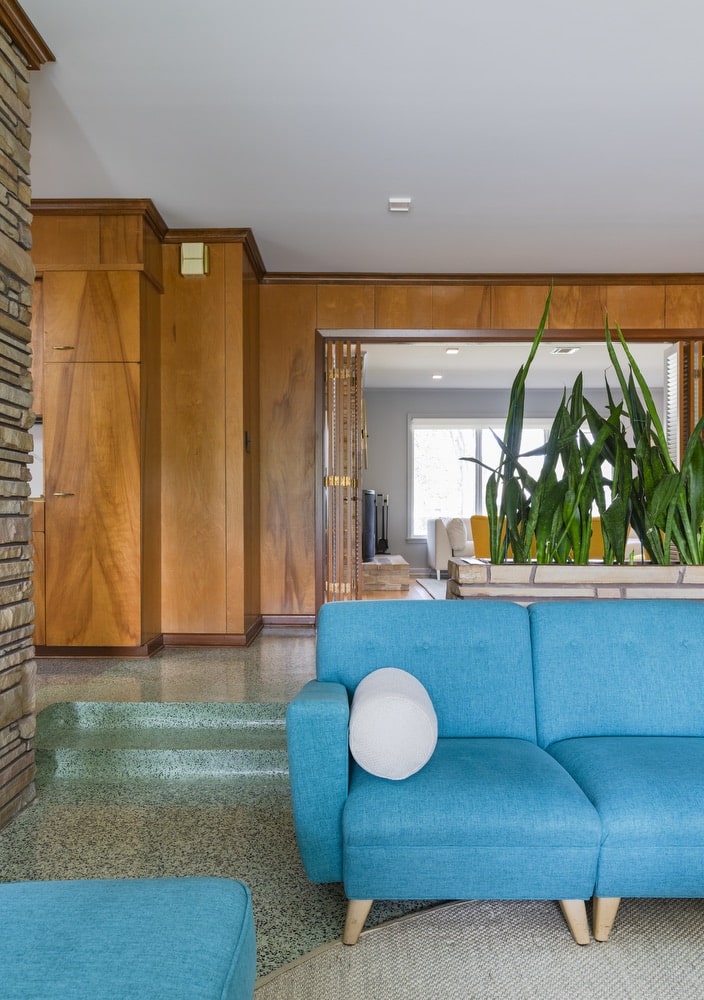 But the house was not at its best when the architect first saw it, having suffered years of neglect as its widowed owner aged after Joseph died relatively young. "It was pretty dark and dank inside," says Ortego, one of whose first actions was to remove the acrylic covering to a skylight, which had yellowed and deteriorated, defeating its purpose of letting in the light.
Then there was the roof. "It was 'smiling' at us, with long spans that were sagging and had to be propped up," explains Ortego, who, with his practice's interior designer, Andre Carr, went on to tackle a full-scale restoration. Dark shag carpeting was taken up to reveal a wealth of original light blue terrazzo, which, like the original tile bathrooms, had been somewhat damaged. Nail holes that retained the carpet were filled, and tiles that had been drilled to accommodate handrails for the previous owner were changed out. The original metal windows were replaced with new aluminum, and decorative outside shutters, which were a dull forest green when the house changed hands, were repainted the brighter shade of aqua in which they had started life.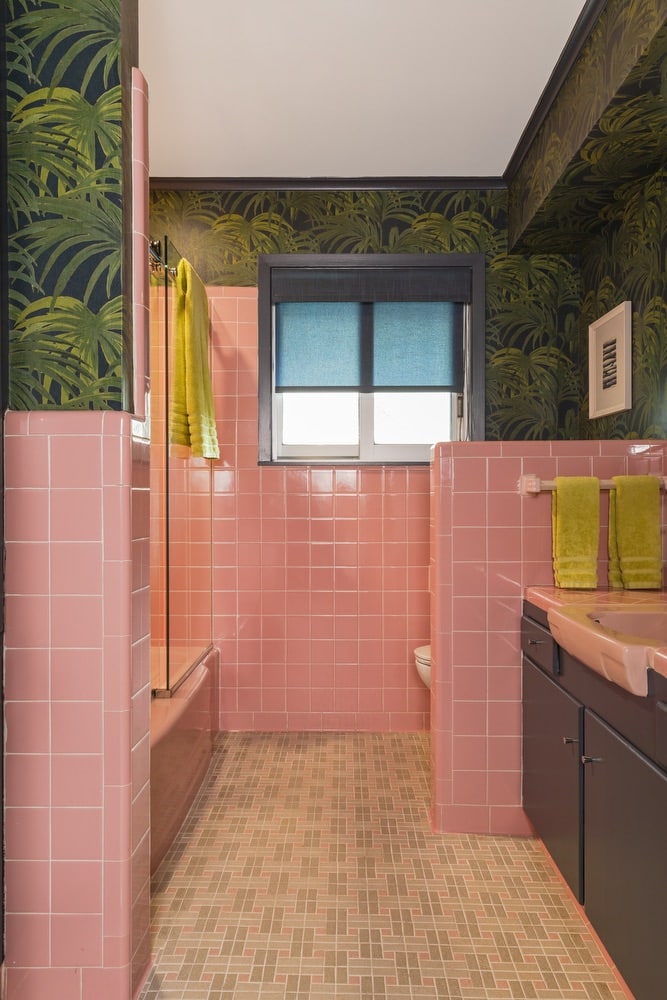 For the architect, the wow-factor element of the exterior is the stone chimney, rising like a beacon from the roof. "It signals hospitality even before you enter because it's linked to the fireplace, which is the heart of this home. Everything draws you towards it and the stunning views of the river beyond," he says of a theatrical step-down from the front to the back of the house where the generous entertaining areas are concentrated. Interior stone walls, such a distinctive feature of mid-century modern homes, appear not only around the fireplace but are reprised in several other places, including the kitchen.
A stunning aspect of the interior is the wealth of original wood that has been restored to its original glory. The timber is most distinctive in the magnificent mid-century den, where it is paneled in wood and stained to match the stunning cantilevered bar. "I'm not a big fan of paneling, but the bar does remind me of the many libraries in which I've catered events," says Sonnier.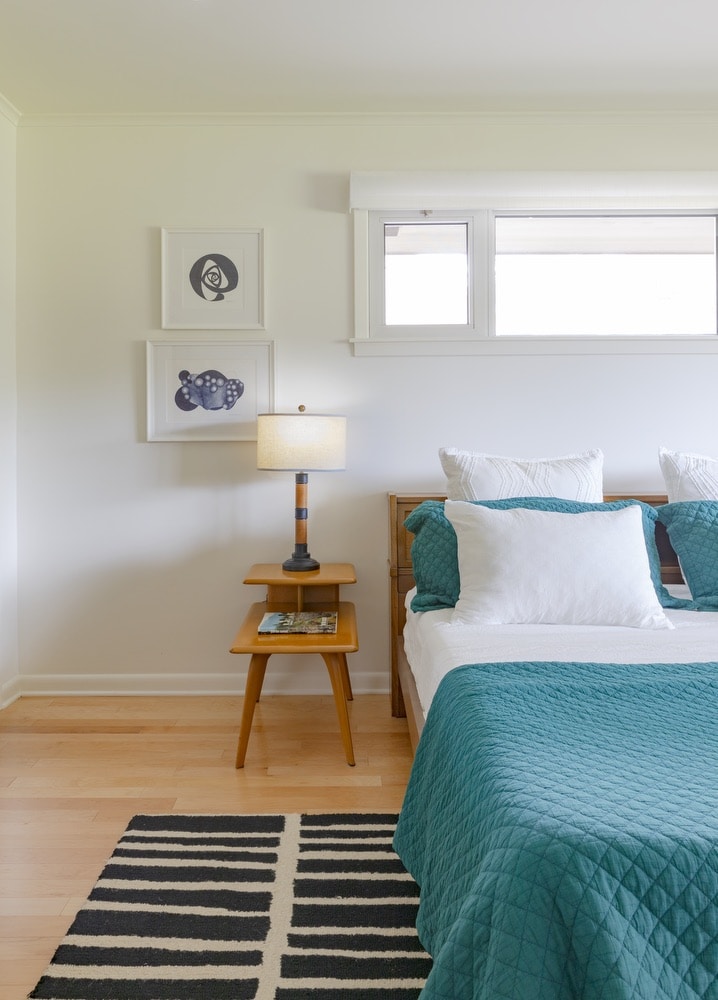 It's a testament to the artisan craftsmen of Lafayette that meticulous restoration could be undertaken not only to the stone, wood, and terrazzo but also to the reupholstery of a whole houseful of vintage furniture. "I love how Stephen and Andre lightened the house up with textiles and fabrics," says Sonnier, who admits he was sentimentally attached to the bones of the interior. "I love that the cabinetry and hardware are the same as what I grew up with, and feel I lucked out being able to get so many original pieces to mix with my own." Some of his furniture, he explains, is inherited from his mother and father "and even my grandmother." They mix comfortably in a den where a sofa that belonged to the previous owner sits opposite a sectional Sonnier inherited from his mother.
If he balked at any relics of mid-century taste, Sonnier admits it was the pink tile bathroom, which served the bedroom of the three DiGiorgio girls and now forms part of his master suite. "It did have pink floral wallpaper, which I have replaced with some beautiful British wallpaper featuring palms on a rich navy background."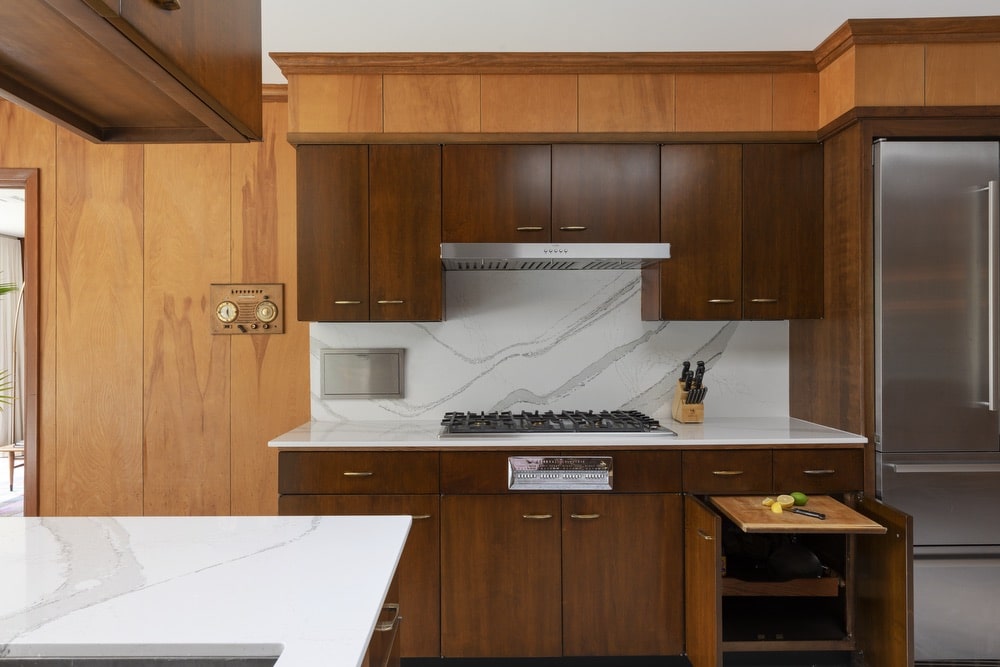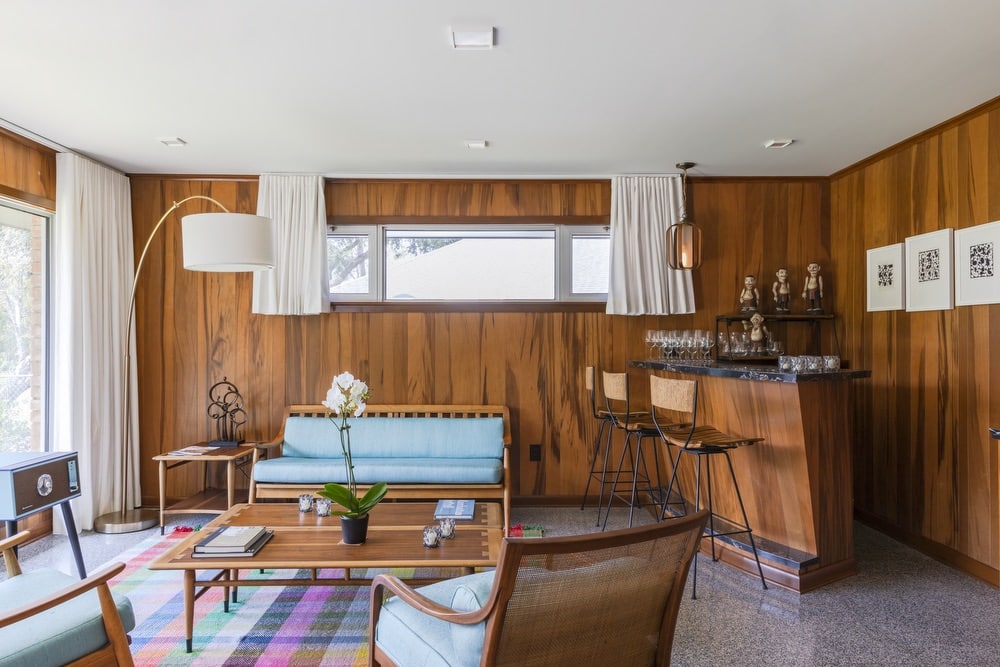 Sonnier felt the need to put a great deal of effort into landscaping the beautiful backyard running down to the Vermilion River. "I love that there are so many oaks, but there were some that were superfluous, throwing so much shade it killed the grass; and a broken-down outdoor kitchen had to be dismantled. All that remains is to put in a pool," he says—and to put the house to the use for which it was intended by throwing a few parties.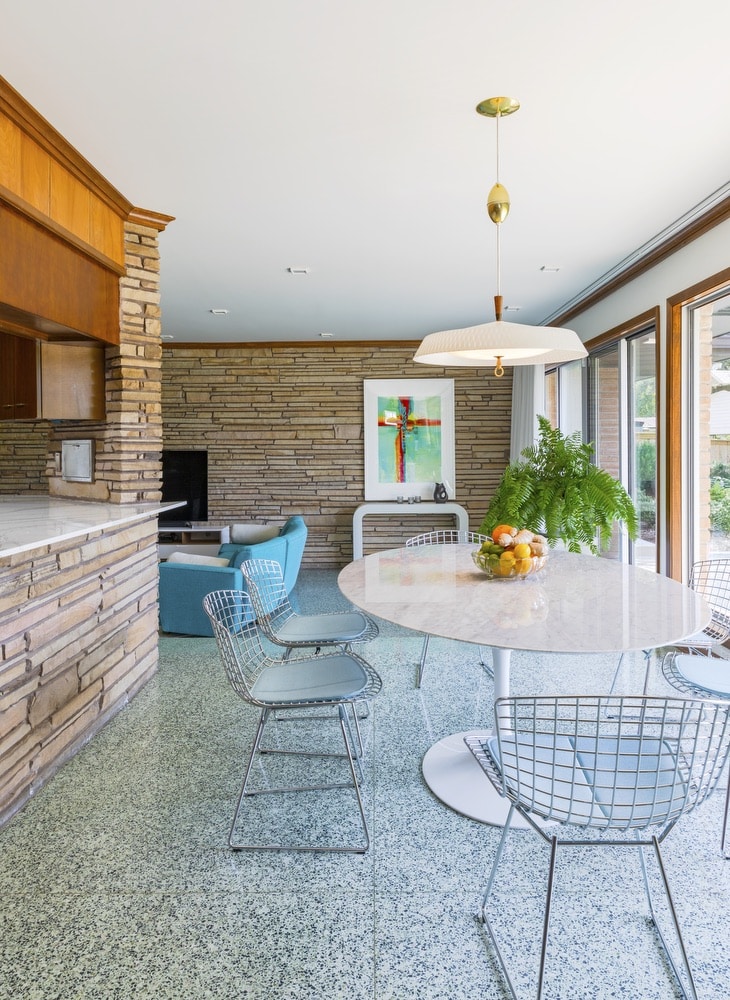 "After thirty-five years away, I want to get to know my nieces and nephews and reconnect with old friends as well as family. I love Lafayette—the food, the culture, the local art I'm enjoying collecting—in fact, everything except the heat and humidity of July and August!"
---
— V —
Visit SOStudioArchitecture.com to see more projects by Stephen Ortego.
Anthea Gerrie is based in the UK but travels the world in search of stories. Her special interests are architecture and design, culture, food, and drink, as well as the best places to visit in the world's great playgrounds. She is a regular contributor to the
Daily Mail
, the
Independent
, and
Blueprint
.
ARTICLE CATEGORIES