the legacy of shrimp and grits
by suzanne pollak
Every culture has its special dishes—those recipes that express history and heritage. In the Lowcountry, one such dish is shrimp and grits. This recipe defines our geography. The people here use what's swimming in the creeks (shrimp), what's growing on the land (grits), and sometimes throw in what's grazing on it (pork). Out of this trio comes a meal that is suitable for any time, anywhere, and anyone.
Fishermen, out for long hauls, make convenient shrimp and grits in a single pot by combining grits (they're cheap) with the day's catch (sweet shrimp are abundant in South Carolina and Georgia). They'll toss both in a little seawater, cook them down, and dine like kings. Governors' chefs, striving to impress visiting dignitaries, serve the iconic shrimp and grits in sterling chafing dishes in candlelit dining rooms. Caterers wishing to cast spells spoon shrimp and grits into martini glasses at cocktail parties. And those of us who live in the Lowcountry make shrimp and grits for breakfast, brunch, lunch, and dinner—a perfect treat for everyone who enters the house.
Grits come from the Native American preparation of Indian corn. The tribes ground the corn in a stone mill, achieving the characteristic gritty texture. Today, the best grits come from the Carolinas. My favorites are Anson Mills from Charleston, made with white (not yellow) grits, Adluh Flour Mills from Columbia, South Carolina, and Moss White Grits from North Carolina. Rule number one—never use instant grits! Northerners turn their nose up at our grain because they have only tasted the instant variety. Restaurants using instant grits should be ordered to cease and desist. How difficult is it to have a stockpot full of grits warming on the back burner? Grits can sit for a long time if you keep adding liquid and occasionally stirring so the top doesn't harden and the bottom doesn't stick.
Like risotto, grits are decidedly more delicious cooked in stock instead of water. Even the long-cooked variety becomes better with flavorful stock. For the stock when making shrimp and grits, you must use fresh shrimp because the shells are as important as the meat. When shelling, place the shrimp in one bowl and the shells directly into a stockpot. Pour lots of water and a little sea salt on top of the shells and put the pot on a burner over high heat. The minute the water almost boils, turn it down to a simmer. Ignore decades-old French directions calling for twenty minutes to make seafood stock. Thirty minutes is okay, but an hour or two is better. This aromatic and concentrated stock makes eaters wonder if your house sits on a tidal creek, so flavorful will your S&G be.
Slow-cooking grits marry perfectly with stock made from the sea. The two flavors combine to create depth and complexity. Sometimes, for a bit of a luxurious, mysterious mouthfeel, I add a little whole milk at the end of cooking my grits. Some may disapprove, but I say try it. The key to long-cooking grits is not to walk away from them too long. Stir frequently. This is not a pain in the ass! Every five minutes, maybe ten, give a stir. In the meantime, make a cocktail, make a salad, set the table, or devein the shrimp. Do not check your email or start texting. The shrimp look better deveined and will curl nicely as they cook, but don't worry about it if you don't have time. Fill the bowl of shelled shrimp with cold water, a few cubes of ice, and a generous sprinkling of sea salt. Even though the crustaceans have already given their lives, this extra step makes them seem fresher, like you scooped them from the stream in the backyard just before dinner. Thirty minutes before cooking, drain them in a colander.
Shrimp and grits are a culinary equivalent of the little black dress—good for all occasions. An LBD needs accessories to make it individual. So does this staple of the Lowcountry coast, only we add garnishes. Just like accessorizing, this can be a tricky business. The recipe is not a catchall. We like appropriate accessories—for example, mushrooms. Quartered or halved, mushrooms are not out of place in the bowl. They grow in forests right near the waterways. To honor the South Carolina pig, I like hunks of sautéed andouille in my S&G. So did Sean Brock when he founded Husk restaurant in Charleston. The pork's spicy, salty flavor highlights the sweetness of Lowcountry shrimp.
Consider size when slicing the andouille. Think of how you want spoons to be filled, look, and taste when eating. I like the shrimp and sausage to be similar in size, a one-bite portion. I want eaters' brains to concentrate on the various hits of subtle flavor, not focus on cutting a piece of sausage into a smaller size. Consider color, as well. My bowls of shrimp and grits have a pink hue from a diced ripe tomato tossed in near the end to add juiciness. The blush color is only a by-product. Although some say adding tomatoes is sacrilegious, I beg to differ. The rosy shade and succulence elevate the dish. Chives sprinkled on top before serving add their emerald color and an assertive bite.
In my thirty years of making shrimp and grits, I have found the recipe I like the best. This is not to say next year I will use the same one. Recipes evolve, and you must make them your own. My goal is to bring guests to ten seconds of silence after their first bite. Then I know memories have been made.
You do not need 101 dinner options in your arsenal; the key is mastering a few recipes. If your guests love your shrimp and grits, or whatever your specialty may be, they will never tire of coming to your house and eating it. Pleasure is pleasure, after all.
---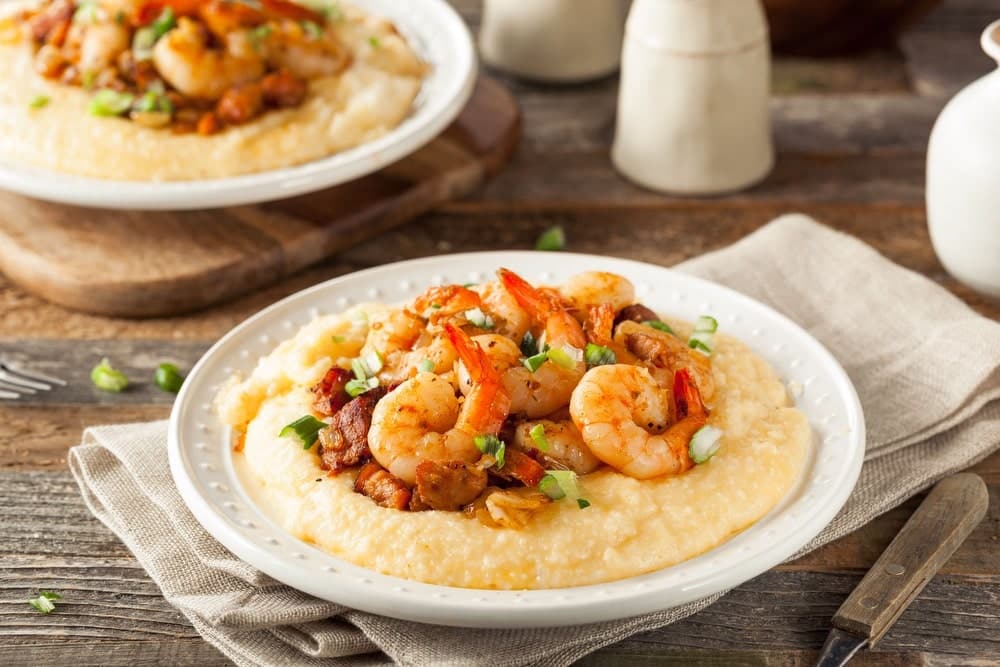 Suzanne's Shrimp and Grits
Serves 4 to 6
Ingredients
For the grits:
4-5 cups shrimp stock
Salt
1 cup whole milk, if needed
For the shrimp:
2 pounds large shrimp, shelled and deveined
1 pound spicy andouille sausage or thickly sliced smoked bacon
1-2 tablespoons olive oil
1 small onion, finely chopped
8 ounces fresh mushrooms, wiped clean; whole, halved, or quartered, depending on size
1 clove garlic, finely chopped
1 tomato, diced
1 lemon, juiced
Hot sauce to taste
1 bunch chives, thinly sliced, for garnish
Directions
For the grits: Bring 8 cups of water, shrimp shells, and 2 teaspoons salt to boil over high heat. Simmer for 30 minutes to 2 hours, then strain. Throw the shrimp shells away.
Bring shrimp stock to boil over high heat. Slowly whisk in grits, then reduce to a simmer and continue cooking until the grits are soft, about 30-40 minutes, stirring with a wooded spoon every few minutes. If the grits get too thick, add one-fourth cup of whole milk, as needed. Season with salt and pepper.
About ten minutes before the grits are finished, prepare the shrimp.
For the shrimp: Place thickly sliced sausage in a medium pan over medium heat and cook until the edges of the sausage start getting crispy - about ten minutes. Add a tablespoon of olive oil if needed. Sauté the onion and mushrooms in the pan until lightly browned and softened, about 5 to 10 minutes.
Increase heat to high and add shrimp, tomatoes, and garlic. Sauté until pink and just cooked through, about 1 to 2 minutes per side depending on the size of the shrimp.  Add lemon juice, 2 teaspoons of hot sauce (or more), and salt if needed. Stir for a minute or so.
Divide the grits among four bowls, then top each with the shrimp and sausage mixture. Finally, sprinkle with the green chives. Bon appétit!
— V —
---
Suzanne Pollak, a mentor and lecturer in the fields of home, hearth, and hospitality, is the founder and dean of the Charleston Academy of Domestic Pursuits. She is the coauthor of Entertaining for Dummies, The Pat Conroy Cookbook, and The Charleston Academy of Domestic Pursuits: A Handbook of Etiquette with Recipes. Born into a diplomatic family, Pollak was raised in Africa, where her parents hosted multiple parties every week. Her South Carolina homes have been featured in the Wall Street Journal Mansion section and Town & Country magazine. Visit CharlestonAcademy.com or contact her at Suzanne@CharlestonAcademy.com to learn more.
ARTICLE CATEGORIES