Channeling Old Hollywood Glam
By Lori Hutzler Eckert |
Photography by Carlo Pieroni
With each click of the shutter, the lights hiss and pop, creating a steady staccato as the white-hot flash illuminates the gilded backdrop of the baronial United Palace Theatre in New York City. On the cavernous, storied stage, a lineup of musical artists strikes stunning poses, and their high-wattage personae prove to be formidable matches for each brilliant burst of light. Carlo Pieroni's camera is set to capture a single moment in time, an Old Hollywood–inspired cover photo and spread for this magazine, VIE's first Cultural Issue. The image also represents a confluence of creativity by dozens of professionals who are artists in their own right.
Just forty-eight hours earlier, on an unseasonably cold, late October day, a team of ten VIE staff members and several associates—including an internationally recognized photography crew, videographers, professional makeup artists and stylists, editors, and more—converged on Manhattan, approximately twelve hundred miles from the magazine's headquarters on Northwest Florida's sunny coast. The mission: mark a milestone for Sinfonia Gulf Coast. The result: a magazine cover that was a decade in the making.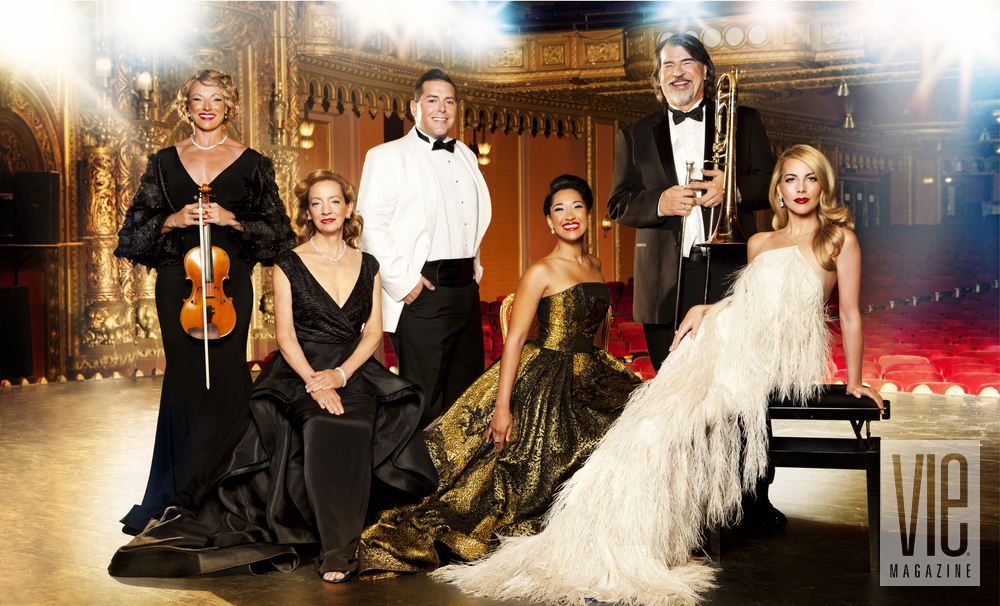 The Prologue
Every good story has a backstory, and this one sprouted last spring when Demetrius Fuller, maestro and music director of Sinfonia Gulf Coast, the region's only fully professional orchestra, and Lisa and Gerald Burwell, publisher and editor-in-chief of VIE, respectively, came together to discuss coverage for the nonprofit symphony's ten-year anniversary.
Wheels spun, creative sparks flew, and the Burwells—longtime Sinfonia supporters—knew this was a chance to do something innovative. And Fuller, known for pushing beyond the conventional boundaries of what the orchestral experience should be to what it actually could be, given his own gift of unconstrained creativity, was instantly a willing partner.
The VIE team shot out of the gate, negotiating and scheduling (and rescheduling—it was a certain badge of honor to be bumped from the first theatre booking date by none other than filmmaker Woody Allen), to create a glossy gatefold cover commemorating the orchestra's anniversary by featuring several Sinfonia guest artists from seasons past and present.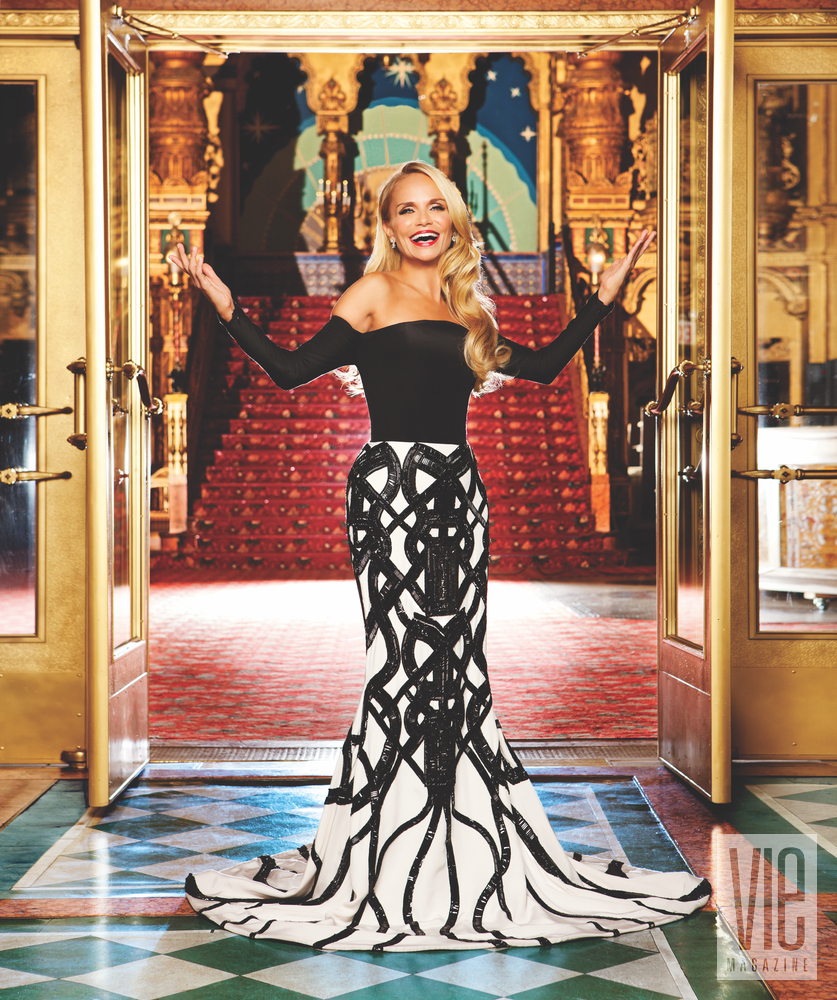 The Deadline
This issue was slated to reach readers' hands by Sinfonia's Anniversary Gala on November 13, and thus, the shoot was perilously close to the publication deadline. But the staff raced forward on the heels of those months of planning—and maybe just a few bouts of problem-solving insomnia. Any mounting pressure seemed to make the team only work harder and with a symbiotic rhythm I can't say I've seen often on shoots that were half the undertaking.
Indeed, adrenaline can feed the creative process, but sometimes its chaos-causing companion, tension, can impede. Add to that fact, divas—and, seriously, I mean real-life, professional divas—and performers at the tops of their games, complete with their own teams, on the scene. As the passive observer of the group, tasked to tell the behind-the-scenes tale, my finely tuned drama radar was on. (Spoiler alert: This was one shockingly well-behaved group, both in front of and behind the camera. However, there were just a few unexpected revelations along the way.)
The Wardrobe
Standing in a shimmering puddle of poppy-red silk, she extends her elegant, lithe arm, firmly grabs the man pinning the magnificent gown to fit her frame and delivers a deadpan demand: "Does it hurt? All those artistic brains—it's got to be weighing you down!" And the room's vibe shifts in a split second as the reverential awe is broken by a chorus of laughter.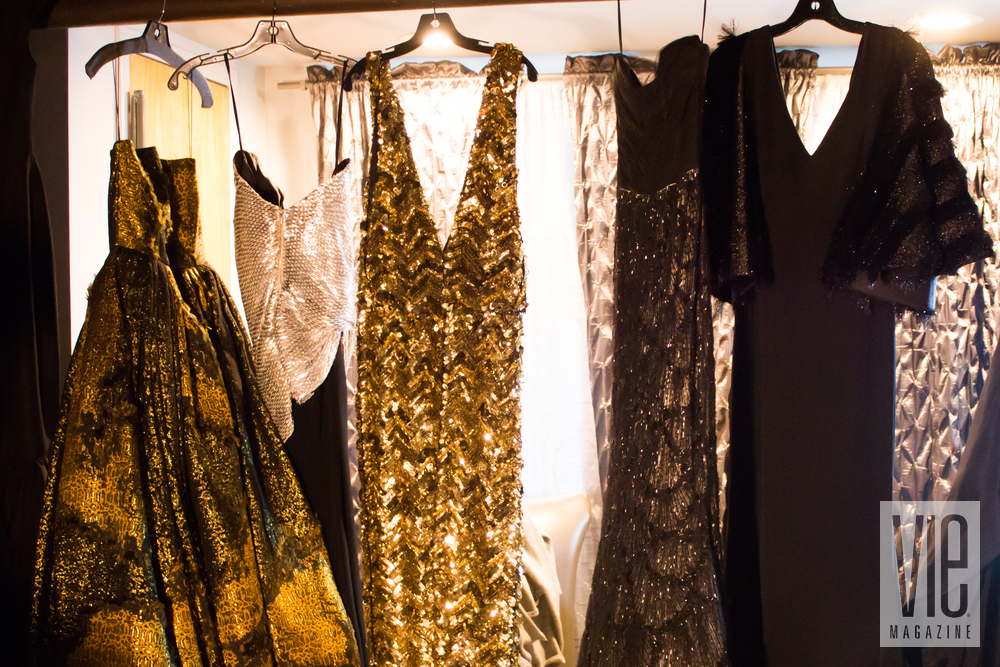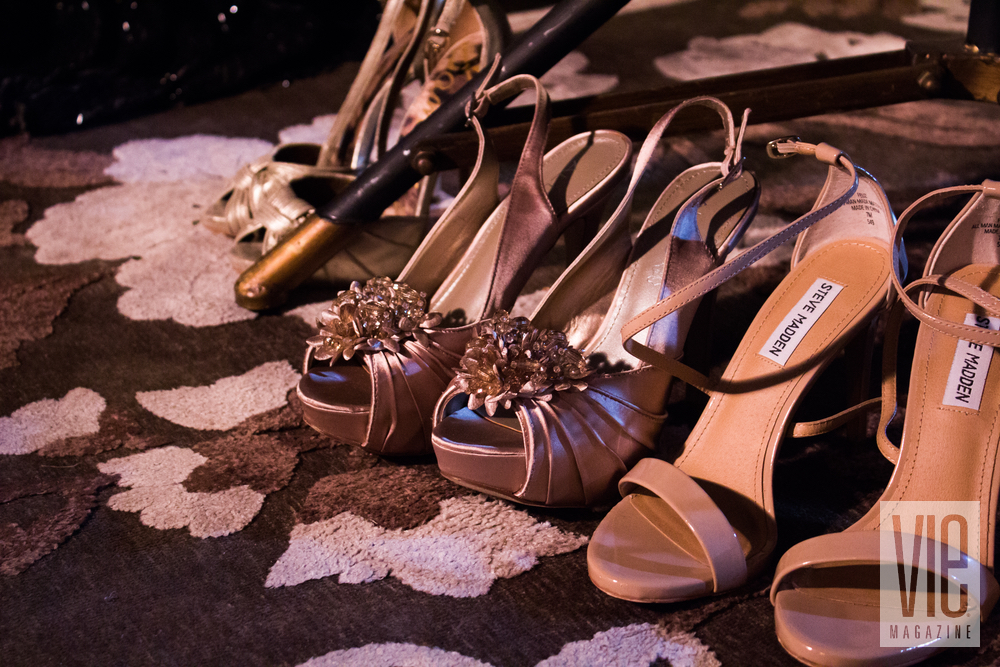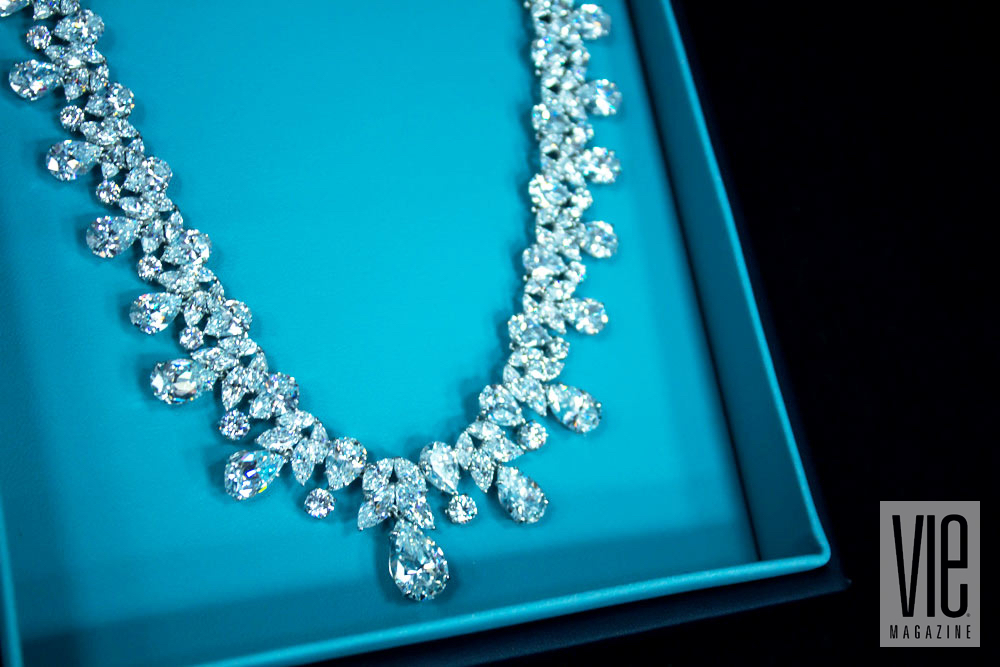 It's a surreal scene for those of us gathered in the sun-streaked ninth-floor design studio in New York's Garment District: the woman is Tony Award–winning Kristin Chenoweth, who will perform with Sinfonia in mid-November, and the object of her praise and sincere affection is noted fashion designer Christian Siriano.
Certainly, many in the fashion world thought his appearance on the show was a lucky break for Siriano; however, as it turns out, it was actually a lucky break for the fashion world. Seven years later—now twenty-nine and the youngest person ever to appear on Crain's New York Business "40 Under 40" list—Siriano is steering a burgeoning lifestyle brand. His fashion designs, which he shows each season during New York Fashion Week under his eponymous label, are feminine, elegant, and au courant.
Despite his professional achievements and fame, Siriano, who greeted us immediately upon our arrival, is approachable and completely lacking in pretense. He graciously says the VIE Sinfonia Old Hollywood shoot was a "great opportunity to show some of my favorite looks in a beautiful setting on some beautiful women."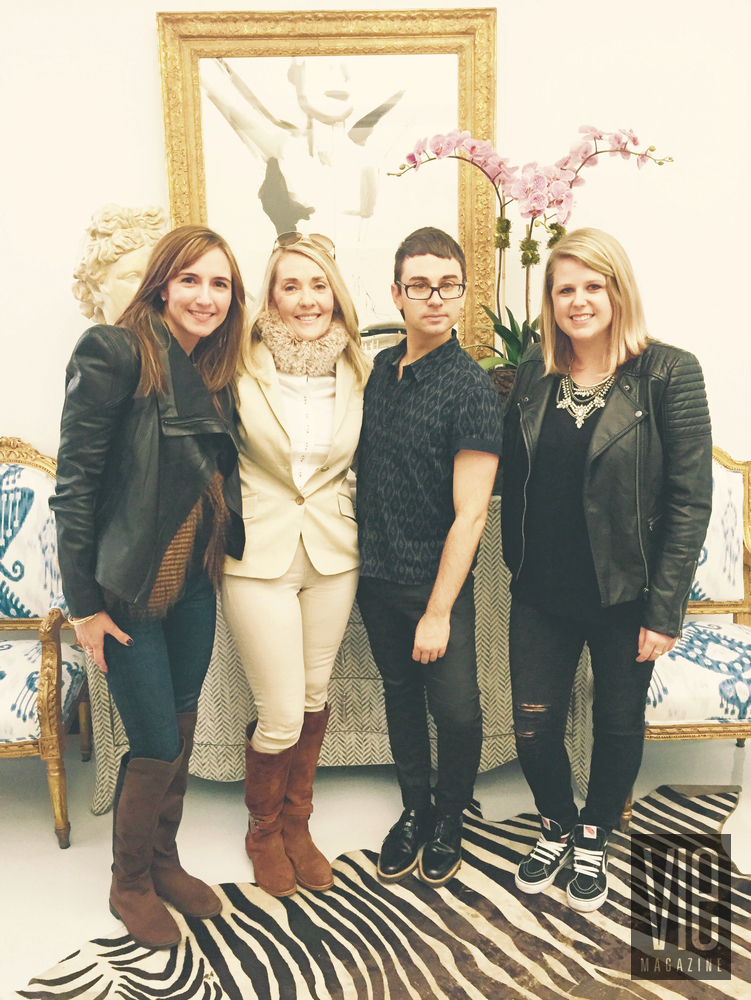 The fitting was the first meeting for Chenoweth and Siriano, whose graceful designs evoke contemporary Oscar de la Renta. Every gown the designer chose for her seemed more stunning than the last. "Kristin has such a wonderful personality, which is always exciting when fitting anyone," Siriano says. "Sometimes it helps to break the ice when you have a client who loves clothes and loves to have fun with fashion. She is so fun to work with, and I haven't had such an easygoing fitting in a while. I loved so many pieces we tried on her. Even though she is so petite, she has a wonderful figure and looks beautiful in elegant clothes."
"He's timeless—that's the word," Chenoweth later says with a matter-of-fact nod. "Christian Siriano has an uncanny ability to make anything I put on that he's designed work."
He graciously says the VIE Sinfonia Old Hollywood shoot was a "great opportunity to show some of my favorite looks in a beautiful setting on some beautiful women."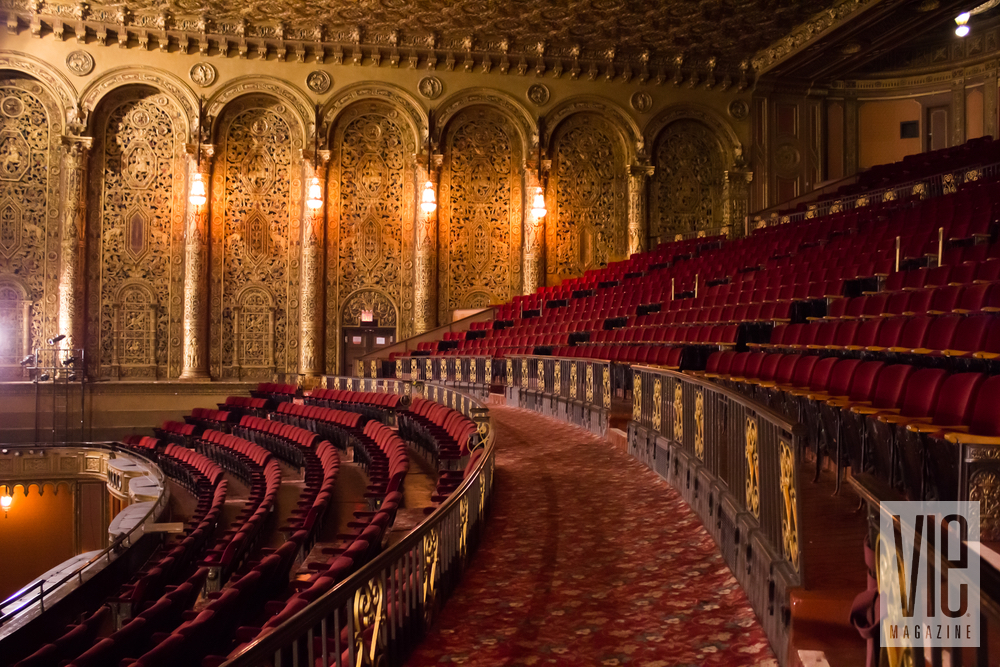 The Scene
The morning following the fitting, in a cavalcade of cars en route to the theater, VIE's Lisa and Gerald Burwell, along with art director Tracey Thomas, managing editor Jordan Staggs, graphic designers Rinn Garlanger and Lucy Mashburn, and several other team members traded texts, e-mails, and phone calls with rapid-fire efficiency, ensuring that every final detail would be handled. A production of such Homeric proportions required numerous last-minute maneuvers to be a success.
The 3,400-seat United Palace Theatre swallows a city block on the corner of Broadway and 175th Street. Erected between 1925 and 1930 as a Loew's theater, it is now owned by the United Christian Evangelistic Association, which promotes the theater's unique style as a "monument to eclectic Orientalia with Moorish-Rococo influence." This ornate architecture somehow escapes being overly ostentatious and stands as a reminder of a time when artistic workmanship and longevity were factored into a building's design.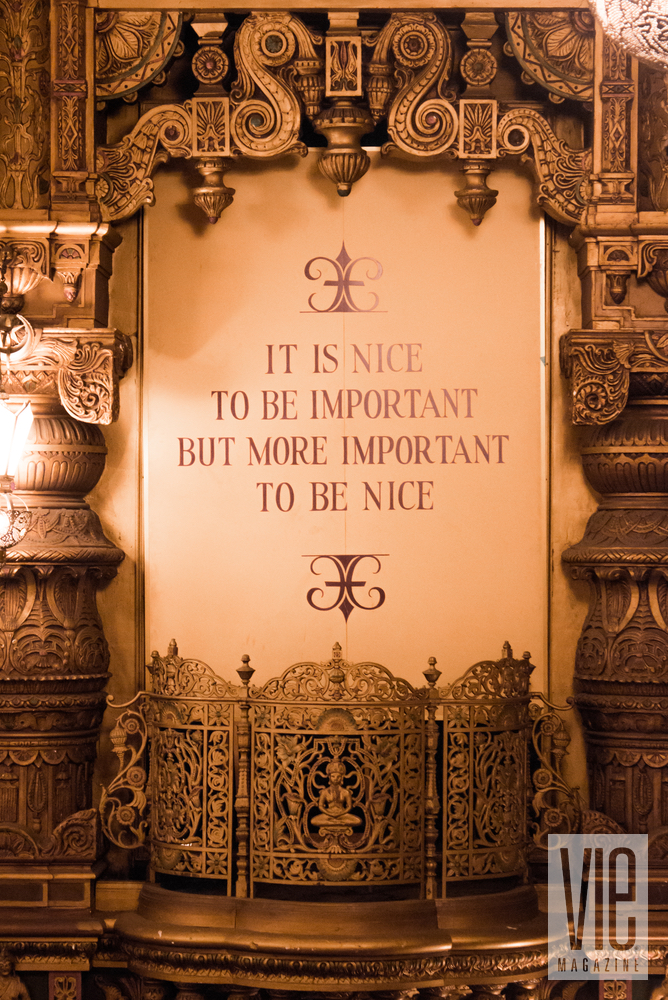 The theater, which currently serves as a nondenominational house of worship and a multicultural arts center, is nothing short of a grand dame dressed in her finest gown and jewels. Resplendent with bordeaux-red velvet seats, a soaring burnished-gold stage curtain, a magnificent sweeping staircase, and gilding that arches from the floor across the massive ceiling, it is a scene-stealer all on its own.
Noted photographer Carlo Pieroni and his lovely wife, former supermodel Carol Wilson, survey the theater for just the right spots to set up their money shots for the day.
In the dressing rooms below the sixty-five-foot-wide stage—which has seen the likes of musical stars such as Adele, Bob Dylan, Lorde, and B.B. King—makeup artists and hairstylists file in as the Siriano gowns are carefully steamed. In an adjoining room, countless carats of sparkling diamonds in red carpet–worthy settings from New York jewelry designer Daniel Koren's DANI by Daniel K line, secured through McCaskill and Company Fine Jewelry in Destin, are selected for several of the artists.
The team is already racing against the clock. They have seven hours, which is a relatively short amount of time to get the images needed for a cover and spread.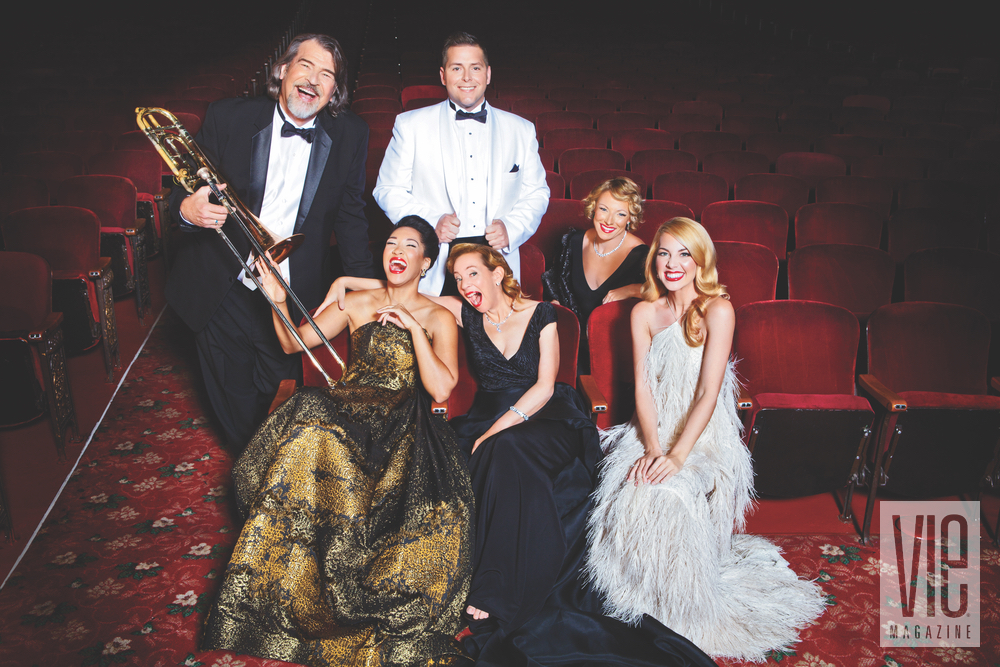 The Cast
Morgan James arrives an hour before call time. An Epic Records artist who most recently released her sophomore album, Hunter, James has performed with Sinfonia twice and will return to the Emerald Coast again this year to headline the orchestra's annual holiday performance on Friday, December 11.
"It's so great to have a relationship with this organization and with Demetrius, who values good music, new music, and developing young artists," James says of her ongoing association with Sinfonia. "Plus, I get a break from New York and get to come down to the sunshine."
She slips into a black gown with a silhouette that flatters her diminutive figure as though Siriano made it just for her. "I love it so much," James says with a tinge of thrill in her melodic voice. "It is perfect for me—it is so my personality. Siriano is a true artist."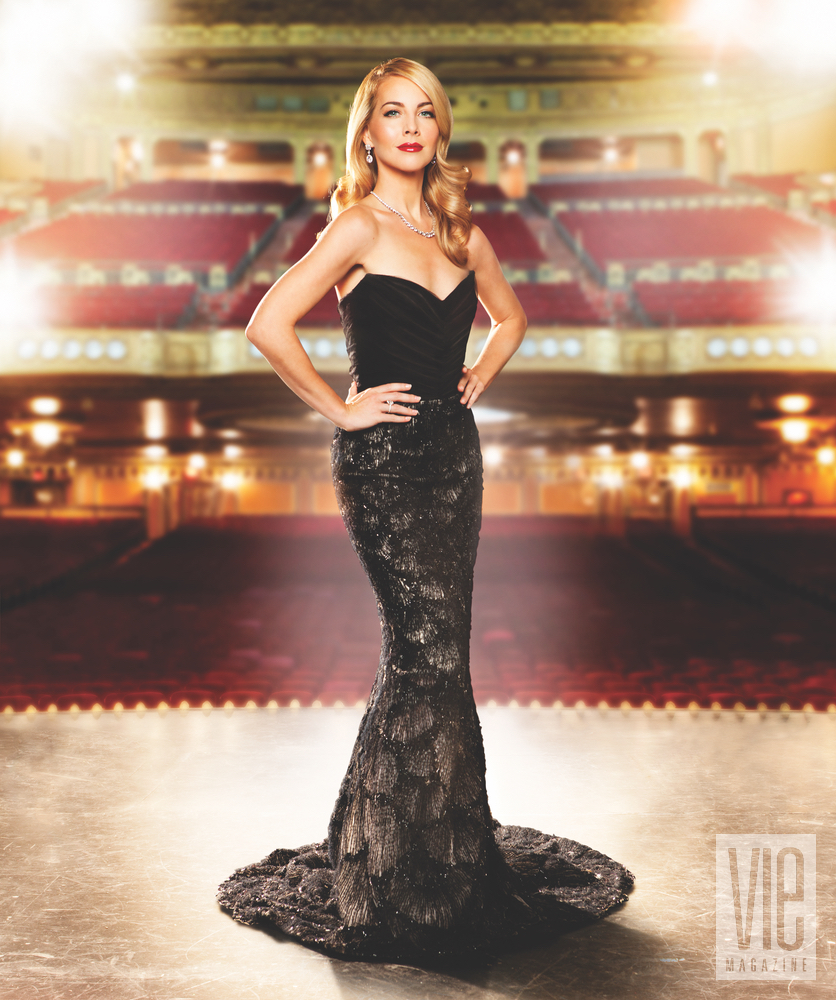 James, with her long, golden, Veronica Lake–inspired hair, looks like a Twentieth Century Fox star as she finds her place in the spotlight and the photo shoot begins.
In a departure from his de rigueur black-tie concert attire, Fuller appears stage left in a white dinner jacket and black-and-white wingtips that reflect the spread's classical cinema feel. He's uncharacteristically quiet as he takes in the enormity of the effort going into the day, understanding its relationship to what the orchestra has achieved over the past decade.
"The shoot is unreal, yet so much fun," Fuller says. "At this moment, this whole experience is beyond comprehension, but I do realize how incredible it is to have all of these amazing artists with whom Sinfonia has a strong connection standing on this stage to celebrate our decade of 'symphony redefined.'"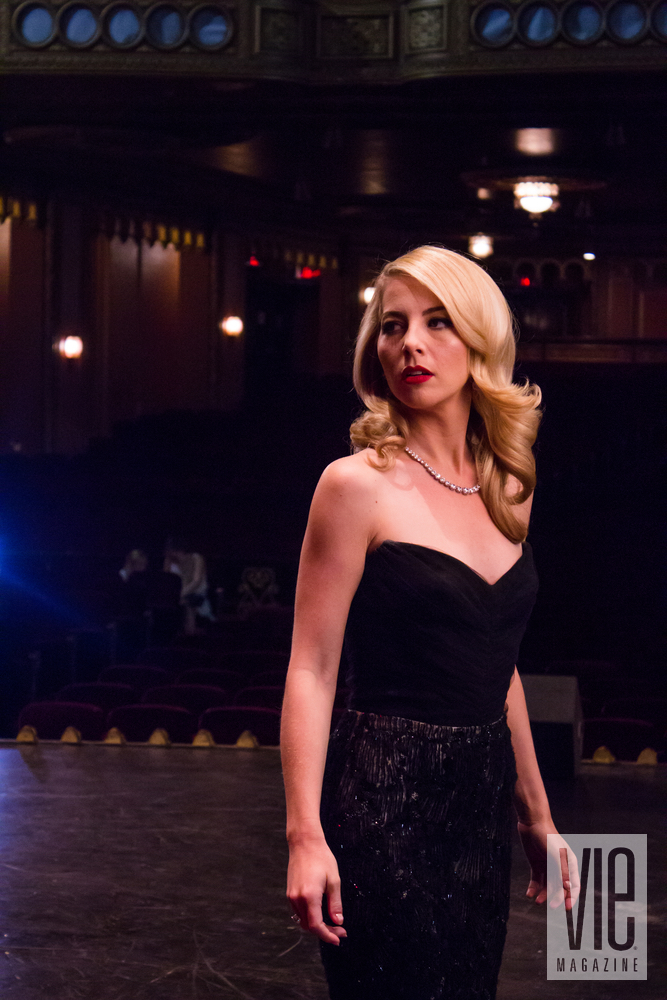 That connection is far reaching for composer Chris Brubeck, who has been associated with Sinfonia through his works Spontaneous Combustion in 2011, Ansel Adams: America in 2012, and Brothers in Arts: Seventy Years of Liberty last year. "Demetrius just gets it," says Brubeck, fresh out of the makeup chair, with his archetypal conductor's mane slightly tamed. "He has always been an adventurous programmer, and I am so impressed with how his programming has helped him build a very vital audience."
The Grammy-nominated composer, who began performing at five, speaks with a geniality that belies his imposing frame and a restraint that denies his international success. Wearing black tie and preparing for his turn in the spotlight with his trombone, he says of the fashion shoot, "So far it is interesting," and laughs deeply at the thought of being part of it, adding, "and funny."
Brubeck had just returned from Geneva, and as soon as the shoot wrapped, he headed to Connecticut for a concert appearance. Next year will include a full schedule of composing and touring, including concerts with his talented brothers; however, he stopped Fuller in the dressing area and they quickly fell into conversation about future collaborations.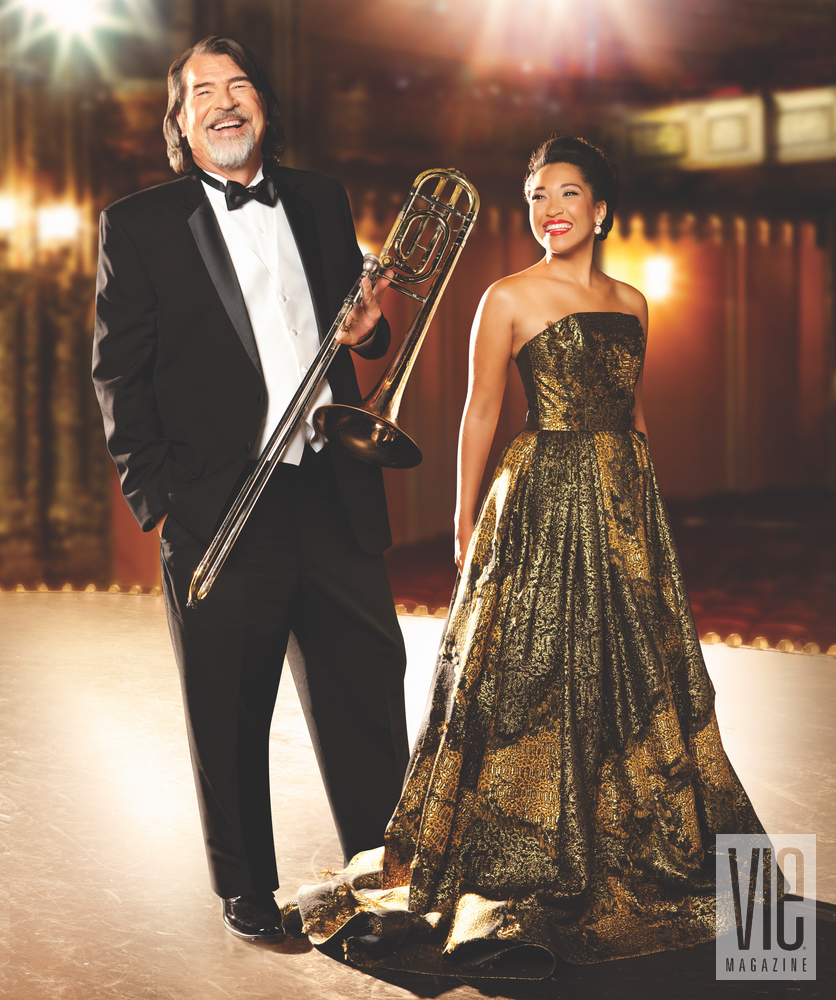 Fuller says Kelley "represents the orchestra in this shoot because she embodies the spirit of Sinfonia."
Cradling her cherished violin as she's put into position by Pieroni for a group shot, Kate Kelley is an exception among this exceptional group. She's not a guest artist, but her affiliation with Sinfonia is extensive. She's a board member, the marketing coordinator, and chair of the education committee. Fuller says Kelley "represents the orchestra in this shoot because she embodies the spirit of Sinfonia." She is also principal second violin and has been with Sinfonia since it was a nascent concept.
"I played with Northwest Florida Symphony Orchestra beginning in 2000, and when Demetrius left, I left too," says Kelley in her distinctive English accent. "I liked the idea of Sinfonia and the vision he had. It was something I wanted to be a part of. Ten years later, it has grown to where it needs to be, and I'm sure that evolution will continue."
"I played with Northwest Florida Symphony Orchestra beginning in 2000, and when Demetrius left, I left too," says Kelley in her distinctive English accent. "I liked the idea of Sinfonia and the vision he had. It was something I wanted to be a part of. Ten years later, it has grown to where it needs to be, and I'm sure that evolution will continue."
In a breathtaking black gown with dramatic draped sleeves, and her short blond-streaked hair in waves, the typically reserved and unassuming Kelley's appearance evokes a beguiling Jean Harlow. She modestly says, "Being part of this shoot is a very big honor. I love being in Sinfonia; it is a huge part of my life."
Center stage, the willowy and elegant Carol Wilson, clad in white jeans and a simple black shirt, passionately gesticulates as she gives direction. Jutting forward an impossibly long leg in demonstration for one artist, Wilson punctuates every sentence with an exuberant vocal uptick and an exclamation point. "Put all your weight on your back hip!" The pose looks contorted and uncomfortable on the stage, but through the lens, it reads as natural grace.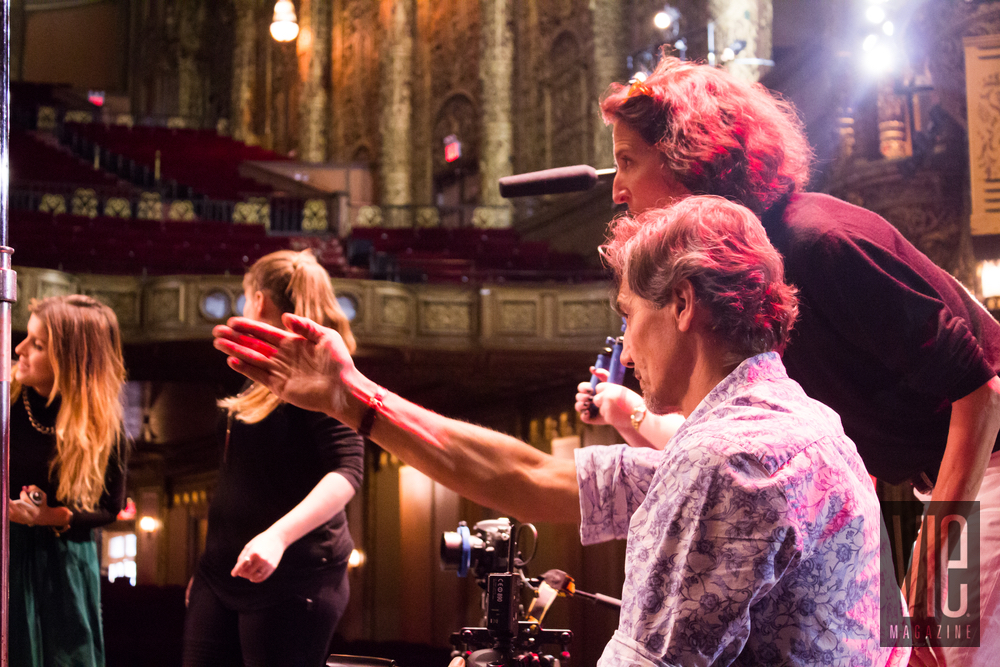 With boundless energy, Wilson, a former model who walked the runways of Chanel, Dior, Valentino, Dolce & Gabbana, Hermès, and more, knows a thing or two about striking a pose. And she is the perfect professional partner for her husband, Carlo Pieroni, who sits on a nearby wooden crate intently adjusting his camera.
To have Pieroni shoot the images is a creative coup. The Italian-born photographer, known for his still-life and classic USO pinup–inspired images, has shot for Vanity Fair, Cosmopolitan, and GQ, just to name a few high-profile magazines. This marks his second collaboration with VIE.
Like Wilson, Pieroni's energy reserve seems endless and the couple turns their focus, literally and figuratively, on Jamie Bernstein. They quickly pose the petite artist in a regal stance that makes the most of the sophisticated black sleeveless column gown with a high-low overlay skirt. A sparkling diamond bracelet and necklace complete her ensemble.
"This is like nothing I do in this world," Bernstein says. "It is completely a surreal planet that I've landed on for the day—all the fussing and the hair and the makeup. I have set aside who I am to be a part of this fantasy."
The candid and animated artist's last name may be familiar, as she is the daughter of renowned American composer-conductor Leonard Bernstein, but she has made her own way in the music world by writing and narrating concerts. She says it's something she "fell into accidentally—I love talking about music and being in the world of music."
They are a wonderful orchestra. I loved working with everyone. It's all about Demetrius—that powerhouse, that mover and shaker that he is.
Bernstein, who is working with her family on a celebration to commemorate what would have been her father's hundredth birthday in 2017, performed The Bernstein Beat for Sinfonia in January 2014. "They are a wonderful orchestra. I loved working with everyone," she says, adding, "It's all about Demetrius—that powerhouse, that mover and shaker that he is."
Bernstein will return to the Emerald Coast to perform with Sinfonia on January 29, 2016, as she shares a stage with soprano Julia Bullock—winner of the first Sinfonia Gulf Coast Young Concert Artists prize three years ago—for a program titled Made in America.
Following the group shot, Bullock was seated in the auditorium intently observing the photographer's setup for the next shot. In a classic-cut ball gown of golden brocade with a textured twist, a dramatic hairstyle, and stage makeup enhancing her already flawless beauty, Bullock looked the very definition of glamour.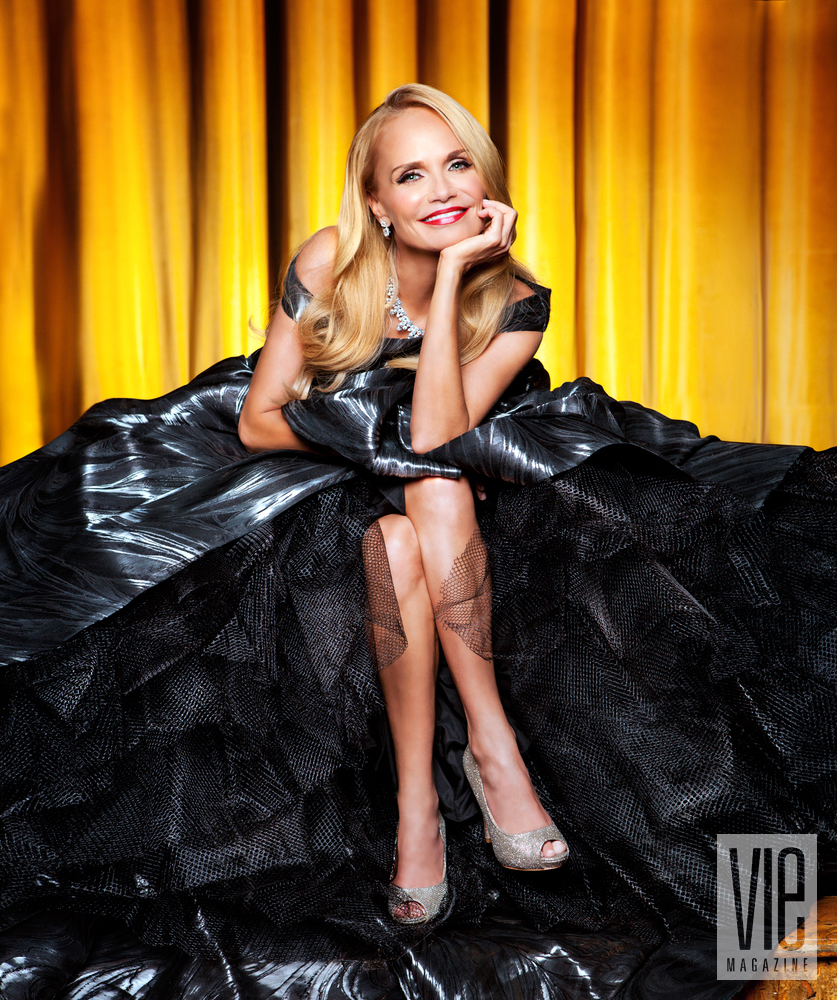 Among her constant tour dates, the Saint Louis, Missouri, native will perform with the Berlin Philharmonic in Germany in late November and at Carnegie Hall next January. She has received significant praise from the New York Times, the San Francisco Chronicle, the Boston Globe, and more, but despite those diva-defining credentials, she possesses a real warmth and charm.
The up-and-coming opera star, who will perform works by Gershwin, Josephine Baker, and Leonard Bernstein during her Sinfonia appearance, says, "In the case of the music we are doing for this concert, it is going to be really entertaining."
When asked about the Siriano dress, she says, "It's fabulous," with a bubbling laugh that is so beautiful, it could only come from a Juilliard-trained singer. "Well, it's just fun to dress up and see all of these wonderful people, great artists each in their own mediums, coming together and sort of doing a favor for Demetrius."
Bullock is off to the dressing room in a dramatic swish of the billowing gown, as the first portion of the shoot is concluded. The schedule is getting tighter, and the crew rushes to prepare for Kristin Chenoweth, the special guest performer for Sinfonia's Tenth Anniversary Gala on Friday, November 13 at the Emerald Coast Convention Center in Fort Walton Beach.
The Star
"What is she like?" That's the type of question that usually follows meeting a celebrity, and it is, in great part, why we read news and magazine stories about them. Therefore, as I sit in the wing of the stage, I wait and wonder if I'll actually get my scheduled time with Kristin Chenoweth.
Among her many achievements and accolades, Chenoweth has won a Tony Award for Broadway's You're a Good Man, Charlie Brown and an Emmy for ABC's hit series Pushing Daisies, and she originated the role of Glinda the Good Witch in Wicked. In short, she can easily be described as the brightest of stars, but one of her own constellation. Her many talents defy the usual entertainer identifiers.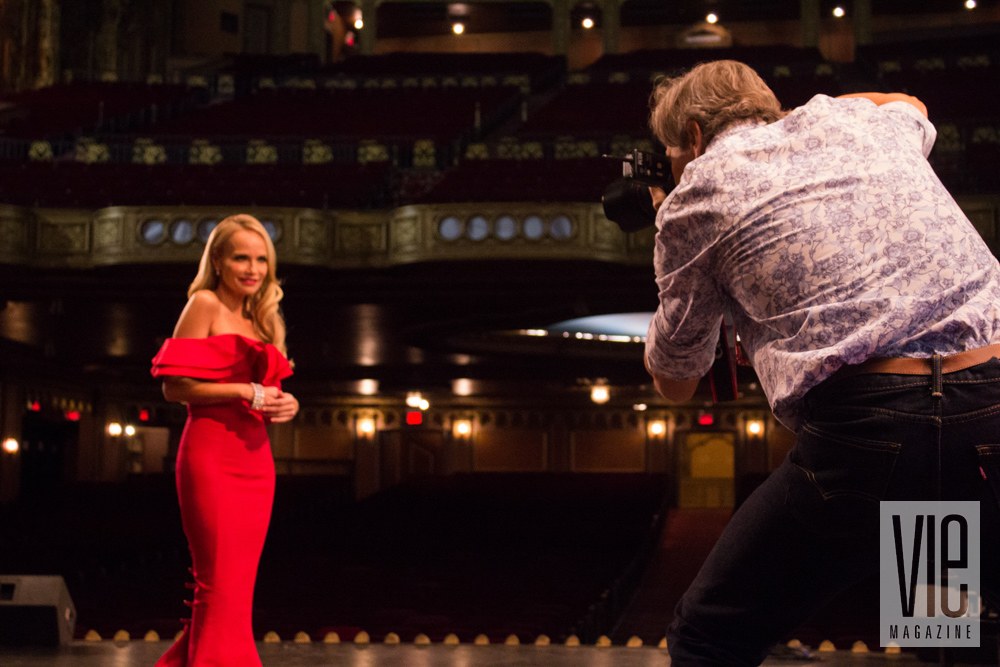 A classically trained singer, she performs everything from opera to show tunes; on stage, film, and TV, she can tackle dramas and comedies with equal ease; and her memoir, A Little Bit Wicked, debuted on the New York Times Hardcover Nonfiction Best Seller list. (It's a hilarious and candid read, and I highly recommend the audiobook version, which Chenoweth narrates.)
In short, she can easily be described as the brightest of stars, but one of her own constellation. Her many talents defy the usual entertainer identifiers.
But here's what I notice right off: she arrives on time. Anyone who has had to deal with a celebrity in any capacity knows this does not happen regularly.
Hair and makeup artist Bruce Wayne, stylist Angelique O'Neil, publicist Jill Fritzo, and more accompany Chenoweth. It's also worth noting that her people, while intently focused on their jobs, are courteous and easy to work with, as is Christian Siriano's publicist. Often, the collective attitude of the individuals surrounding a public figure is a telling reflection of his or her own personality.
"If I'm in a show, I'm going to be with the crew; that's just who I am," Chenoweth says with a laugh after I had been called for one of the two sit-downs she granted me, and I believe her.
With the posture of a prima ballerina, Chenoweth gracefully sits toward the edge of her chair in her dressing room. She's wearing a stunning silk-crepe Siriano gown, featuring an off-the-shoulder ink-black bodice and a white skirt, with jet beads cascading to the floor in a graphic art deco pattern.
Chenoweth speaks straightforwardly about growing up in Oklahoma, calling her schoolgirl self "a little bit of a nerd," and about her ongoing efforts to raise awareness for breast cancer with Genius 3D Mammography, rhetorically asking in justified frustration, "Why are we even still having this conversation?" She talks of her future plans for more Broadway appearances and concerts and of her hope for a new TV series, adding, "I'm a woman in my forties, so I've still got some things to do!"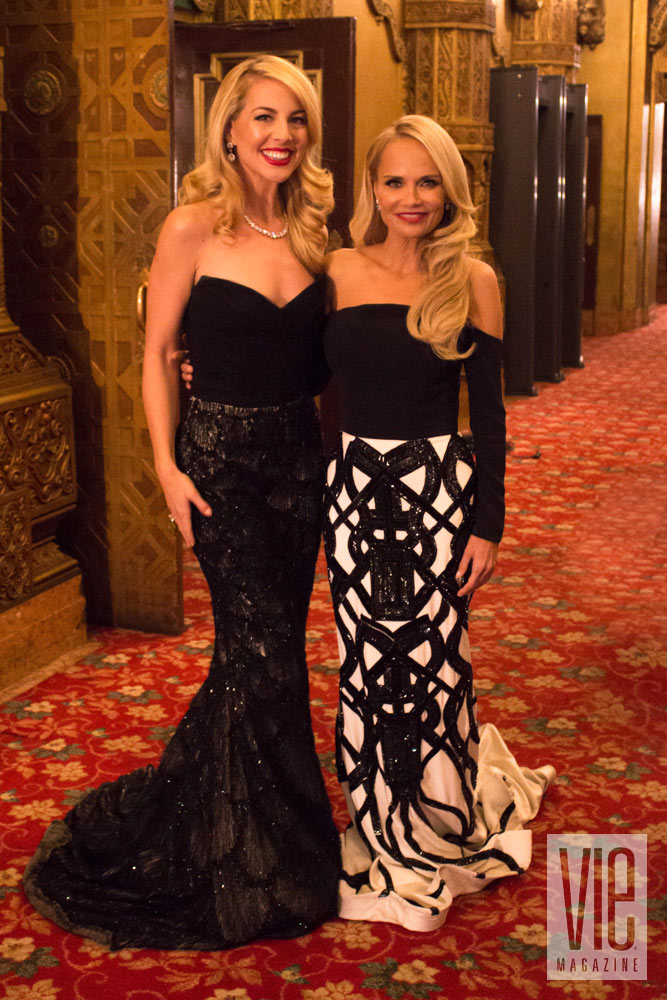 But time and time again, Chenoweth turns to what she now sees as her most important role: "I want to inspire young artists; that's what I care about," she says, earnestly. On her current tour, she shares the stage at each stop with young vocalists from that area.
"So I come in for these sound checks and I meet the kids for the first time. And they are so wanting to be great, and they always are. But they want to be there and they want to be in the moment," she says with a small catch in her voice. "So actually, I'm being reminded of how it all began, what I was. It wasn't that long ago that I was them.
"It's real for me—it's emotional. I'm not sure why so much emotion, other than I'm being completely inspired—reinspired. And I will have kids there (at the Sinfonia concert), too, that I haven't yet met," she adds.
Chenoweth, who launched the Kristin Chenoweth Arts and Education Fund in 2014, was delighted to find that her passion for supporting young artists aligns with Sinfonia's Arts in Education programs.
She also says she has found other common ground with Fuller. "One of the things I love about that guy, I know that his background and what he does a lot is classical music, which is my training," she says, "But, he can also have a good time. I mean he can laugh. Not that classical people are stuffy, but it's made me relax knowing I can discuss Puccini with him and discuss (Lady) Gaga with him."
The Shot
It is relatively quiet in the auditorium as the team is aware that Chenoweth is under the weather today, and we are all appreciative that, despite that fact, she came prepared to do what she committed to do.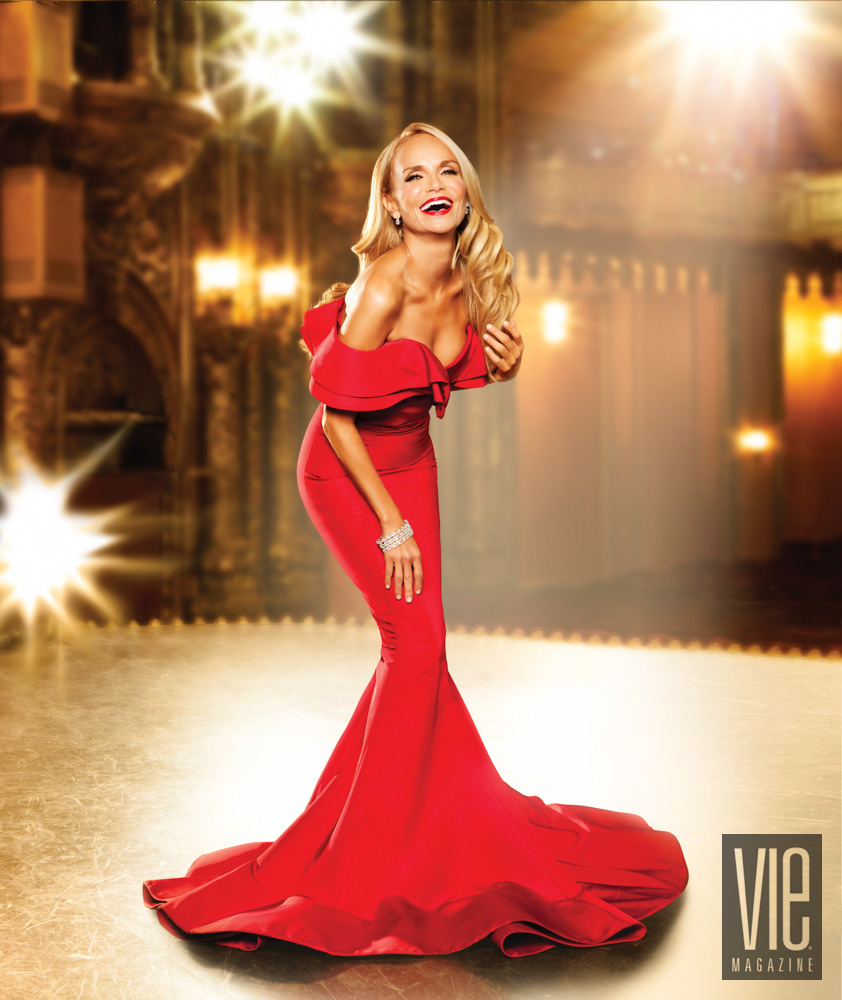 In the dramatic, off-the-shoulder red faille dress from Siriano's studio, glittering Daniel K jewels, ruby-lacquered lips, and a 1940s-starlet hairstyle, Chenoweth is ushered to her position on stage. Along the way she does her best to greet everyone she can with a broad smile, extending her charm and humor when she can. Then, when she turns to Pieroni and the camera's flash begins again, she vamps it up, becoming every bit the glamourous bombshell and the very picture of Hollywood's Golden Era.
— V —
Epilogue – Special Thanks
VIE would like to extend thanks to all those who helped us celebrate Sinfonia's tenth anniversary by making this shoot possible!
Kristin Chenoweth, Morgan James, Julia Bullock, Jamie Bernstein, Kate Kelley, Chris Brubeck, and Demetrius Fuller
Wardrobe – gowns by Christian Siriano, tuxes by Simply Elegant Bridal
Jewelry – DANI by Daniel K, provided by McCaskill and Company Fine Jewelry
Carlo Pieroni and Carol Wilson
Hair and makeup for Kristin Chenoweth – Bruce Wayne
Hair and makeup for Morgan James – Jessica Hoffman
Hair and makeup for ensemble – Irene O'Brien, Theodora Fiotodimitraki, and T. Cooper
Mike Fitelson and Kevin Calderon, United Palace Theatre
Jill Fritzo
Angelique O'Neil Ted Brunson Young Concert Artists, Inc. Agentry PR Laurie and Emma Crowley Pish Posh Patchouli's Tish Brubeck Pick & Eat, 177th Street and Broadway
ARTICLE CATEGORIES