By Matthew Christ | Photography by Jessie Shepard
When I was invited to try out as a student DJ at 30A Radio, a low-powered FM radio station, I imagined an expansive studio, dimly lit by a sea of blinking button lights, framed by a large, flashing, red "On the Air" sign that emitted a certain hazy ambiance of coolness. As soon as I entered the building where the WTHA-LPFM studio was located, I should have known something was up. No one was there to greet me, not a single smiling young receptionist with whom I could try to flirt.
Soon, my peers, who had also signed up to audition, showed up, and together we came to the brilliant conclusion that we had been given the wrong address. There were only two rooms that could have been the radio station – but they were the size of large utility closets.
Before we could contemplate whether we were in the right place, Billy Joel's "Piano Man" started playing unexpectedly from behind one of the closet doors. Seconds later, the door opened from within, and a man appeared. "Well, are you going to come in, or what?" he calmly asked.
There were three microphones, two of which did not work, and one lone mixer board. And the flashing lights? No. There was none of that. Nothing. No flashing lights, no expansive studio, and no snarky producers.
My peers and I, quite simply, were standing in a closet that had been converted into a radio station.
Our hearts sank.
30A Radio 107.1 FM isn't exactly ubiquitously known in national or even regional media circles. Sure, the station has hosted its fair share of celebrities, and yes, many quality programs are produced in the station's studio – including the XM radio show "The Dewsweepers" – but anyone with high aspirations of one day transforming the station to dominate regional airwaves won't get very far very fast. It's a community radio station – nothing more and nothing less.
In an age where the airwaves are filled with product placements, constant advertisements, and topical pop talk, there's something mightily refreshing about the rare community concept.
Leslie Kolovich couldn't agree more. I met Kolovich at the Coffee House in Watercolor, and she was eager to tell me about her job as general manager of 30A Radio, which is owned by Seaside Neighborhood School, one of the first charter schools in the state of Florida. "I love community radio," she said. "Or, I love the idea of community radio. Even the public radio stations in Northwest Florida have few programs that target the Northwest Florida community. There are few, if any stations, that focus on South Walton issues and people. We feel we're one of the 'Voices of 30A.' Commercial stations have few live DJs, and in just this year alone, we've added more than twenty DJs, the majority of whom live in this community."
The station was started in 2003 after a group of Seaside Neighborhood School parents and community members realized that a community radio station could serve not only as an educational tool for Seaside students, but as a viable source for community entertainment and news. Russ Gilbert, the president of the Seaside Neighborhood School [SNS] Board in 2003, had long wanted to bring a community radio station to 30A. "My favorite TV show used to be Northern Exposure. One of the 'sets' of the show was a community radio station where the announcers reported on the things they saw outside the window," Gilbert says, "and I thought, 'What a great way to bring this community together,' because with as many visitors as we have here, there really isn't a very large population of year-long locals."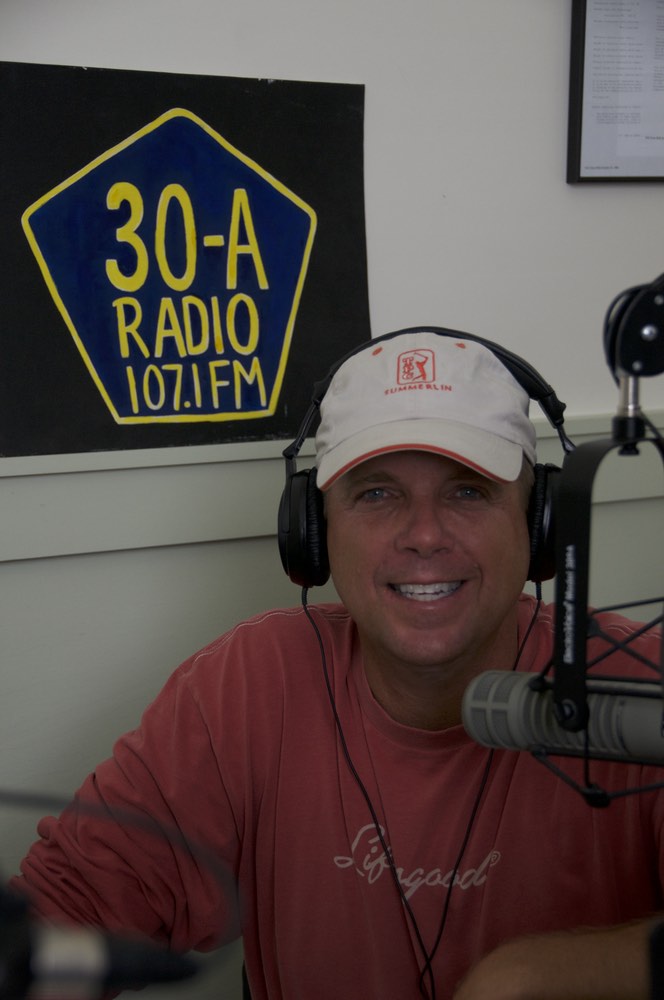 Gilbert, who also owns Fusion Art Glass, saw the potential for a community radio station in the 30A area, but soon discovered that the FCC was more willing to give licenses for religious and educational purposes. "Mike Turner [then the community relations and events manager for the Merchants of Seaside] and I had tried for months to secure a license but to no avail," Gilbert remarks. "Mike, who really laid the foundations of the station, soon discovered that the FCC was much more likely to give out an educational license. When we figured that out, it was like an ah-ha! moment because I was already involved with the Seaside Neighborhood School, and the school would really bring the community concept full circle."
Leslie Kolovich became involved with the Seaside Neighborhood School shortly after the station went on air in 2004. "I was asked to be a part of the Seaside Neighborhood School board to help the athletic committee. During one of our meetings, Russ Gilbert mentioned the radio station. I was like 'We have a radio station? How come I've never heard of this?' After learning more and more about the station, I became a convert. Soon, I was heading up the station's committee."
Yet not everything was fun and games in the beginning. "My mission when I started was to get the community to know we were here, and to wrap its arms around us. I learned about radio broadcasting by jumping in with both feet. I had no other choice but to learn it or let the school lose it. I guess the radio angel has always sent us the right people at the right time to keep us moving. I'm a people person; do you know what my degree is in? Social work." She pauses, and then adds, "I suppose that has helped me in dealing with so many personalities."
In 2006, the closet-sized radio station found a new lease on life when its existence was challenged by the construction of new, neighboring work/live buildings in Seaside. The station relayed a signal to an FM transmitter perched atop an adjacent building. Suddenly, new steel and concrete walls blocked the signal transfer, and 30A Radio's audience shrank to a radius smaller than the size of the town of Seaside.
"Those were depressing times," recalls John Rosenberg, one of the longest-serving DJs on 30A Radio, who has over ten years of experience behind the microphones of Telluride, Colorado's KOTO public radio stations. "When construction began on the new work/live buildings surrounding the Seaside Amphitheater, our signal was basically lost. I think our attrition rate was northwards of ninety percent. Coming from KOTO, where there was always a line of people begging to DJ, the lack of enthusiasm around 30A Radio was startling – but then I realized, 'No one can hear us.' If that station was ever going to grow into anything special, a new studio and tower would have to be a part of the equation for success."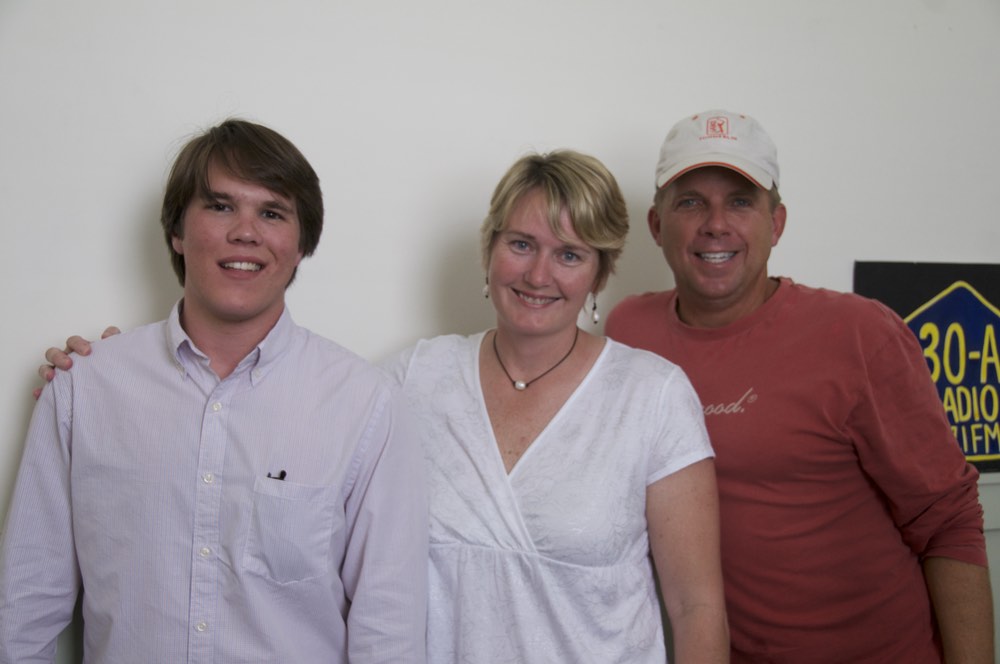 Fortunately, 30A Radio management and SNS board members quickly found a new studio space and a spot on a 100-foot radio tower. "St. Joe graciously leased us space on a tower on their land at a price that we couldn't pass up, but the cost to move the studio and the antenna to a new tower would require a large financial investment from the school," Kolovich says. Realizing the educational importance that the station could present, the SNS board voted unanimously to begin searching for a way to finance the antenna move and new studio.
It's 10:55 on a late July Sunday morning, five minutes before my live weekly broadcast, and I'm wiping sweat off my eyebrows. My guest is Sean Payton, the head coach of the New Orleans Saints football team. Two minutes before showtime, the coach comes into the studio. As a communications major and NFL coach, he's a natural pro at radio interviews. Sliding his NFL-engraved iPod across the desk to me, he winks and says, "Let's play some Kenny Chesney this time."
I grab his iPod and hook it into the station's board, reminding the coach to speak closely into the microphone while making a few last-minute technical adjustments, and then we go live.
Another Sunday show begins.
Soon, the coach and I pass the small talk and I'm diving into my e-mail inbox to search for questions from community listeners. One wants to know how the legal problems of one of the Saints players is affecting the team; another asks if sightings of the coach together with Tony Romo, the Dallas Cowboy's quarterback, mean a possible NFL shakeup is in the works. Pleasantly, the coach fields each question, and we move onto more music and then more questions – about his former football career, his coaching career, his family's new foundation benefitting New Orleans, and even his thoughts concerning the wild frenzy created by the visit Jessica Simpson paid to the 30A area with Payton's friend Tony Romo.
An hour later, I'm signing off, but before leaving the studio, I check the programming schedule for the following week. Forty volunteer DJs on the roster translates into a lot of live radio airtime – a big difference from just a few years back when I first walked into the closet-sized studio.
Leslie Kolovich agrees, "When the antenna went up on the St. Joe tower, and I knew we could be heard from each end of 30A, tears came to my eyes. I was so emotional." Kolovich pauses, and then reflects, "And when the new studio was functional, and we had a reliable Internet stream, I remember thinking 'this is a whole new ball game now.'"
"When the antenna went up on the St. Joe tower, and I knew we could be heard from each end of 30A, tears came to my eyes. I was so emotional."

– Leslie Kolovich
So, it seems, gone are the days of a blasé 30A Radio, where limited signal strength and a fickle Internet stream hindered community listenership and participation. "Today, 30A Radio can be heard out into Destin, parts of Panama City Beach, and parts of Freeport," Kolovich reminds me one day before I go on air. "This is empowering," she says. "We're never going to try to compete with traditional commercial radio, or any other news/entertainment mediums, but instead we can define our own niche. We're a community radio station – think about that."
Yet the word that defines what the station has transformed into and the possibilities it presents happens also to be the station's main crux.
"Community," and the educational license that created the station, mean financial funding is always on the minds of those close to 30A Radio. An average annual budget of $55,000 is required to keep the station on air, and while the Downtown Seaside Association originally paid for the license and the school fundraised monies for equipment and space – including an office space donation from Robert Davis, the founder of Seaside – the majority of the money needed each year will come from community listeners. While the station has relied on funds from the Seaside Neighborhood School in the past, the goal, ultimately, is to turn a profit and kick that money back to the school.
It is a community effort.
There's something unique about 30A Radio. Part of the appeal of a community radio station is its ability to transcend the natural paradigms of the anonymous, mercenary-type radio stations that fill the airwaves today. Providing a voice for the 30A region, and for all of those who want to take a little piece of 30A back home with them, has been afforded through the Internet stream and stronger signal, but what makes the voice of 30A unique is its talent.
The future of 30A Radio is something that John Rosenberg thinks about often. "The future of the station, as I see it, is to have every single hour from 6 a.m. to 1 a.m. completely live with community DJs," Rosenberg observes. "There aren't many commercial or public stations that can do that, but 30A Radio already has the groundwork in place to provide a type of programming unlike the most unique of stations."
Russ Gilbert, the SNS board president who spearheaded the station's creation in 2003, remembers his vision for 30A Radio as "something eclectic, fun and informative – a medium for expression." At the same time, Gilbert insisted that Seaside Neighborhood School students become involved in the station. "I thought 'what a great way for the kids to get involved with marketing and journalism and for the station to be incorporated into the school.'" Mentoring programs were started under Seaside Neighborhood School faculty, with radio volunteers aiding students in producing live programs. Kolovich adds, "Last year marked the first year at SNS where we had two classes devoted to radio broadcasting. Students learned the history of radio, listened to old-time radio shows, learned to write news, reported live on-air, and saw how things work in the studio. The classes have their own shows called 'Shark Bytes Live' produced entirely by the class."
Essentially, Gilbert says, "Everyone involved wanted the station to operate as the community operates – kids, too."
Before I leave the station after my Sunday show, I look back in admiration at the new and much larger studio. The same mixer board, which I first met three years ago in the closet-sized studio, is still operational. All three microphones now work, and a bank of modern LCD computer screens graces one of the station's four expansive walls. With a massaging desk chair wheeled in between microphones, the studio looks like command central.
There will be programs produced in that studio the following week. They will be programs that adhere to Russ Gilbert's vision of the possibility of 30A Radio, programs that will make John Rosenberg confident about a future of "totally live radio," and programs that will confirm Leslie Kolovich's belief that a community will wrap its arms around a station so long as that station caters to its own community. Longtime listeners of 30A Radio will not be jaded after listening to an hour-long show about wine followed by another hour-long show on environmental sustainability, and the happenstance listener will be pleasantly surprised by the unique sound – and will become a convert.
Perhaps what has given the station its eclectic smorgasbord sound – ranging from the extremes of British punk rock to bluegrass, from late night philosophical ramblings to eco-conscious talk – are not simply the volunteers behind the station, but the listeners who interact when in traffic, on the beach, or back at the office in Chicago.
For some, the station will be a unique stepping-stone in a future career in broadcasting – for community radio stations are a rare breed. For others, the station and its happy group of volunteer DJs are like an extended family, where local news and happenings are passed around on air as convivially as at a family dinner.
It is, after all, your community radio station. Nothing more. Nothing less.
— V —
---
Matthew Christ is a recent graduate of South Walton High School; he will attend the University of Florida in the fall, majoring in political science. Christ wrote a weekly column for the Walton Sun entitled "Young Wisdom" and hosts "Matthew Christ Live" every Sunday from 11–noon on 30A Radio.
He may be reached at mattchristlive@gmail.com
ARTICLE CATEGORIES